899 RKDZ

---

DVD with case/custom artwork
$5.00

— Rikidozan: A Hero Extraordinary —
Yeokdosan (original title)
2004
Starring Kyung-gu Sol, Miki Nakatani, Tatsuya Fuji
In 1953, Japan was in desperate need of a hero. After the national shame of WWII, the dreams and imaginations of Japan were captured by one man: superstar pro-wrestler Rikidozan. 5-foot-9 and 240 lbs. of bulging muscle with a rakish smile that said, "Not only will I be just as good as you Yankee wrestlers, but I'll beat you at your own game." Billed as the villain when he wrestled in the U.S., Rikidozan was a national hero in Japan. At the height of his fame in the '50s and early '60s, millions of Japanese would be glued to their TV sets to watch his matches. "He's one of us, a Nihonjin (Japanese)," his fans must have thought at the time, "who's not afraid to stand up to the Americans." Strange then, that Rikidozan was in fact Korean, but would keep his true identity secret.
A no-holds-barred look at real-life pro wrestling icon Rikidozan, a Japanese national hero. The film has excellent historical value and provides a genuinely compelling tale of one man's rise to the top against all odds.
Includes appearances by pro wrestlers Harold Sakata, Ben Sharpe, Iron Mike Sharpe, Rick Steiner, Kokichi Endo, Mashahiko Imura, Kenichi Tamura, Tom Lynch & Kim Il.
Run time: 2 hours, 19 minutes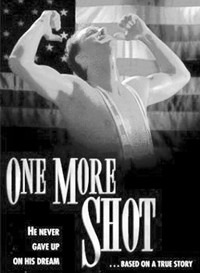 900 OMS

---
DVD with case/custom artwork
$5.00

— One More Shot —
1996
Based on a true story about two college wrestlers, T.J. "Teddy" Williams (played by Danny Hodge) and Brock Jones (Wayne Boyd), whose battle for the National AAU Wrestling Championship in 1958 resulted in a near fatal accident leaving Williams with a broken neck and psychiatric problems. The story continues thirty years later when champion wrestler, Brock Jones is admitted to the same institution as Williams after suffering a mental breakdown. The two become friends as Williams tries to get Jones back on track and coach him to another victory.
Starring: Mike Altiere, Wayne Boyd, Danny Hodge & Meredith Brooks.