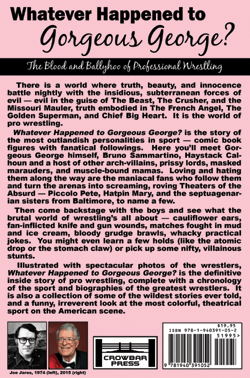 BOOK DETAILS
Paperback: 210 pages

Dimensions: 6x9

Publisher: Crowbar Press

Photos: 186 b&w

Cover: Full color

ISBN: 978-1-9403910-5-2

Item #: cbp22-gg

Price: $19.95
PRIORITY MAIL UPGRADE
ORDER BY MAIL
CLICK HERE
CREDIT CARDS
CLICK HERE

INTERNATIONAL ORDERS
For orders of
more than 3 books
please contact us at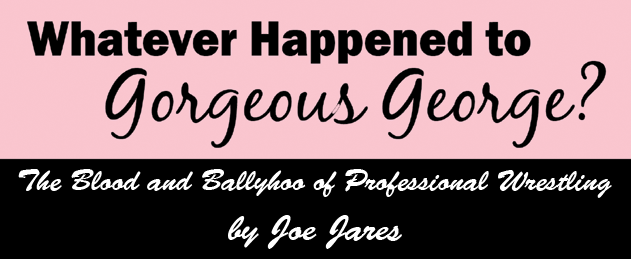 ---
---
"Whatever Happened to Gorgeous George?" is available exclusively from Crowbar Press.
All books will be shipped via Media Mail (U.S.), Priority Mail, or International Priority Mail (Canada/overseas).
---

There is a world where truth, beauty, and innocence battle nightly with the insidious, subterranean forces of evil — evil in the guise of The Beast, The Crusher, and the Missouri Mauler, truth embodied in The French Angel, The Golden Superman, and Chief Big Heart. It is the world of pro wrestling.

"Whatever Happened to Gorgeous George?" is the story of the most outlandish personalities in sport—comic book figures with fanatical followings. Here you'll meet Gorgeous George himself, Bruno Sammartino, Haystack Calhoun and a host of other arch-villains, prissy lords, masked marauders, and muscle-bound mamas. Loving and hating them along the way are the maniacal fans who follow them and turn the arenas into screaming, roving Theaters of the Absurd—Piccolo Pete, Hatpin Mary, and the septuagenarian sisters from Baltimore, to name a few.

Then come backstage with the boys and see what the brutal world of wrestling's all about—cauliflower ears, fan-inflicted knife and gun wounds, matches fought in mud and ice cream, bloody grudge brawls, whacky practical jokes. You might even learn a few holds (like the Atomic Drop or the Stomach Claw) or pick up some nifty, villainous stunts.

Illustrated with spectacular photos of the wrestlers, "Whatever Happened to Gorgeous George?" is the definitive inside story of pro wrestling, complete with a chronology of the sport and biographies of the greatest wrestlers. It is also a collection of some of the wildest stories ever told, and a funny, irreverent look at the most colorful, theatrical sport on the American scene.

First published in 1974, this improved, second-edition of the grappling classic was lauded by "Sports Illustrated" as one of the 100 best sports books ever. Highly sought after by collectors and enthusiasts, it is now available with the original text, along with more than 200 additional photos. A special feature includes an interview with the author, Joe Jares, conducted by Scott Teal shortly before publication.

Joe Jares, now retired, was a general-assignment reporter for the Los Angeles times and for 36 years a sportswriter for "Sports Illustrated" and the "Los Angeles Daily News." He wrote "Basketball, The American Game," co-authored "Clyde and White House Sportsmen," and several other books. He is the son of Frank Jares, The Thing, and grew up in close proximity to bruisers, bone-breakers, and brain-busters.


---


Excerpt from Chapter 1
Copyright © Joe Jares
For instance, somewhere between Nashville and Blytheville, Ark., he told me about Hawaii. There he had not been Brother Frank, but The Golden Terror — mysterious scourge of the mat: yellow mask, black sleeveless shirt and, according to irate fans, yellow streak down back. By pulling hair, illegally using the ropes, and just generally ignoring the Boy Scout Code, he prevented any good-guy opponent, or "babyface" in the lingo of the trade, from ripping off his cover. Actually, he had such an intricate way of fastening the hood that it would have taken the Pacific Fleet to unmask him. And if it had happened, nobody would have known him anyway. Well, hardly anybody. In his free time, Pop wore his own face as he lifted weights and wrestled at the YMCA with various islanders, including one Harold Sakata (later to become Tosh Togo, the evil Jap ring villain, and, still later, Oddjob in the movie "Goldfinger"). "You know," said one of his friends after a workout, "you're such a good wrestler, you should go down and challenge The Golden Terror." Pop felt a little like Clark Kent, and somehow, no one connected the giveaway tattoos.

---
Excerpt from Chapter 2
Copyright © Joe Jares
On camera, in the ring or wherever, he usually stayed in character, with a little put-on routine for every occasion. Performing the Gorgeous George kiss, he would gallantly take a lady's hand and bend down to touch his lips to it, but he would turn his wrist and kiss the back of his own hand instead. He would sit in the lobby of a hotel and shriek until the manager had brand-new sheets and pillow cases put on his bed, then he'd have his room sprayed by his valet. He would pull the same sort of act in restaurants, even to the point of having other customers sprayed.
"I was alone at the arena — alone! — and he comes up in this purple Cadillac, with his stooge," remembered ex-wrestler Dave Levin, who once promoted matches in Santa Maria, Calif. "'Hi, Dave. How you doing?' he says, and he steps back and the god-damned valet comes in and sprays my office there. Then, and only then, George steps in. It's only us three, but he had enough brains to know I'm going to tell this story a thousand times around, you see?"

---
Excerpt from Chapter 3
Copyright © Joe Jares
"There was a guy out of New York that wrestled as an Indian," recalled my father, Brother Frank. "One thing that I liked was that he would put on his whole Indian attire — feathers and all — and go to children's hospitals and pep up the kids. Of course, they were more interested in him being the Indian than being the wrestler, see. He'd read up on it. As a matter of fact, he knew more about the Indian laws and bylaws, and everything else around the United States, than most of the real Indians did, so he wouldn't be caught up on it. He didn't want to be caught as a liar, see. Even to most of the wrestlers, he'd swear he was Indian, but he wasn't.
"This here Indian — a Jewish Indian — I was going to bend over backwards in Twin Falls, Idaho, to let him look good before I beat him. I didn't care about going up there. It was a long ways and it was just a so-so place.
"Well, I don't go for anybody kicking me in the butt, like when I'm getting up. Real showoff; when you're getting up, they come along and give you a side swipe in the butt. It's just like slapping your face and saying, 'You old coward.' I just told him, 'Don't ever do that again.' So, whenever I'm knocked down again and I'm getting up, he kicked me again. So I just beat him two straight falls.
"Afterward, I come up and told him, 'You ever kick me in the butt again, next time I'll break your arm or I'm going to kill ya."

---
Excerpt from Chapter 4
Copyright © Joe Jares
"I have Moolah's girls try to come to me because Moolah treats 'em like dogs and they're prisoners," said Burke. "I had one girl of mine that run off and went with Moolah. I don't think Moolah lured her off. She's wrestled as White Venus and all different names. She's changed about ten different times. Well, I took that girl — she was eighteen when I took her and had her sign a contract, but at that time, you weren't of age 'til you were twenty-one. Now they've got a new law.
"I made her a lot of money. I sent her to Japan, I sent her to Canada twice, she was making five hundred dollars a week ... When she came to me, she was a horrible-lookin' person. She was five feet eight inches and weighed two hundred thirty-five pounds and had her hair cut off short like a man's. She wasn't a lesbian, but she had all the appearances because she was built funny and had a big ol' body, but I saw in her very pretty features. So, we got her trimmed down, let her hair grow out, bleached it blonde, and she made a very, very good girl."

---
Excerpt from Chapter 5
Copyright © Joe Jares
Dixon and Lothario, the latter agile despite a somewhat bulging gut, threw each other around the mat, used the ropes to propel themselves like rocks shot out of slingshots, made improbably acrobatic getaways, and reversed each other's holds with clever, quick countermoves. Bing, bing, bing. Lots of fast action. At the end, sportsmanlike handshakes and generous applause. But no intensity of feeling in the audience; no sign of that fever Linnehan was talking about; no heat.
"Wrestling has lived because it has changed as the people have changed," said Houston promoter Paul Boesch. "For your clean wrestling or anything else. When people want to see clean wrestling, then they get it because they turn out for it when it's advertised, but the truth of the matter is, if you put two guys on and say this is going to be a great scientific match — fast, speedy, nobody's going to get mad at anybody — they'll stay home."
"Do you think people would come out to watch two nice guys fight each other?" echoed heel Jack Armstrong. "Not a chance. You've got to give them a clear-cut choice ... Let's face it, a match between two very scientific wrestlers might be the greatest event ever. But boring! Who would pay money to watch it? The people want excitement and a choice, and I give them that."

---
Excerpt from Chapter 6
Copyright © Joe Jares
The summer of 1956, when I toured Tennessee and Alabama with Pop, he told me the story of Bill Lewis's infamous raffle. For about a month, Big Bill ran a raffle for a pony that had been foaled right on his own Virginia farm. Finally came the big night of the drawing, Lewis himself to draw the winning ticket.
"He reached in the box and pulled out a ticket," said Pop. "He says, 'Well, wouldn't you know who won the pony! My son Blue. My son Blue won the pony!' He'd used that old gimmick where you palm the ticket. He just couldn't give that pony away, and he had a ranchful of ponies. And, oh, the people were sore. It killed the town for a while."
The rest of that summer, whenever Pop or I thought we were being conned or kidded ("swerved" in the wrestlers' lingo), one of us would turn to the other and say, "Well, wouldn't you know who won the pony!"

---
Excerpt from Chapter 7
Copyright © Joe Jares
Mrs. Eloise Patricia Barnett of the Bronx had been going to wrestling matches for years before TV announcer Dennis James called attention to her, and ordered his cameras aimed at her, in the late '40s. An anonymous lamp-shade braider, she got her first notoriety when the cameras caught her jabbing a hatpin at Stu Hart and Eddie King at the Winter Garden in the Bronx.
James ran a contest to give her a nickname and, after going through more than 2,500 entries, he picked "Hatpin Mary." The athletic commission spoiled her fun a bit by ordering her to either leave the hatpin at home or stay home herself. From then on, she was limited to yelling or offering a baby bottle to crying villains, although she once rubbed a Popsicle on George Linnehan.

---
Excerpt from Chapter 8
Copyright © Joe Jares
Lord Blears tells the story of going to or from an arena with [Vic] Christy and a carful of other wrestlers. As they passed a "civilian" car, Christy in the back seat pretended to strangle a wrestler in the front seat, to the horror of passing motorists. Their performance must have been convincing because the cops were notified, and later the car was stopped by a roadblock and the wrestlers had to get out with their hands up, looking every bit like a squad of Mafia hit men.
Christy was no better-behaved in a hotel. He would get the timing down pat on the opening and closing of elevator doors. Then he'd get in back with a bunch of women conventioneers, ride down to the second floor, say, "Out, please," and time it so that just his head was out when the door closed. As the doors hit his neck and sprang open, he would do an expert flop and lay on the hallway floor as the doors closed again. Then he'd jump up, race down the stairs to the lobby, and watch the women emerge, screeching that there was a man gravely injured up on the second floor.

---
Foreword
Acknowledgements
1. My Father the Thing
2. Whatever Happened to Gorgeous George?
3. Indian Chiefs, Lords, and Masked Marvels
4. The Lady with the Cauliflower Head
5. Annals of Villainy
6. Carnival Impresarios
7. The Fans: "Killer Kowalski Believes in Sauerkraut"
8. Backstage with the Boys
ADDENDUM
1. Thumbnail Biographies of the Greatest Pro Wrestlers
2. Holds You Probably Never Saw in the Olympics
3. Wrestlers versus Boxers
4. Wrestling Football Players (Or Vice Versa)
5. Ring Aliases
6. Masked Marauders of the Mat, A Collection of Devils, Demons, Phantoms, Xs, and One Pussycat
7. A Chronology of Pro Wrestling in America
8. Heavyweight Title Succession at a Glance
9. Big Gates and Crowds

An Interview with the Author
On the Road with Frank Jares
Index

---

---