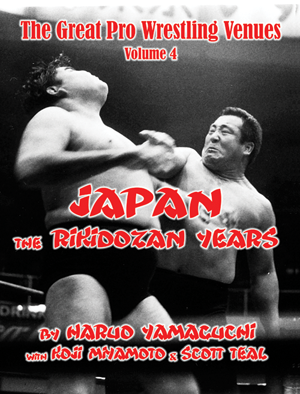 BOOK DETAILS

Publisher: Crowbar Press

8-1/2 x 11 Perfect Bound

Pages: 190

Words: 84,182

Photos: 300 b&w

Cover: Full color

ISBN: 978-1-940391-26-7

Item #: cbp46-jp1

Price: $24.95
PRIORITY MAIL UPGRADE
ORDER BY MAIL
CLICK HERE
CREDIT CARDS
CLICK HERE

INTERNATIONAL ORDERS
For orders of
more than 3 books
please contact us at




---
---
"Japan: The Rikidozan Years" is available exclusively from Crowbar Press.
All books will be shipped via Media Mail (U.S.), Priority Mail, or International Priority Mail (Canada/overseas).

---
---
---
The Great Wrestling Venues, Volume 4
Japan: The Rikidozan Years
by Haruo Yamaguchi, with Koji Miyamoto & Scott Teal


Wrestling historian Haruo Yamaguchi, along with Koji Miyamoto & Scott Teal, pull together the details surrounding wrestling's origins in Japan. Professional wrestling had been a staple in most American cities from the early 1900s, but it didn't take hold as a regular sport in Japan until 1954 when a former sumo wrestler named Rikidozan brought well-known American wrestlers to the Land of the Rising Sun.

The first event in Japan recognized as a true Western-style pro wrestling match took place in 1887. Wrestling didn't take hold, however, until 1951 when Hawaii promoter Al Karasick and his booker, Bobby Bruns, presented eleven wrestling shows featuring American wrestlers. A full two years went by before another show took place … but this time under the guidance of Rikidozan, who had proven to be a huge draw in Hawaii and Northern California. His popularity carried over into Japan when he promoted his first show in Tokyo's Kuramae Sumo Arena and used three American wrestlers on the card.

From that day forward, each tour of the newly formed Japan Pro Wrestling Association consisted of top Japanese wrestlers of that era against five or six Americans, and in a turnabout from the way things were presented in America, the Westerners were the hated heels. Japanese wrestling fans relished the opportunity to vent their Anti-American sentiment following their defeat in World War II.

Rikidozan can't be credited with the "birth" of pro wrestling in Japan, but he did organize it into a smoothly run business. Under his leadership, wrestling quickly became a national pastime in Japan, and for one particular match — Rikidozan vs. NWA world heavyweight champion Lou Thesz — the TV rating was an unparalleled 87 percent.

If you're a fan of Japanese pro wrestling, this book is a unique and invaluable resource — a comprehensive account of the origins of the sport in Japan and every known match between Sept. 30, 1951, and Rikidozan's death in Dec. 1963. In addition to the 978 shows covered, we present details surrounding the matches, the talent, and the promotion, and the matches are brought to life with more than 300 rare photos from the collection of co-author Koji Miyamoto.

This is the most complete analysis of the pioneer days of pro wrestling in Japan. Readers will discover how the sport has evolved and learn about milestone moments that brought it to prominence.


---
---
---


Copyright © 2019 Crowbar Press
Masahiko Kimura debuted as a pro wrestler in Honolulu, Hawaii, in April 1951, but his first appearance in Honolulu took place the month before — March 7 — when he met and threw ten judo men in one night. Before he accomplished that feat, however, he took on Vilai Su'a, a black belt judo man and professional wrestler. It was a short battle, but Kimura made the Samoan concede to a torturing submission hold.

---
Copyright © 2019 Crowbar Press
Rikidozan had given up sumo the year before, even though he was on the verge of being promoted to ozeki (the second-highest rank). There were several reasons for his abrupt retirement. His unusual rise from humble beginnings gave rise to envy by his senior stablemates. He could not endure being treated coldly in the official-ranking lists. There was also serious money trouble with his stable-master, Tamanoumi. Rikidozan took pride in his substantial contribution to the stable up to that time, while Tamanoumi became annoyed at his selfishness. Rikidozan applied for major financial support from the stable, but after a heated argument, he was refused. Soon after that, late at night on Sept. 10, 1950, he impulsively cut off his topknot, a symbol for a sumo wrestler.

---
Copyright © 2019 Crowbar Press
Hawaii was the first time I ever wrestled Riki. We became very good friends after a very uncomfortable meeting in the match in Honolulu. We were both being used by the promoter, Al Karasick, who saw the potential in Japan and wanted to destroy Riki and take over Japan. He told me Riki had no respect for me and wanted a contest and knew he could beat me. It did not take me long to realize Riki was not that stupid — he knew he could not beat me. I won the match, but more importantly, Riki's respect.
— Lou Thesz

---
Copyright © 2019 Crowbar Press
The huge crowd got very excited as they watched the ex-sumo star knock down the evil Americans with his "karate chops." Pitting the Japanese against "the Americans" was the best way for the post-war Japanese people to dispel their inferiority complex towards Americans after their defeat in the war. What they didn't realize was that Rikidozan was from Korea and his opponents were Canadians.

---
Copyright © 2019 Crowbar Press
"That was our third night in Tokyo. What started it all was they had a big cup (tournament) there. We beat 'em and I grabbed the cup (trophy) out of Riki's hands. I said, "That's not yours! That's ours!" That's when the riot started … rocks flying from every direction. We upended some big, oak tables in the dressing room and sat behind those for about two hours. From then on, we had sellouts every night everyplace we went."
— Lou Newman (from an interview in "Whatever Happened to …" #41)

---
Copyright © 2019 Crowbar Press
In the dressing room after the match, the new champion was so excited that he disclosed their secret to the Press. Rikidozan said Kimura had asked him to go broadway (to a draw) and he claimed that he refused to follow such a predetermined path. To verify that what he said was true, he handed Kimura's letter to a reporter, and the next evening, a picture of the letter appeared in a newspaper as irrefutable evidence.

---
Copyright © 2019 Crowbar Press
The first live TV wrestling program, "Puroresu Fight Men Hour," aired on June 15 (1957). Nippon TV broadcast the JWA matches from the Japan Pro Wrestling Center (Rikidozan Dojo) in Nihonbashi at five o'clock every Saturday evening.

---
Copyright © 2019 Crowbar Press
When Rikidozan returned to Japan, Azumafuji, as the appointed leader of the JWA wrestlers pinched for money, personally negotiated their wage claim with Rikidozan. The good-natured wrestler was reported to have lent his money to young wrestlers, even though he himself was not paid well. His discussion with Rikidozan led nowhere as he was taken in by Rikidozan's smooth talk. Realizing things were never going to change, Azumafuji made the decision to end his short career as an American-style pro wrestler.

---
Copyright © 2019 Crowbar Press
Three nights earlier, on May 18 in Ube, Ike Eakins decided to teach [Great Antonio] a lesson in humility and punished him in the ring by beating him with his fists. On the night before this in Osaka, Hercules Romero stretched Antonio during their match. On this night in Okayama, Bill Miller & Karl Gotch joined Eakins to give Antonio another sound thrashing, this time in the dressing room. According to one report, Rikidozan & Great Togo overlooked their behavior because Antonio had boasted of his popularity and bothered them with his selfishness.

---
Copyright © 2019 Crowbar Press
Lindsay & Waldo won the Asia tag team title and were presented with the championship trophy. The fans were not used to seeing Rikidozan lose a match, especially to the illegal tactics used by his opponents. Furious at the decision, fans began to throw chairs at the new champions. When Lindsay fought back against them, a fan in the rear of the building set fire to his newspaper. Despite the chairs being made of wood, the fire didn't spread. Rikidozan and more than fifty policemen made a desperate effort to quell the worst riot in the history of Japanese pro wrestling.

---
Copyright © 2019 Crowbar Press
Hard Boiled Haggerty (Don Stansauk) told Scott Teal in an interview: "The night I wrestled Rikidozan in Tokyo, a group of men walked up to me before the match and said, 'If Riki loses, you'll never leave Japan alive.' Let me tell you, Riki never looked as good as he did that night. Those people took their wrestling seriously."

---
Copyright © 2019 Crowbar Press
Rikidozan, who had been drinking quite heavily, got angry. He shoved Murata, kicked him in the abdomen, and knocked him down near the doorway to the lobby. He sat astride the accused and struck him on the head relentlessly. Murata pulled out a mountain knife (which was 13.5 centimeters, or 5.3 inches, in length) and stabbed Rikidozan in the left side of his abdomen.

---
---
---

Foreword

— 1951 —
First Series
• Sept. 30 to Oct. 14
Second Series
• Nov. 14 to Dec. 11

— 1954 —
First Rikidozan Series
• Feb. 19 to March 9
Pacific Coast Championship Tour
• Aug. 6 to Oct. 1

— 1955 —
International Series 1955
• July 15 to Sept. 7
Asian Championship Tour
• Nov. 8 to Nov. 22

— 1956 —
International Series 1956 #1
• April 24 to June 7
International Series 1956 #2
• July 23 to Sept. 3
Japanese Championship Series
• Oct. 15 to 24

— 1957 —
International Series 1957 #1
• Jan. 4 to Feb. 1
Summer Series 1
• June 15 to July 6
Summer Series 2
• July 20 to Aug. 10
International Series 1957 #2
• Aug. 13 to Sept. 25
World Championship Series
• Oct. 7 to Oct. 25
International Series 1957 #3
• Nov. 27 to Dec. 21
Winter Series
• Dec. 27 to March 8, 1958

— 1958 —
International Series 1958 #1
• Sept. 5 to Nov. 4
International Series 1958 #2
• Nov. 21 to Jan. 23, 1959

— 1959 —
Mr. Atomic Series 1959
• April 17 to May 16
World League 1
• May 21 to June 15
International Series 1959 #1
• June 16 to Aug. 8
International Series 1959 #2
• Sept. 18 to Dec. 25
— 1960 —
International Series 1960 #1
• Jan. 15 to April 1
World League 2
• April 15 to May 13
International Series 1960 #2
• May 14 to July 9
International Series 1960 #3
• Oct. 14 to Nov. 19

— 1961 —
International Series 1961 #1
• Jan. 6 to Feb. 5
Little People Series
• March 25 to April 28
World League 3
• May 1 to June 29
International Series 1961 #2
• June 30 to July 24
International Series 1961 #3
• Aug. 18 to Nov. 13
International Series 1961 #4
• Nov. 17 to Feb. 10, 1962

— 1962 —
International Series 1962 #1
• Feb. 13 to April 15
World League 4
• April 20 to May 25
International Series 1962 #2
• May 27 to July 1
International Series 1962 #3
• July 20 to Sept. 7
International Series 1962 #4
• Sept. 14 to Nov. 9
International Series 1962 #5
• Nov. 16 to Dec. 28

— 1963 —
International Series 1963 #1
• Jan. 4 to March 4
World League 5
• March 22 to May 17
WWA World Championship Series
• May 19 to May 24
Alternate name: "The Destroyer Series #1" International Series 1963 #2
• July 12 to Sept. 13
International Series 1963 #3
• Sept. 20 to Nov. 22
International Championship Series
• Nov. 26 to Dec. 7
Alternate name: "The Destroyer Series #2"

Photo Gallery

---
---
---

---
---
---

---
---





DVD with case/custom artwork
$5.00






—LOU THESZ vs. RIKIDOZAN —

N.W.A. World Heavyweight Title Match
Tokyo, Japan
October 6, 1957

More than 27,000 fans packed into Korakuen baseball stadium in Tokyo to see this match between the two biggest legends of wrestling in their time. Lou Thesz, the perenial world heavyweight champion, and Rikidozan, Japan's first pro wrestling superstar. The two wrestled to a 60-minute draw in a two-out-of-three-fall match with neither man winning a fall.

On television, the match drew an 87.0 rating, the largest TV rating ever and a record that stands to this day. Their matches popularized pro wrestling in Japan and gave the sport mainstream acceptance.

Run time: 1 hour, 5 minutes
---




DVD with case/custom artwork
$5.00





— RIKIDOZAN: 1963 —

Volume 1

— NWA International Title Match —
Rikidozan vs. Haystack Calhoun (March 24, 1963)

— NWA International Title Match —
Rikidozan vs. Haystack Calhoun (April 17, 1963)

Rikidozan & Giant Baba vs. Pat O'Connor & Killer Kowalski (March 28, 1963)

Pat O'Connor vs. Giant Baba (April 12, 1963)

— NWA International Title Match —
Rikidozan vs. Pat O'Connor (April 24, 1963)

Kintaro Oki vs. Killer Kowalski (March 23, 1963)

Rikidozan & Toyonobori vs. Killer Kowalski & Fred Atkins (May 6, 1963)

— NWA International Title Match —
Rikidozan vs. Killer Kowalski (May 17, 1963)

Run time: 1 hour, 15 minutes
---




DVD with case/custom artwork
$5.00





— &nbspRIKIDOZAN: A HERO EXTRAORDINARY —

Yeokdosan (original title)
2004
Starring Kyung-gu Sol, Miki Nakatani, Tatsuya Fuji

In 1953, Japan was in desperate need of a hero. After the national shame of WWII, the dreams and imaginations of Japan were captured by one man: superstar pro-wrestler Rikidozan. 5-foot-9 and 240 lbs. of bulging muscle with a rakish smile that said, "Not only will I be just as good as you Yankee wrestlers, but I'll beat you at your own game." Billed as the villain when he wrestled in the U.S., Rikidozan was a national hero in Japan. At the height of his fame in the '50s and early '60s, millions of Japanese would be glued to their TV sets to watch his matches. "He's one of us, a Nihonjin (Japanese)," his fans must have thought at the time, "who's not afraid to stand up to the Americans." Strange then, that Rikidozan was in fact Korean, but would keep his true identity secret.

A no-holds-barred look at real-life pro wrestling icon Rikidozan, a Japanese national hero. The film has excellent historical value and provides a genuinely compelling tale of one man's rise to the top against all odds.

Includes appearances by pro wrestlers Harold Sakata, Ben Sharpe, Iron Mike Sharpe, Rick Steiner, Kokichi Endo, Mashahiko Imura, Kenichi Tamura, Tom Lynch & Kim Il.

Run time: 2 hours, 19 minutes
---