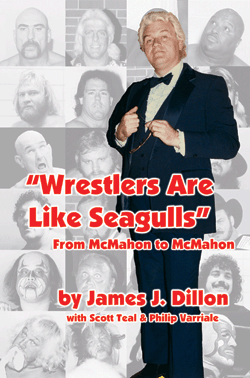 BOOK DETAILS

Paperback: 289 pages

Dimensions: 6x9

Publisher: Crowbar Press

Cover: Full color

208 B&W photographs

ISBN: 0-9745545-2-9

Item #: cbp02-jj

Price: $22.95 $19.95
PRIORITY MAIL UPGRADE
ORDER BY MAIL
CLICK HERE
CREDIT CARDS
CLICK HERE

INTERNATIONAL ORDERS
For orders of
more than 3 books
please contact us at



---
---
"Wrestlers Are Like Seagulls" is available exclusively from Crowbar Press.
All books will be shipped via Media Mail (U.S.), Priority Mail, or International Priority Mail (Canada/overseas).
---

"There are a lot of good wrestling books out there. This is top of the line. The portrayal of Vince McMahon is better than in any book I've read. I highly recommend this book."
– Dave Meltzer, Wrestling Observer Live

"I've known J.J. Dillon for a number of years, however it was usually an office/talent relationship. Once I started reading his book, I couldn't put it down until I finished. I have a new respect for J.J., knowing that we started in the business the same way, as kids with a dream."
– Percy Pringle III, a.k.a. Paul Bearer
PercyPringle.com

"I've never read anything that even came close to describing how the business worked in those wonderful days of what are now, alas, yore — which is the added delight of the tome that J.J., Scott, and Philip have constructed."
– J Michael Kenyon

"Along with The Dynamite Kid's "Pure Dynamite," Lou Thesz's autobiography, and yes, Mick Foley's "Have a Nice Day," J.J. Dillon's "Wrestlers Are Like Seagulls: From McMahon to McMahon" stands proud at the top of the pile."
– Dan Lovranski, Live Audio Wrestling

"Seagulls is highly informative about how the wrestling business works, tells of many humorous hijinks that occurred on the road, and delves into the darker side of the business. It is perhaps the best written book on the business that I have read."
–Harry Grover


---
---
RIC FLAIR
In the words of the "Nature Boy" himself in 1986, at the pinnacle of the successful reign of the Horsemen.
"We take a lot of pride in being first class. We pay a lot of respect to J.J. Dillon, our leader ..."

TULLY BLANCHARD
"James was the crucial component that made us complete."

OLE ANDERSON
"Dillon made the Four Horsemen."

ARN ANDERSON
"J.J. Dillon is one of the classiest pros this business has ever known."
---
For more than 40 years, James J. Dillon has been involved in the world of professional wrestling. Now he speaks candidly on all aspects of both his career and his personal life.

This book has something for wrestling fans of all generations and ages:

• Being a wrestling fan in the 50's
• Breaking into the wrestling business as a referee during the 60's
• Wrestling in the territorial system of the 70's
• Taking leadership of the legendary Four Horsemen during the 80's
• Working with Vince McMahon in the WWF during the 90's
• Watching the monumental collapse of WCW in the 00's

J.J. Dillon offers a first-hand account and detailed history of one of the most influential wrestling promotions in wrestling history — the World Wrestling Federation. For 7½ years, JJ served in the WWF as Vince McMahon's top lieutenant, right-hand man, and Vice President. Never before has someone from McMahon's inner circle written a book with an insider's perspective of the company.

JJ also gives a insider's perspective on the ludicrous business decisions made by executives who took World Championship Wrestling down a path that led to the company's destruction and eventual demise.

From the highs of making big money, winning championship titles, rubbing elbows with top celebrities, and appearing on television every week — to the lows of filing for bankruptcy, extramarital affairs, divorces, and drug use — no stone is left unturned when J.J. Dillon tells his story.

In this book, there are truly "no holds barred."

---
JAMES J. DILLON
The Leader of the Four Horsemen
(from the pages of "Wrestlers Are Like Seagulls")


The Four Horsemen were formed spontaneously. It was not an idea that was planned in any great detail. At the time, Ric Flair was the World Heavyweight Champion. Tully Blanchard was the U.S. Champion. Ole and Arn were the National Tag Team Champions. We all walked out onto the studio set and did an interview, en masse. At the time, I only managed Tully, so I went out with him. There we were, all of the heels with all of the titles, and with all the bragging rights.

As I said, the Horsemen concept was something that happened, but if anyone should be given credit for the idea, it should be Arn Anderson. As we did the interview, Arn grabbed the microphone and told the audience that they were witnessing history. "Only once has so much damage been caused by so few," Arn shouted, "and to find that source, you need to go all the way back to the Four Horsemen of the Apocalypse."

When Arn held up his four fingers, the fans picked up on it. From that day on, the fans gave us the four finger sign — the symbol of ...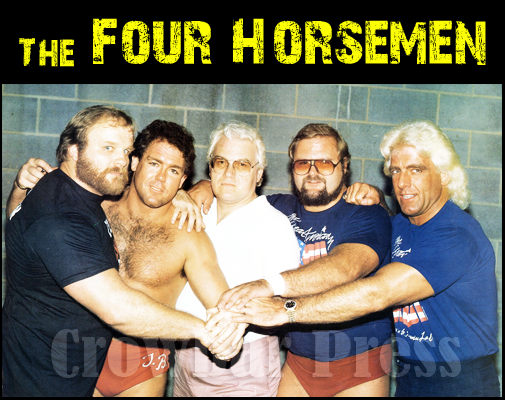 ---
J.J. tells his life story in an honest and refreshing way, and presents an
inside look at the wrestling business as it has never been told before.
---
JIM'S FIRST MATCH — VINELAND, NEW JERSEY
Copyright © James Morrison & Scott Teal
Juan "Hawk" Rodriguez and I worked out together in the gym, then wrestled at the Vineland Speedway on July 11, 1962. This was four years after Johnny Valentine's first appearance in New York, but he was still a big drawing card in the territory. I thought so much of Johnny that I used the name Jim Valence for that first match.
That was the first time I wrestled in front of people—and I had no training whatsoever. I'm sure that it showed in my performance. In fact, I know that it did, because I still have an old 8mm film of the match. But it was a milestone in life for me. The main event on the card that night featured Miguel Perez, who used to be Argentina Rocca's tag team partner, against Hans Schmidt.

---
BEING ASKED TO REFEREE IN PHILADELPHIA, PENNSYLVANIA
Copyright © James Morrison & Scott Teal
Sometime in the winter of 1963, Philadelphia was hit with a horrendous snowstorm. Bruce and I were able to get from Reading to the studio in downtown Philadelphia to set up the ring. Enough of the wrestlers made it to go ahead with the show, but no referee showed up. It was strange that Bruce and I were able to drive in from Reading, but the referees, who all lived in Philadelphia, weren't able to make it. I don't remember who was in charge, but somebody looked around and said, "Well, we need somebody to referee."
It was spontaneous, but if you had seen it in a movie, it couldn't have looked more staged. Everyone turned at the same moment and looked directly at me.
"Hey, kid. Can you referee?"
"Oh, yeah. Sure I can."
The wrestlers seemed to like me, so they were all for having me as the referee, even though I was a green kid who had never done anything in the business other than sell programs and set up the ring.
After somebody found a shirt for me to wear, I walked up the aisle, climbed up the ring steps, and stepped through the ropes into the ring for the first match. "Ladies and Gentlemen. Your referee for the evening ... Jim Morrison!"
I was so excited that it was happening, I don't remember asking a lot of questions before that first match. I don't even remember what they told me. The only instructions I can recall were, "Just walk around three sides of the ring and keep your ass out of the camera."
I refereed for the entire hour. Obviously, my instincts kicked in and I did exactly what they wanted. I had watched so much wrestling that I was smart without being smart, and I instinctively knew what to do.
I was in heaven, but before I knew it, my hour of glory was over. That was the shortest sixty minutes of my life.

---
WORKING HARDCORE BEFORE HARDCORE WAS POPULAR
Copyright © James Morrison & Scott Teal
In order to keep the Beast strong when I beat him for the title, I used a chain to knock him out. The Beast wanted me to cut his head open with the chain, which is what we called a hardway [not using a blade, but actually drawing blood by hitting your opponent with your knuckles or an object], so that he could go to the hospital and get stitches. When the time was right, I pulled out the chain and hit him twice.
The chain left two pink marks on his forehead, but no blood.
I whispered, "Ohhh, man! I can't do this. It's just not me."
He growled back at me, "Just clobber me, man!"
I hit him a third time and busted his eyebrow wide open. It was what the Cormiers wanted, but it was sickening. He went to the hospital that night and got stitched up.
When I saw him at the TV taping the next morning, I immediately started apologizing. "Ahh, it's good for the business," he said, brushing my apology aside.

---
THE TRANSITION FROM WRESTLER TO MANAGER
Copyright © James Morrison & Scott Teal
That was one of the few times in my career when I let my ego get the best of me. I went to the ring that night to show the other boys, and the fans, that I was a quality worker. I felt like a lot of the guys had forgotten that I was a pretty fair worker in my day. It wasn't something that I dwelled on, but deep down, it really bothered me. I wanted to show everyone that I was a good worker, and it was the wrong thing to do — for the match, for the town, and for my career as a manager.
What I lost track of was the fact that the wrestling fans in Houston didn't see me as a wrestler. They saw me as a loudmouth, not-so-hot, chickensh— manager. The things that I did in the ring with Gino — high spots, bumps, and timing — were not consistent with the character that I had developed, or what I was portrayed to be.
If I had been the great worker that I thought I was at the time, I would have gone out and worked like a manager. I would have used the skills that I was blessed with in that type of a match. Instead, I went out and let my ego get the best of me. I tried to have a great match and steal the show. It was stupid on my part. As I look back on it now, I can see that it made no sense. Paul Boesch was 100% correct.

---
WORKING FOR VINCE MCMAHON AND THE WWF
Copyright © James Morrison & Scott Teal
Vince wanted it both ways. He had people with a wrestling background who worked within his corporate structure. He would always say, "You're not a wrestler anymore. You're an employee working for a company." He would say that he wanted us to be professional, and not have a wrestler's mentality—whatever that meant—and yet, when he cut salaries, instead of cutting 5% across the board of all management, he cherry picked only those people in management who were veteran wrestling people — Jim Ross, Howard Finkel, Jerry Brisco, Pat Patterson, Alfred Hayes, and myself. Other corporate people were not affected, and that was what I took extreme issue with. If Vince had said, "Okay, until we get over this hurdle, everybody in management has to take a 5% pay cut until we can rebound and recover," I would not have had a problem with that. But instead, the disdain that Vince held towards wrestlers finally showed itself. He isolated a small group of people—the former wrestlers—and our salaries were cut from about 25% to 40%.

---


Foreword
Introduction

1 The Dream
Jim Morrison discovers pro wrestling ... The Brooklyn Dodgers ... Watching wrestling at the Trenton Armory ... President of the Johnny Valentine Fan Club ... Having pizza with Larry Simon (aka The Great Malenko) ... Selling arena programs ... Meeting George Bollas, the Zebra Kid

2 Living the Dream
Trenton Central High School ... Wrestling at Albright College ... Lou Super's Gym in Philadelphia ... Working out with Dominic Denucci and Professor Tanaka ... Tips from Al Costello, the Fabulous Kangaroo ... Jim's first match — Vineland, New Jersey, July 11, 1962 ... $50 payoff ... Meeting Hans Mortier

3 Third Man in the Ring
Part of the ring crew at Philadelphia's Channel 3 ... Unexpected invitation to referee ... Introduced to Willie Gilzenburg, the president of the WWWF ... Vince McMahon Sr. invites Jim to referee in Washington, DC ... Arnold Skaaland blades his finger ... Blading during Killer Kowalski and Bruno Sammartino match ... $200 cash from Phil Zacko ... Bruno Sammartino, a stand-up guy ... Carrying blades and other foreign objects ... Thoughts on referees ... Working with the midgets ... Getting married at Albright College ... A surprise phone call ... Graduating college and substitute teaching ... Selling insurance and working in a department store ... Divorced

4 The Bodyslam
Cowboy Jim Dillon makes his debut in Dayton, Ohio ... Wrestling Killer Kowalski on TV in Pittsburgh ... Back to work for a trucking company ... Working in Michigan for the Sheik ... Pedro Godoy and the bodyslam ... Transferred to Detroit ... A painful wrestling match against Hans Schmidt ... Bull Curry's head punch ... Bull Curry's 30-second main event against Tex McKenzie ... Wrestling the Outlaws — Dick Murdock and Dusty Rhodes

5 Bruno
A letter to Bruno Sammartino ... Confrontation with Ace Freeman at the Pittsburgh Civic Center ... Bruno saves the day ... Jim Dillon, the weekend warrior ... Meeting Jim Grabmire ... A major turning point in Jim's career ... First full-time wrestling territory — Charlotte, North Carolina ... Giving a one-day notice to the trucking company

6 The Babyface
Living at the YMCA ... Wrestling Gene Anderson at the Park Center ... Working as a babyface ... Life in the south ... $270 a week ... Art Nelson ... Custom wrestling boots ... Winning a battle royal ... Weight training ... First exposure to steroids ... Jim Crockett Sr ... Memories of Luther Lindsay ... Death in the wrestling ring ... 2nd marriage ... A trip to Florida ... Wrestling Dory Funk Jr. for the NWA World Heavyweight Title ... Meeting Dory Funk Sr. ... Invitation to wrestle in Amarillo, Texas ... Booked in Halifax, Nova Scota ... Johnny Weaver and Leo Burke ... $238.52 airfare ... Losing to the Beast six nights in a row ... Jim Crockett's funeral ... The Crocketts: Jimmy, David, Jackie, and Francis ... Wrestling Freddie Sweetan and Mike DuBois at the 1972 event in Greensboro that would later be known as Starrcade ... John Ringley's bad judgement ... Moving to Moncton, New Brunswick, Canada

7 Nature Boy Dillon
Working on top in the Maritimes ... Nature Boy Dillon ... Cigars ... Psychology of doing interviews ... Overview of the Maritimes territory ... Wrestling Willie Trembley six nights in a row ... Winning the North American Heavyweight Title ... The Beast gets blood the hard way ... Defending the title against Leo Burke, Stan Pulaski, and Bobby Kay ... Killer Karl Krupp returns to challenge Mr. Wonderful ... Wrestling the Mongolian Stomper ... Winning the North American Tag Team Title with Freddie Sweetan ... Freddie dies in a fire ... Jim's first signature move — the chicken wing crossface ... Applying the crossface to the Missouri Mauler ... A new finishing hold — the elbow drop

8 West Texas Memories
Wrestling in Amarillo, Texas ... Lou Thesz referees a match between Jim Dillon and Dick Murdoch ... Overview of the Amarillo territory ... Mike London, the promoter of Albuquerque, New Mexico ... The wheel bearing and grease ... A public apology to the people of Mexico ... Knocked unconscious by Terry Funk ... Challenge to the Sports Editor of the San Angelo Standard Times ... Stan Hansen breaks into the business ... Stan's short professional football career ... Ted DiBiase's first professional match ... Dumping Killer Karl Kox into a garbage can ... Kox's imaginary friend, Alex ... Karl Kox and Dick Murdoch invest in a Volkswagen van ... Murdoch's friends plan to hogtie Dillon ... Memories of Dick Murdoch ... West Texas State cheerleaders ... Jim Dillon's marching band ... Goat pellets in Pervical A. Friend's car ... First tour of Japan ... Tommy Tsuruta and Atsushi Onita ... Rikidozan, the father of Japanese professional wrestling ... Return to Amarillo ... Doing a job for the legendary El Santo ... Thrown into an El Paso jail with Ben Justice, Siegfried Stanke, and Karl von Steiger ... Bailed out of jail by Dory Funk and Gory Guerrero ... Heel fans in Abilene, Texas ... The Funks and Dick Murdoch evict Jim Dillon from the dressing room (in his birthday suit) ... Don "The Lawman" Slatton and the doll collection ... Jim and Black Jack Mulligan almost get sued ... Touring Japan with Bob Backlund and Bulldog Bob Brown ... The habu snake and the mongoose

9 The Cow That Ate the Cabbage
Moving to Tampa, Florida ... Rooming with Baron Mikel Scicluna ... Bobby Shane books the Florida territory ... Shane dies in a plane crash ... Harley Race takes Shane's place as booker ... The problems with being the Florida TV champion ... Losing the title to Rocky Johnson ... Winning the Florida Tag Team Title with Roger Kirby ... Terry Funk pulls a rib on Rick Martel ... Working in Tallahassee ... Harley Race attacked by angry fans ... Larry Hennig knocks himself silly ... Open-enrollment Battle Royal in Orlando ... Confrontation with Hell's Angels ... Wrestling in the main event against Eddie Graham

10 The Stomper and the Moondog
A phone call from Archie Gouldie, the Mongolian Stomper ... Moving to Dallas, Texas ... First managing job ... J.J. Dillon is born! ... JJ and the Stomper wrestle Rocky Johnson and Cowboy Lang (a midget) ... The Stomper leaves Dallas without giving notice ... Joe Blanchard knocks JJ Dillon into the ocean ... Wrestling a 21-year-old Tully Blanchard in Austin, Texas ... Memories of Paul Boesch, promoter in Houston ... Reprimanded for having a great match with Gino Hernandez ... Praise for Ric Flair ... Managing Lonnie "Moondog" Mayne ... The Moondog passes out in the ring ... JJ Dillon, the ventriloquist ... Lonnie Mayne dies in an automobile accident ... Booked to manage the Stomper in Atlanta, Georgia ... Starting date in Minneapolis for promoter Verne Gagne ... An open contract leads to a match with Victor the wrestling bear ... JJ Dillon vs Paul Boesch in a bathtub match

11 Chips Off the Old Block
Ted Turner and his "rasslers" ... The Stomper disappears again ... Managing Abdullah the Butcher ... Abby quits the Atlanta promotion before dropping the title ... Holding the Macon Title ... Abdullah helps JJ get booked in Japan ... Taking cigars to Japan for Giant Baba and the Sensational, Intelligent Destroyer ... Sumo wrestling fan ... Cutting a promo in Japan for Amarillo ... Abby and JJ arrive in Amarillo ... Wrestling Moose Cholak at Cobo Hall in Detroit, Michigan ... "Chips Off the Old Block" promo ... Karl von Steiger's cheek is pierced by a flying object ... Abdullah gets stabbed by an ice pick intended for JJ ... Trying to stay awake during a 300-mile trip to Albuquerque ... Kay Noble and the plastic Hefty bag ... Invitation to wrestle in Australia

12 The Giant and the Poofter
Wrestling in Australia ... Ron Miller and Larry O'Day ... Managing Brute Bernard ... Censorship by the television stations ... Sticking a lit cigar in Mario Milano's eye ... Dropping Andre the Giant with a shoe ... Wrestling fans riot in Flemington ... Brute Bernard's head is cut to the bone ... A drunken female fan threatens JJ's wife at a bar ... Wrestling in New Zealand for Steve Rickard ... Letting his hair grow to it's natural color ... Leo Burke goes over the ropes and is knocked unconscious

13 Closet Announcer
Dick Murdoch and Black Jack Mulligan buy the Amarillo territory ... Terry Funk predicts the future ... The wrestling business begins to change ... Battle of the Managers: "Playboy" Gary Hart vs James J. Dillon ... Wrestling during a power outage ... Hitchhiking with Dick Murdoch ... Barry Windham sits in the back of the pickup truck ... Mulligan's $25,000 bank account is emptied

14 Border Crossing
A 6-week tour of Germany as Cowboy Jim Dillon ... Tournament in Bremen, Germany ... The differences between wrestling in the U.S. and Germany ... Fines for rules violations = beer money ... No place to go ... Two weeks working for Stu Hart in Calgary ... The Hart mansion ... Stu Hart's stories ... Road trip to Montana ... The border guard ... The boys rib Jim Neidhart ... Eddie Graham books JJ in Kansas City, Missouri

15 Cable TV, My Toughest Opponent
Booking the Kansas City territory ... Wrestling in St. Louis, Missouri ... Bulldog Bob Brown and Rufus R. Jones ... Terry Garvin puts locks on the boys' suitcases ... The tables are turned on Garvin ... Winning the North American Tag Team Title with Buzz Tyler ... Referee Larry Dwyer lands in a drainage ditch ... Cable TV makes a negative impact on pro wrestling in the territory ... Taping at the Memorial Hall in Kansas City ... Using a "secret weapon" against the Kelly Twins

16 Samurai and Cannibals
Managing, wrestling, and booking in Florida ... Ric Flair doing one-hour broadways with Charlie Cook ... Ric Flair passing out the booze ... Dusty Rhode's track record ... Replaced as booker by Terry Funk ... Dusty replaces Terry as booker ... Dusty and the big picture ... Ole Anderson's in-your-face personality ... Eddie Graham's view of Dusty ... Eddie manipulates Dusty ... How JJ used the blade ... Mike Rotunda and the blood-filled condom ... Kendo Nagasaki beats Jerry Lawler for the Southern Heavyweight Title ... Kimala, the Ugandan Giant ... Managing in both the Florida and Memphis territories ... Selling "weasel" bumper stickers with Jimmy Garvin ... The Saga of the Family ... Working for Bill Watts ... King James ... JJ gets his hair permed ... Kevin Sullivan's devil-worshiping angle ... Gordon Solie ... Angelo Mosca gives Kevin Sullivan a hotfoot

17 The Garden
Wrestling in Madison Square Garden ... JJ makes history in the WWF ... Kudos to Vince McMahon Sr.

18 Back to the Maritimes
Return to the Maritimes ... Booking the Maritimes territory ... Unexpected help from Eddie Graham ... Moving back to Charlotte to work for Jimmy Crockett ... The beginning of a 5-year run

19 Death of the Master
Memories of Eddie Graham ... Flying under the influence ... Dusty leaves Eddie and takes his key players ... The best finish man in the wrestling business ... Eddie Graham, master of psychology

20 Cadillacs, Mercedes, and BMWs
Managing the Long Riders ... Black Bart's Stetson hat ... JJ Dillon, cross-dresser ... Wrestling in the Charlotte Coliseum under a mask ... Managing the Four Horsemen ... Ronnie Garvin, NWA World Heavyweight Champion ... Magnum T.A.'s car accident ... Three of the Four Horsemen make a secret visit to the hospital ... Wrestling in Kuwait ... Bringing gold home from Iraq ... Wrestlers and "The Myth" ... Wrestlers and their image ... Fine-tuning Dusty's notes ... Working in the wrestling office with Jimmy Crockett ... No sick days allowed ... The Dusty Finish ... Buying a percentage of Championship Wrestling from Florida

21 The Four Horsemen
How the Four Horsemen were formed ... Doing what was right for business ... Beating up Dusty in the parking lot ... Drugs and alcohol in wrestling ... Cocaine, the drug of choice ... Did Ric Flair use cocaine? ... A personal admission ... Saturday morning hangovers ... The Horsemen feed Dusty ... JJ and the Hully Gully ... Sky Low Low vs Little Beaver ... Ric Flair's problem with Dusty ... Dusty's ego ... JJ gets put in the middle ... Jimmy Crockett handles Ric Flair ... The NWA outgrosses the WWF ... Horsemen coverage in national magazines ... JJ picks his favorite Horsemen combination ... Thoughts and feelings about Ole Anderson ... Lex Luger becomes a Horseman ... Lex refuses to use the blade ... Barry Windham takes Luger's place as a Horseman

22 The Acquisition
The NWA falls apart ... Red flag ... Jimmy Crockett talks to Ted Turner ... Jim Barnett's part in the sale of the NWA to Ted Turner ... Wrestling fans run the new company ... Pizza Hut executive becomes the head of WCW ... Another divorce ... Living with Tully Blanchard ... Automobile accident

23 Courted by the World Wrestling Federation
Tully Blanchard suggests JJ contact the WWF ... Meeting with Vince McMahon and Pat Patterson in Greenwich, Connecticut ... Negotiating a salary ... Giving the NWA a two-week notice ... Timing the Clash of the Champions ... JJ's lawyer threatens the NWA with legal action for JJ's final paycheck

24 The Big Time
In-house agent with the WWF ... Andre the Giant is suspicious ... Tully falls victim to the WWF drug testing policy ... Tully and Arn jump back to the NWA

25 He Did It His Way
Vince changes the wrestling business ... A band of thieves ... Vince McMahon vs Ted Turner ... Behind the scenes with Vince McMahon ... Shane McMahon's role model ... Vince and Vince: Father and son ... Vince bleaches his hair blond ... Vince Jr. court marshaled from military school

26 The Creative Process
Total dedication to the company ... Working in creative with Vince and Pat Patterson ... Vince, the workaholic ... Waiting for the phone to ring ... Creating characters and personas ... Professional wrestling: predetermined sports entertainment ... Television and pay-per-views ... Producing promos ... The coordination and logistics of routing talent around the country ... Scheduling dates and booking arenas ... Booking flights for talent ... Rental cars ... Linda McMahon's travel agency ... Booking Wrestlemania ... Production meetings ... Creating the Rick " The Model" Martel, Saba Simba, Yokozuna, Papa Shango, and Goldust characters ... Who gets the blame for the Gobbley Gooker ... Terry Taylor and the Red Rooster ... Toilet humor

27 Twins and a Miracle Baby
Married again ... Vasectomy reversal surgery ... Going into cardiac arrest ... Father of three, at age 52!

28 Dirtsheets
Jimmy Crockett lays down the law ... Vince's frustration with the wrestling newsletters ... Information leaks ... Good workers and bad workers ... Hulk Hogan as a worker ... Great mechanics, bad mechanics ... Understanding and accepting the sheets ... Vince appoints JJ to be the official spokesman for the WWF to Dave Meltzer ... Advance publication of finishes ... Personal feelings on the Hulk Hogan-Sgt. Slaughter feud ... Dick Glover's letter to Frank Deford in "The National" ... Accused in the Wrestling Observer of withholding information and refusing to return a phone call ... Friends or acquaintances? ... Vince personally calls Dave Meltzer ... JJ and the Peter Principle

29 The Players
Vince McMahon's business partners ... Classy Freddie Blassie ... Vince McMahon Sr. and his respect for the veteran wrestlers ... Differences between Vince Sr. and Vince Jr. ... The Road Warriors clothesline Vince ... Vince McMahon gives Jim Barnett his walking papers ... Respect for Pat Patterson ... Bill Watts hired to run the WWF ... Lex Luger's run as the Narcissist ... Dusty Rhodes in a polka dot outfit ... Dusty's run in the WWF ... Sean Waltman and the Great Malenko ... Jerry Jarrett introduces his son, Jeff Jarrett, to JJ ... Jerry Lawler signs with the WWF ... The WWF tours Japan ... Working with Genichiro Tenryu and the Super World of Sports ... John Tenta vs Koji Kitao ... Promoting wrestling events in Japan ... Ric Flair joins the WWF talent roster ... Ric Flair vs Hulk Hogan ... Mick Foley sends JJ an autographed copy of his book, "Have A Nice Day" ... A personal note to Mick Foley ... Decision makers in the WWF

30 The Myth Becomes Personal
Alimony, taxes, and the IRS ... The Myth in the WWF ... $400 pair of shoes ... Buying and selling homes ... Vince McMahon helps JJ buy a house ... A loss of $50,000

31 The Young and the Wrestlers
Sex scandal in the WWF ... Foot fetish ... Pat Patterson and Terry Garvin are fired ... Vince McMahon sheds a tear ... Vince is attacked by Kevin Wacholz in Green Bay, Wisconsin ... Rape accusation ... JJ is sexually harassed ... Talent payoffs ... Pat Patterson returns ... Steroid trial hits the WWF ... Jerry Jarrett arrives to run the WWF ... Jarrett's contributions to the company ... Media trial and acquittal ... Vince's triumphant return ... Salary cuts of 25-40% ... Lord Alfred Hayes walks out ... Catch-22

32 Resigned to Resign
Jerry Jarrett resigns ... Damage control in Titan Sports ... Written steroid policy ... Face to face with Vince ... On probation ... Selling the house ... The resignation letter ... Paranoia ... Vince worries about a press conference ... False allegations ... Filing Chapter 13

33 The Obsession
New opportunities ... Meeting with Eric Bischoff at the WCW offices ... Advice from Jim Barnett ... Chilly reception ... "The Commissioner" ... Differences between the WWF and WCW ... Dissecting Eric Bischoff ... The contrast between Eric Bischoff and Vince McMahon ... Eric's brilliant idea backfires ... A difficult work environment ... Sexual harassment complaint ... Office love affair ... TV ratings ... Eric is manipulated by the talent ... Violence for the sake of violence

34 ATM Eric
Guaranteed contracts and labor costs ... Suspicious merchandise payoffs ... A talk with Scott Hall and Kevin Nash ... Temper tantrums ... First-class travel and other perks ... Diamond Dallas Page goes into business for himself ... The (Worthless) Heavyweight Title ... Logical explanations ... Jerry Jarrett, the innovator ... Hollywood celebrities ... David Arquette, World Heavyweight Champion ... Hulk Hogan sells for Jay Leno's arm bar ... A prank phone call for Bret Hart ... Mocking the Four Horsemen ... The disciples of Dallas Page ... Chris Kanyon sells cold drinks ... Kevin Nash as liaison between talent and the booking committee ... Bobby Eaton gets a letter from WCW ... The bloom is off the rose ... Eric Bischoff admits to needing help ... A three-year contract ... Overseeing the Power Plant ... The new Power Plant ... Bill Goldberg and Bob Sapp, trainees ... JJ's relationship with Bischoff goes south ... A ship without a rudder ... Hulk Hogan pins Kevin Nash with one finger ... The Goldberg monster truck ... The Titanic takes on water ... Losing $5 million a month ... $600,000 production budget ... Three plane tickets and $5,000 for a crow ... Accounting takes a look at the books ... Bischoff is reassigned ... Bill Busch is promoted to Executive Vice-President ... Dusty Rhodes is given $100,000 and his walking papers ... Dusty blames JJ for the loss of his job

35 The Other Vince
Vince Russo arrives at WCW ... Suspicious statements made by Russo ... Harvey Schiller leaves the company and Brad Siegel takes his place ... Jeff Jarrett accuses JJ of low-balling him ... Bill Goldberg's contract ... Terry Taylor leaves WCW to work for the WWF, then returns to WCW ... Scantily-clad women ... Cats and dogs ... Boomer passes away ... Russo and Ed Ferarra appear on television ... Rubber baseball bats and other props ... Scott Steiner bends a rubber crowbar on TV ... 27-minutes of wrestling action crammed into a 3-hour show ... Russo blows his cool and gives an ultimatum ... Jeff Jarrett gets beat by three wrestling legends ... Terry Funk's branding iron ... Brad Siegel loses his temper ... Battle lines are drawn ... Marketing survey ... Scott Steiner goes into business for himself ... Steiner rips on Ric Flair ... The inmates are given the keys ... Steiner's lawyer overturns Bill Busch's decision, and gets Steiner a bonus ... Search for the "next big idea" ... Bill Goldberg's push ... Siegel brings Eric Bischoff back ... Bill Busch walks out ... Vince Russo is reinstated ... Bischoff demands that JJ, Gary Juster, and Kevin Sullivan be fired ... The Ferret ... Kevin Sullivan, Nancy Sullivan, and Chris Benoit ... Cruiserweights leave WCW for the WWF when their demands aren't met ... Bob Mould comes to work for WCW ... Vince Russo and Jeff Jarrett take a cheap shot and make it personal ... Terry Taylor lobbies for JJ's job ... Once again, Russo loses his cool and unloads on JJ ... Performance reviews by Human Resources ... "Everybody gets a raise ..." ... The WCW employee directory ... Jeff Jarrett lays down for Hulk Hogan ... Company losses jump from $15 million to $80 million

36 Fire Sale
Rumors abound ... A new group of owners (?) ... Bischoff goes to Hollywood ... Fusient representatives visit the WCW offices ... WCW programs on Turner stations are cancelled ... Fusient backs out of the deal ... Siegel ignores Jerry Jarrett's offer to buy WCW ... Siegel "gives" WCW to McMahon for a song ... Watching the last episode of Monday Nitro from home

37 Total Nonstop Anxiety
Chief Financial Officer for Jarrett Construction ... Search for an investor ... Jerry and Jeff Jarrett form TNA ... Appearing on-air for TNA as their Commissioner ... Russo veers from the script ... Reunion with Dusty Rhodes ... Looking for work and going on unemployment

38 Life After Wrestling (Yes, there is!)
Real estate school ... Hired by Prudential ... Served with divorce papers ... Attending fan conventions ... JJ's crown makes the trip ... Move back to Delaware ... Hired by the Delaware Department of Corrections ... Q&A with Jim Cornette ... Thoughts on his circle of friends ... Summary of life today ... Photo safari in Kenya and Rwanda ... Meeting Sadaharu Oh ... Brooklyn Dodgers' Baseball Fantasy Camp ... A love for major league baseball ... Current health situation ... A serious injury ... Fame is fleeting

39 Summary
Final thoughts on Vince McMahon Jr. and the current state of the business
---

---
There are a lot of good wrestling books out there. This is top of the line. The portrayal of Vince McMahon is better than in any book I've read. I highly recommend this book.
Dave Meltzer, Wrestling Observer Live

---
I fancy myself as a wrestling historian, which is what prompted me to buy the book. I've been tearing through the book and loving every minute of it. I was especially struck by J.J.'s humility. I absolutely agree with the characterization in the book that he lived his dream early and now has to 'work,' as opposed to most of us who worked to achieve a childhood dream (if we're lucky). But the first surprise I got from the book was that it was personally signed and mailed by JJ himself.
Please, if you could, give Mr. Morrison/Mr. Dillon my best regards. I feel that we definitely have a kindred spirit. I'm currently a teacher who works hard, but that's fine because that's what is best for my family. Like him, I'm very detail oriented. I also do my best to be honest, while not being malicious in any way — all of what he wrote about never intending to hurt others — but having my peers feel that I hurt or even sabotaged them in some way just rang true. All this combined with a passionate love for the wrestling business and a desire to be in it since I was a child gave me a deep connection with this book. I just know that thousands of fans fill the arena, but only handful of people were able to make a living within the business, so I've come to accept my fate as an observer. In a sense, J.J.'s book makes me wish even more that I was in the business. The other thing about J.J.'s book that no other wrestling book has is that he appreciated every bit of his life, from being able to meet baseball stars, to being in the ring with some of the greatest of all time, working alongside Vince McMahon in his living room (and NOT being bitter despite the nature of his departure from the company), leaving Connecticut, but landing on his feet (never blaming anyone for his situation, like so many others), and witnessing the death of WCW. His journey is unparalleled, and the fact that he stayed positive, objective, and put his heart down on the pages, is a credit to him. Incredible. It is in my pantheon of wrestling history books, surrounded by countless other works that have been obscured by ego and vengeance, to a point where their messages are distorted. Books by wrestlers with axes to grind simply devolve into gossip, whereas works like Lou Thesz's Hooker, and now JJ's book, will stand the test of time and provide insight on an era about which we have surprisingly little reliable information.
Wonderful work. You (Scott) and Jim should be commended. Again, I hate to sound like a mark/broken-record, but I hope some word can get back to J.J. from me about all this.
Even after this fantastic contribution to the world of wrestling books, I can't help but think of how underutilized J.J. Dillon is. I wish he would post a regular blog or commentary, or would write a second book.
Thank you both very much,
Scott Spencer

---
After reading another fantastic offering from Crowbar Press wrestlers may indeed be like seagulls, but James J. Dillon is the proverbial phoenix. Dillon always found a way to emerge from the flames, not completely unscathed, but seeming to retain intelligence and learning from his own mistakes as well as the mistakes of others. The thing that I love about this book is the unabashed honesty that Dillon espouses. While at the same time retaining the class and dignity that he always seemed to reflect in his role as manager of the Four Horsemen.
Readers will no doubt enjoy the tales of the more prominent times of J.J. as manager of the Horsemen, but what I found truly fascinating was how profound and successful his own in ring career was. Learning about different territories, the men and women who made up the management and how they operated, those are some of the true gems found only in this book. I would recommend anyone in business to read this book, especially people who are in roles that require a lot of face time with people.
Through the book, we can see the ineptness of Eric Bischoff, who personifies a lot of what happens in the business world. A person who sells himself and attains short term success without any real knowledge of the position he holds. This is not uncommon in the corporate world, but with WCW being high profile and the people behind the scenes being more subject to public access we are able to gleam some insight into the inner workings of the company. But don't let that fool you, Bischoff wasn't alone, as J.J. points out the faults of others in power, as well as, his own shortcomings. This book isn't a mud slinging festival though, we can see through well presented facts at most, and the opinion of a highly successful wrestling personality and corporate employee at the very least, that Dillon's statements do indeed have a high degree of merit. Again, I have to go back to the point of honesty, Dillon doesn't portray himself as being infallible or perfect. In fact, I would say that J.J. is a little too hard on himself at times.
Another excellent point of this book is the dichotomy of the McMahon father-son dynamic. We read how kind and great Vince Sr. was. The picture painted reminds me of some great wonderful baron, who would reward those who deserved it, be charitable to whom he thought needed it, and even in death has maintained an image so respected that his ghost comes across as almost saint like. On the flip side, we see the ego maniacal, Vince Jr., a person who uses, abuses, and displays all the psychological attributes of a classic case of narcissism. A cowardly bully, who takes all the credit and none of the blame. Vince Jr. donates to charity in public, and spends thousands publicizing his false generosity. Vincent K. McMahon uses false kindness as a disguised weapon of manipulation, and no where is that more apparent than the effect he has had on J.J. Dillon's life, as portrayed in this book. When reading this book, I suggest pausing and really absorbing the information presented. This is a book to ponder over and not just veraciously read cover to cover. The details are too important, the facts, as Mr. Dillon believes them, are too relevant to be ignored.
Overall, "Wrestlers are Like Seagulls: From McMahon To McMahon" by J.J. Dillon starts as a happy tale of a wrestling fan giving everything he's got to be part of this industry. It turns somber, and downright sad in several parts. In fact, you will probably feel outright feelings of hatred and revulsion for Vince Jr., Eric Bischoff, and Vince Russo. However, this is not the tell all, axe to grind story that many wrestling books turn into. It is, to be perfectly simple, the story of a man who became involved the wrestling business, the way that business affected him, his family, and how the business that he gave everything to, gave very little back to him. You'll hear stories about lesser known wrestlers that you will not hear anywhere else. You'll learn about the inner workings of several promotions and the political struggles within those organizations. You will end on a high note, knowing that J.J. Dillon is not only okay, but he's in a great place in his life, at peace with everything and that's something very few who have attained the status he has can say.
This book is great. I highly doubt that anyone else in the wrestling industry could even offer anything similar, because of J.J. Dillon's unique career. A great career, a great person, and ultimately, a great book. In addition, the book has a great collection of photos.
You can also hear my interview with J.J. Dillon regarding this book as well as, other aspects of his career at www.myvirtualbc.com in the Newest Audio Interviews Section.
William Hatfield

---
As a 28-year veteran of the wrestling/rassling/sports entertainment industry, I have seen a lot of books attempt to explain our business to the layman, and most of them come off like a self-promotional ego piece, with little of interest contained within the pages. However, Wrestlers Are Like Seagulls: From McMahon to McMahon by JJ Dillon doesn't fall into that category, by any means. JJ gives a very accurate account of the way our business operates, without once patting himself on the back so hard that he risks a dislocated shoulder. He tells it like it is in an intelligent, conversational manner that any wrestling fan, either casual or hard core, can and will enjoy.
Bruno Lauer/Downtown Bruno/Harvey Wippleman

---
J.J. Dillon's "Wrestlers are Like Seagulls" is a fascinating memoir about one man living his dream. Beginning with his days as the president of a Johnny Valentine fan club, and ending as an executive with the doomed WCW, this book is a must read for any fan of professional wrestling. The most recent Crowbar Press releases, Inside Out: How Corporate America Destroyed Professional Wrestling by Ole Anderson and Wrestlers Are Like Seagulls: From McMahon to McMahon by J.J. Dillon are two of the best on the market. I cannot wait for upcoming books from Crowbar Press on Jody "The Assassin" Hamilton and Ivan Koloff.
Mat Ecklund

---
I've known J.J. Dillon for a number of years, however it was usually an office/talent relationship. Once I started reading his book, I couldn't put it down until I finished. I have a new respect for J.J., knowing that we started in the business the same way, as kids with a dream.
Percy Pringle III, a.k.a. Paul Bearer
PercyPringle.com

---
It was worth the wait. Wrestlers Are Like Seagulls: From McMahon to McMahon fell into my mailbox on Friday afternoon. It's now Saturday morning and I've scarcely slept all night. This is, literally, the first wrestling book in ages that I've been unable to lay down.
Not that the start wasn't a little shaky. I'm the sort who keeps careful notes while reading, and to begin with, I wasn't sure what I was going to think of "Seagulls," especially in the opening pages when I noticed a couple of historical discrepancies and minor typos. Oh, no, I was fretting, here's another one of those slapdash wrestling books that is, among other things, going to infuriate me with an endless string of factual errors.
But I soon discovered that I had little to worry about. I quickly became engrossed with the highly detailed, straightforward and compelling narrative of how Dillon determinedly worked his way into the wrestling business. And he made me a full-fledged convert by the time I got to page 61, where he referred to the veteran grappler, John Heideman — and spelled his name right!
That is, I think, the only time I have ever seen anyone correctly spell Heideman's name.
See how easy I am?
I should have suspected by then that the book was going to be something special. On page 44, Dillon had Dick Murdoch — another commonly misspelled name — right on the money. (Almost every promoter the man ever worked for had it spelled with a "k," as in Murdock.)
One other thing of note, and this is important, too: "Seagulls" has an INDEX!!
But all that sort of thing relates to me, as a writer, researcher and historian, and how I approach books on the subject of wrestling.
Never mind my eccentricities … let's just consider "Seagulls" as it is likely to appeal to the average wrestling fan.
Most importantly, Dillon's book stands alone among mat tomes I have read for the simple reason that it not only — most patiently and carefully — describes how the wrestling business operated in those days of yore, but is the story of a man who — unlike most wrestling stars — does not reveal himself as an egomaniac. He is, in fact, the embodiment of self-effacing. Look up "humble" in the dictionary and you'll probably see J.J. Dillon's picture.
This, then, is the story of James Albert Morrison's wrestling career … and, thanks to the fact that Morrison/Dillon may well be the only wrestling performer in history to keep detailed, day-by-day notes of his wrestling travels and matches, including payoffs, it tells you — in a thorough, engaging and honest manner — about one man's dream to become a professional wrestler, and how it all came true, in spades.
"Seagulls" reads as smoothly and easily as any book in the genre ever has — only Joe Jares' "Whatever Happened to Gorgeous George" could rate above it in that category, and Joe was/is one of the finest sportswriters in the land.
Far more importantly, though, is that the book is a King Solomon's Mine full of facts, figures and fascinating stories about the business that is UNPARALLELED — and I've read almost everything since the 1911 edition of "The Life Work of 'Farmer' Burns" (formerly the World's Champion Wrestler). (Funny, but I just happen to have a copy of it sitting beside me on the desk while I work on a Burns-Gotch essay.)
I've never read anything that even came close to describing how the business worked in those wonderful days of what are now, alas, yore — which is the added delight of the tome that J.J., Scott, and Philip have constructed.
Believe me when I say it has earned a PERMANENT place of honor on my desk (right next to the dictionary), where I can easily grab it for future reference.
Thanks for your efforts in bringing it to what I hope will be a wide audience. I am telling EVERY human to buy it. Sit right down and start on another, puleeze ...
J Michael Kenyon

---
Books about wrestlers or Professional Wrestling seem to be published by the month. Where at one time, a person would have to search far and wide to find a copy of anything relating to the business, now one can't turn around without bumping into the latest biography. Unfortunately, most of today's wrestling-related tomes are either written by people (ghostwriters) who have no true knowledge of the business or its history, or the authors are guys who have been in the business an astonishing five years. So, it is very rare when the trends are forsaken in favor of a real book written by real wrestlers and/or wrestling fanatics.
J.J. Dillon and Scott Teal have done just that with the new book: Wrestlers Are Like Seagulls: From McMahon to McMahon.
Seagulls is perhaps the best written book on the business that I have read. The narration is compelling and it is one of those books that you cannot put down. My copy arrived in the mail on a Friday, and by Sunday it was read. At 357 pages, that is no small feat.
The highlights of the book for me are many. Seagulls is chronologically organized like no other book before it. James Dillon's life and career are told in logical and timely order. This book goes from beginning to end in a way that makes you want to continue reading. The detail in this book is stunning. Dillon kept meticulous notes on his career, and these notes give the book a precision that is missing from many books of this nature.
The book is highly entertaining, while never losing any level of confidentiality or respect. Many wrestling books over the years have been glorified "kiss and tell" pieces. Seagulls is highly informative about how the wrestling business works, tells of many humorous hijinks that occurred on the road, and delves into the darker side of the business. Yet at no time does Dillon betray any confidences. His respect for the business and for the privacy of his peers is evident.
J.J. Dillon is a man who has been through it all in wrestling. He worked the small territories, the large territories, and he worked during and through the transition from "'rasslin'" to "Sports Entertainment." If you want to know about the evolution of the business, then this is the book to read. But more importantly, this book also recounts the evolutions of Jimmy Morrison to J.J. Dillon to James Morrison, loving Father and Grandfather.
If you are a wrestling fan, then buy this book. If you are interested in learning about wrestling buy this book. If you merely like to read a well-written life story, then buy this book. Wrestlers Are Like Seagulls: From McMahon to McMahon is the best of its kind and should be the model for all future wrestling books to come. My highest recommendation.
Harry Grover
Teacher, Mark, Fan

---
I got my book yesterday in the mail — can NOT put it down!!! A great read. I never thought I'd say this, but it may be even better than Ole's!!!
Flint Benson
Up and Coming Weekly

---
This was a great read. JJ obviously put a lot of time and effort into this book. This is by far the best book on the market from the perspective of both a former performer and front office executive. This is a must read for any wrestling fan. Great book, JJ!
Ashley Houchins

---
Starting with this review, we here at The LAW will be writing up our thoughts on some of the more interesting wrestling products coming out. I'm proud to announce that we get to start with one of the best, maybe even the best, wrestling autobiographies, J.J. Dillon's Wrestlers Are Like Seagulls: From McMahon to McMahon.
Often, when opening up a wrestling autobiography, you are instantly put off by the large print and triple-spaced text with lots of pictures. It usually means the book will be severely lacking in any interesting knowledge or historical perspective. Luckily, Dillon's book is the exact opposite. While many of his predecessors' works had higher page counts, there is no way they had near the information and insight that this one does.
Dillon began his career in the late 60's, and therefore, is able to give a unique look at an important period of wrestling's modern history. He worked as a wrestler, manager, and booker for almost every major territory of the 70's right until Vince McMahon killed that off with his expansion in the '80s.
Following that, he had his run with the final days of the NWA and in the role most associate with him, the leader of the Four Horsemen, one of wrestling's greatest heel groups, consisting of, along with Dillon, Ole Anderson, Arn Anderson, Tully Blanchard and Ric Flair.
Since he had been so successful as a booker in the territories, he eventually ended up with Vince McMachon, who along with Pat Patterson and Dillon, crafted the WWF product every weekend at McMahon's mansion in Connecticut from 1989 until Dillon left in 1996 after McMahon tried to cut his salary by 40%. As if that wasn't enough, Dillon then ended up back in WCW right as Eric Bischoff was making his ascension to power.
Taking Dillon's notes and journals from his long career and conducting several extensive interviews, Scott Teal and Philip Varriale have crafted an amazing portrait of a man that did it all in the wrestling business. You hear of his early days as an in-ring worker in such places as the Canadian Maritimes, where he was "Nature Boy " Dillon, wearing leather hats and vests and the big cigar that became his managing staple (never lit of course, because it draws even better heat since the fans think he's wasting a fine smoke).
The most engaging chapters, however, are those that deal with his relationship with Vince McMahon and Eric Bischoff. It's an amazing contrast, comparing McMahon's almost ruthless efficiency against Eric Bischoff's mismanagement of power and a crazed obsession to take out McMahon rather than creating a good product.
Historians of the sport will be well satisfied by this read, with stories concerning legends like Dusty Rhodes, Terry Funk, Abdullah the Butcher, Ric Flair, and Bruiser Brody. From a business standpoint, you also get to see the differences between how the territories worked in contrast to the big leagues.
To sum up, this book has what you really want in any outstanding autobiography: a well-balanced mixture of history, personal anecdotes, road stories, observations, and a clear narrative line from start to finish and not just rehashing the big angles of your run, as tends to happen with performers who write books too early in their career. This one covers it all.
For those of you that need to see this kind of stuff rated on a scale, I offer up this as my final thought. There is no doubt that Mick Foley's first book was groundbreaking (even if some of that was based on it becoming an actual #1 bestseller rather than the content). By the end, however, the humour, for me, began to wear thin.
Sometimes, the subject matter just warrants a more straight-ahead approach. J.J. Dillon uses that to his advantage and manages to create a captivating story that will be incredibly hard for any diehard fan to put down. Along with The Dynamite Kid's "Pure Dynamite," Lou Thesz's autobiography, and yes, Mick Foley's "Have a Nice Day," J.J. Dillon's Wrestlers Are Like Seagulls: From McMahon to McMahon stands proud at the top of the pile.
Dan Lovranski
Live Audio Wrestling

---
I am a old school fan who started loving wrestling when I was a child in the 60's. I waited with baited breath for J.J.'s book and pre-ordered it. It was well worth the wait. I rank his book up there with OLE'S and Jack Brisco's, which are my favorites, and I have read them all.
This book was chock full of information from the old territorial days up to the mess today they call wrestling from a man who truly was on the inside. I especially liked his chapter on his days in the Carolina's-Virginia area for Jim Crockett. He even mentioned my hometown of Lynchburg, Virginia, and how he headlined there, which he did, and I saw him when he did a number of times in 1972. Let me tell all of you that he was a great worker in those days and played the part of the young babyface to perfection.
I believe he also gives very great detail to his days working for Vince McMahon and confirms what a lot of us thought about the type of person he is. I won't ruin it for those who have not read the book, but for those from today, this will open your eyes to why we old-school fans miss so much about the old days.
He also was there to witness the fall of WCW and explains what really happened. Again, I will not divulge, but it is great reading.
In closing, I highly recommend that any fan of wrestling, be it old-school or a fan of today, get this book. It bridges the gap between the two and shows the difference in great detail.
GET THIS BOOK NOW!
Thanks to Crowbar Press for putting out another great book. Scott — you did it again. Can't wait for Jody Hamilton's and Ivan Koloff's books. Keep up the great work.
Donnie Mason
Old-school fan, mark, and devotee

---
I've read a lot of books written about or by wrestlers in the past few years, but I think JJ Dillion's book is by far one of the very best I've read. It held my attention from the minute I opened it to the very last page. I could feel and share his enthusiasm as a young fan and referee trying to break into the business, as well as his disappointment and heartbreak as the business changed and declined in the late 90s. The stories that he shares about his times on the road in the early days and about what life was like to be working in the WWF in the 90s really satisfied a lot of my curiousity about those days, without disillusioning me. Scott, Philip, and JJ have all written a very compelling story of his interesting life. Although I only met JJ once very briefly in the 80s, I now almost feel like I know him. He comes across as a man with a great deal of integrity, but who is not afraid to admit when he made mistakes. Thanks to all of you for sharing all the photos and behind-the-scenes stories with us!
Joyce Paustian

---
WHAT A BOOK!!
Truly more than a historical perspective of a wrestler's life and times. I thought Ole and Scott wrote a great work in Inside Out: How Corporate America Destroyed Professional Wrestling, but now J.J. Dillon (Jim Morrison) has his turn with the pen and goes even deeper than anybody has ever done before into the world of Professional Wrestling. Where Ole takes us into the inner workings of television moguls slowly destroying pro wrestling, J.J. takes us further and deeper into the scene and into the office and home of Vince McMahon himself.
By telling us his life story, Dillon reveals in minute details how the pro wrestling world used to be masked in Kayfabe, and how it evolved to the in-your-face game it is today. Dillon describes just what it really was like to be a wrestler and gives the reader a real eye opener to dispell the "Myth" that life for a wrestler was all glamor and money. He tells of those moments when all of us used to wonder what a wrestler did in-between bouts.
Dillon talks about and attributes his success and failures to internal and external forces in the world of pro wrestling and in his personal life he dealt with as a wrestler, manager, executive and as a human being. Not once does J.J. ever try to lay it on thick on the reader with Kayfabe and excuses, but maintains an honest and human approach to what caused things to happen in the business both before and after Vince proclaimed the game as fixed while proceeding to take over all the other wrestling clubs in the nation.
You will "meet" and read about the Jarretts, Kevin Sullivan, Bruno Sammartino, Pat Patterson, Vince Russo - Scripter, Dusty Rhodes, the executives at Time Warner, and of course, the McMahons. You will really feel you are right beside J.J. as his life progresses.
You will at times ask, "do I need to read all this detail?" Trust me, it is all worth it to get the inside picture of what was really going on in pro wrestling back when most of us still thought parts of it could be real. Real? Oh, it was real in the sense that the wrestlers needed it to look better than Hollywood stuntmen. The blood was real, but it was controlled, as you will learn through the art of "blading" and massage the wounded area. You must read this yourself to appreciate what I am only beginning to scratch the surface on.
In the end, the reader will feel they have traveled the hard road with J.J. I felt like I was really there with him. It is funny to think that many years ago, I happened upon an NWA program back in the late 70's and early 80's on a UHF local spanish station hear in N.J., and I thought, my God, there is another wrestling club besides Vince's! It was on these taped NWA programs where I first saw the Horsemen and J.J. for the first time and thought, "Wow! These bouts are great and just so down to business."
I want to thank J.J., Scott, and Philip for bringing this marvelous work to us — and you will thank them too when you are done reading this book.
"To the good old days guys"
Best Wishes —
Mark Cappuzzo

---
I really, REALLY enjoyed JJ's book. It's everything an autobiography should be. It has the perfect amount of detail. JJ takes his readers through several decades (in his own career, personal life, and the wrestling business overall), and is thorough, but not tedious; comprehensive, but not boring.
I never knew JJ was in the wrestling business so long until I saw his shoot interview a year ago (I didn't see him until he came back to the Mid-Atlantic area in the 80's), so I enjoyed all the angles and road stories from JJ's years as a referee, wrestler, manager, and booker. JJ also recounts the stress of working for Vincent K. McMahon and the exercise in futility that was WCW.
JJ comes across as very intelligent, articulate, organized, stable, and a true gentleman. I appreciate his honesty in admitting his own shortcomings and mistakes. I respect the fact that he didn't use his book to inflate his own ego, settle old scores, expose other people's "dirt", or make personal attacks.
The foreword by his daughter is great, and is a nice touch. I like the inclusion of the photos throughout the book, and the fact that they're pertinent to the surrounding text.
The only part of the book that was hard to follow was the section on routing (when JJ was with the WWF). It wasn't something that I found particularly interesting, but it was only for a couple of pages, so it's not a big deal.
Overall, it's one of the best and most comprehensive wrestler autobiographies I've ever read, and I've read a LOT of them.
Chris Tilley

---
J.J. Dillon's book should be required reading for all wrestling fans and for those wanting to get into the business. Please thank JJ for me as he put out a book that was just absolutely amazing. It's such a wonderful and educational read on the wrestling industry. I'm a huge Four Horsemen fan and I salute Mr. Dillon for giving us old-school fans something to be proud of to watch during the Jim Crockett era of the 1980's. I just wish we could return to those days again. LONG LIVE THE 4 HORSEMEN!!!
Richard Wierzbowski

---
After the outstanding Ole Anderson autobiography Inside Out: How Corporate America Destroyed Professional Wrestling, here's another "mat-based masterpiece", courtesy of Teal the Tennessee titan, who is a titan when it comes to wrestling books in my book!
J.J. Dillon's autobiography, Wrestlers Are Like Seagulls: From McMahon to McMahon, is a must for anyone who aspires to work in any capacity in professional wrestling (just like the Ole bio), as well as wrestling fans of all ages, since this book covers lots of insights and history from, well, the McMahon era to the McMahon era.
I never knew that J.J., along with Archie the Mongolian Stomper, was offered a start date by Verne Gagne in September 1976, but J.J. and Stomper went to Atlanta instead. Growing up in the Midwest (watching Gagne's AWA and Bruiser's WWA), it would have been interesting to see Dillon vs. Bobby Heenan in an AWA manager vs. manager feud, or the Mongolian Stomper, managed by the snobbish businessman Dillon, vs. Milwaukee's working class hero, Da Crusher (how 'bout dat?!).
The road trip and dressing room rib stories are amusing--kind of like comic relief from a mid-card comedy match. In my opinion, this book has two riveting "co-main events" — Dillon's booking/office experiences with various promotions (from the '70s regional groups to the '90s WWF) and the sensitive, humble, loving and very human side of Jim "J.J. Dillon" Morrison and his family-related situations.
It's way-cool how J.J. has seen the "big picture" from his professional and personal life adventures, and how situations, good and bad, have worked together for good. It's good to read that nowadays, J.J. sees how blessed he really is, despite some very rocky roads along the way—he does not come across as one of these bitter ex-wrestlers who constantly casts stones against those who "deserve it".
My FMW Wrestling co-host Dan "The Mouth" Lovranski is correct when he states that this book "stands proud at the top of the pile." I give Wrestlers Are Like Seagulls: From McMahon to McMahon a straight up "thumbs up," and to a greater extent, I sincerely wish Jim Morrison/J.J. Dillon and his family the very best.
John Watanabe, former host & play-by-play announcer for FMW and Urban Wrestling Alliance

---
I just finished reading JJ Dillon's book, Wrestlers Are Like Seagulls: From McMahon to McMahon and all I can tell you is I think it's great! Easily in the top 5 of any wrestling book I've ever read ...
I give this book two thumbs way up, highly recommended, especially for those interested in the territory days of pro wrestling ...
— Read the entire review on the Mid-Southern Wrestling Message Board
Trent Van Drisse

---
Upon hearing Scott Teal was working with Jim Dillon on a book, I knew we would we receiving a treasure trove in a look back through wrestling history. Teal's previous effort with Ole Anderson was a true gem, and Dillon's career, which spans several decades, saw the potential to give insight from not only the peak of the territorial era, but also an in depth view of both WWE and WCW during the national dominance.
It didn't hurt the book's depth or credibility since Dillon took impeccable notes throughout his career, logging events into Day Planners over a thirty-year period. Whereas most figures who have released books offer significant events, but often have dates and details incorrect — or in some cases have to be prodded to jog their memories by their co-writer — Dillon, Teal, and Philip Varriale probably spent much of their time trying to determine what would not go into the finished product ...
If you want one of the most detailed perspectives and accuracy to detail, this book is a must have. I would put Wrestlers Are Like Seagulls: From McMahon to McMahon up there with the books from Thesz, Ole, Funk, and the pieces from Greg Oliver and Steven Johnson.
Rich Tate

---
I just finished reading your (and JJ's) book and wanted to take a minute to tell you how much I enjoyed it.
As a young(er) man growing up in North Carolina, I was a great Mid-Atlantic Wrestling fan in the late 70' and early 80's. The Horseman and JJ were the best thing going and still are the best thing ever in pro wrestling.
Please thank JJ for all the years of enjoyment the provided for me and my friends. I still remember JJ and "explode Lex Lugar, explode!" Please let me know when you have another wrestling book completed. I really enjoyed the Ole book and this one too.
Thanks much!
Gary Bacon

---
I recently purchased the book Wrestlers Are Like Seagulls: From McMahon to McMahon, the story of J.J. Dillon, by J.J. Dillon, Scott Teal and Philip Varriale, available from Crowbar Press, via J.J.'s website, jjdillon.com. There is a link on the site that transfer's you to Teal's site, where the book can be purchased. Before I review the book, I want to compliment Teal and Dillon/Morrison with speedy and personalized service. JJ put a very thoughtful autograph to me personally. The price of the book and shipping is available on the Crowbar Press website.
I guess I should mention some of my personal thoughts on Dillon before I get into the nuts and bolts of the book. My earliest memories of J.J. is like most people, his run as the manager of the 4 Horseman in the NWA/Crockett territory Like most people, I lost track of J.J. afterwards, until his appearance on WCW many years later as a figurehead commissioner Some of WCW's better moments had interaction between Dillon and Chris Jericho (remember Jo Jo DeLeon???) and of course later with Lenny and Lodi J.J. also made two brief appearances with TNA that come to mind The J.J. Dillon character was always an unselfish character, always working hard to "get over" the wrestlers Long before I read his book, I realized that the Dillon character was a "bumping heel", designed to get others over Even in his runs as commissioner, he was still working to get talent over, not to get himself over We see so little of unselfish performers like Dillon in today's modern wrestling, it is almost bizarre to think that characters like J.J. Dillon once existed.
Anyhow, the book itself is an interesting read The book meticulously details the career of a relatively successful wrestler and manager, who was the top or near the top of the card his whole career Early parts of the book describes how Dillon got his start in wrestling, his runs throughout the various territories It has numerous funny road stories, as Dillon has always had a natural comedic talent to him He tells funny and engaging stories at will He briefly talks of his 3-1/2 year run with the 4 Horseman and tell the obligatory Ric Flair with no pants story (doesn't all wrestling books have pantsless Flair story???).
Upon accepting a non-television character role from Vince McMahon, J.J. goes into considerable detail on his 7 plus years he spent with what was then Titan Sports Dillon was at Titan through many of Titan's greatest highs and lows He touches on the sexual harassment trial involving Terry Garvin and Mel Phillips, he touches on the steroid scandal when Vince thought that Pat Patterson and Dillon would have to run the company while McMahon was in jail Dillon also discusses the tail end of the Hogan/Warrior years and the beginning of the Bret Hart/Shawn Michaels years (including Jerry Jarrett's surprising role in Vince's decision to push Bret and Shawn) I will warn you, don't look for J.J. to name names or give a lot of dirt on what happened Generally J.J. simply tells you what he seen, not his opinion or rumors or he out and out says he cannot comment on some matters due to fear of being legally tackled by WWE.
J.J. describes his leaving Titan Sports, when his role was Vince's right hand man He then discusses his move to WCW and Turner Sports/Entertainment and his role (or lack thereof) in the soon to be sinking ship J.J. does not really tell you anything you haven't heard before about WCW, other than giving the reader a first hand view of what happened, why it failed and why it would never succeed It is just another chapter in the sad story of WCW J.J. goes through considerable detail in describing the differences between McMahon and Bischoff and why WCW failed and why it would never succeed and why Vince is still in business and will be in business for many years to come.
I have described in the last couple of paragraphs of the book's dealings with wrestling, but this book is more than that It is the story of a man who had three failed marriages and had three sets of kids It is the story of a man had a constant struggle in his life, of living his dream, of doing what he loved and trying to maintain a normal life and being a family man while working in what has to be the most insane business in the world The sections of the book where Dillon discusses his family is almost heartbreaking, I could not imagine standing in J.J.'s shoes, having to constantly make the choice between his job and family.
I think ultimately for Jim Morrison, this book is somewhat therapeutic and it is telling his family why he did what did and why the wrestling business was what he chose for a living Jim Morrison is a smart, articulate and educated man, he chose wrestling, he did not have to be in the wrestling business He did it because he loved it The wrestling business did the same to J.J. Dillon as it has done to thousands of others It ate him up, spit him out.
So, we are left with mid-60's Jim Morrison, a guy who has to carry a lunch can to work each day for the first time in his life and has to deal with three broken marriages and three sets of children all over the country Should we feel sorry for him??? Of course not, for J.J. Dillon it was a wonderful ride, of highs and lows and I can guarantee, any of us would be blessed to walk in his shoes and to experience a life like he did For all of us in dead end jobs, that we do because we get paid, Jim Morrison lived the dream, he did a job he loved, a job he was passionate about A job that he got to see the world, he got to rub shoulders with the rich and famous and he got to make a good living doing it J.J. Dillon isn't looking for pity, he isn't looking for respect, he simply wants to tell a story a man who lived a dream ...
Troy Hutton

---
I want to sincerely thank you for writing such a thought-provoking book on your life and the 4 Horsemen era. Your book, as I told Scott, should be required reading for all those who want to venture into the wrestling business, and who better to learn those lessons than from you and what you went through to be a great star in this business. You have such good first-hand knowledge of what went on in the WWE and WCW and the Jim Crockett era that your book is by far, the very best out there.
I am a huge, and I mean a huge fan, of the 4 Horsemen, and I just wish, like thousands of others out there who love this business like I do, that we could go back to those days of the Horsemen when wrestling was wrestling, and not this crap that the WWE is putting on our TV sets right now. I hope TNA makes it on Spike TV, but it's going to be very hard for them. JJ, you said it best—this business is in serious trouble and dire straights right now, and without competition, McMahon will do whatever the hell he wants and crucify and bastardize this business, if he hasn't done so already.
JJ, never forget that you are a legend to all of us NWA fans out there. Thank you and to the Horsemen for providing a great deal of fun and entertainment during those great years of the Crockett era. I guess the best example I can come up with is one simple PPV: The Great American Bash, which the WWE bastardized it and now should be called The Great American Trash for the last two years time. What drivel that was. The Bash in the NWA WAS the Bash, just like the War Games and Starrcade. That was wrestling at its best.
You should have been running WCW and not the morons that were actually in charge of it to start with. JJ, if you were there, that place would be running today and not sink like quicksand. How you put up with all that crap form the powers that be from both organizations makes me wonder how you ever tolerated it to start with.
But you're a legend and never forget that, at least to all of us diehard NWA wrestling and Horseman fans. Thank you again, JJ.
All my very best to you and the family and thank you for writing to me. I'm always and WILL always remain a Horseman fan for life.
Like Tully Blanchard once said, "Once a Horseman, always a Horseman!" That goes for being a fan of one as well.
Richard Wierzbowski

---
I just finished your book and wanted to tell you how much I enjoyed it! Very well written, informative, insightful, and touching. I feel like I have gotten to know you personally after all these years. Thank you again for my 15 minutes of fame! Actually, I owe you a bigger thanks for using me in Kansas City – that was probably the only territory I worked on a full-time basis. I look back on the whole experience with good memories, along with the regret that i never capitalized on the oppurtunity. Thanks again for the taste of my dream.
Larry Dwyer

---
I just finished Wrestlers Are Like Seagulls: From McMahon to McMahon, reading a few chapters at a time over lunch at work the last two weeks. What a GREAT book! I was especially fascinated by the behind-the-scenes work involved in running the WWF. Many people don't realize what goes into running a major operation like that, and I thank you for letting us into the "inner circle." And, you are definitely NOT alone in your assessment of Vince Russo or Eric Bischoff.
Your book confirmed for me what I had heard about Vince McMahon, that he was something of a "smooth talker" when bringing you on board and then would turn on you if he felt you wronged him in some way. It sounds like it was a real pressure cooker there.
That said, your book should be required reading for ANYBODY with an interest in professional wrestling, so that they can have an insider's view of the last 40 years of the history of the business and have a good idea of what it's really like. "Seagulls" ranks up there with Mick Foley's first book, which was excellent, in my opinion.
J.J., thank you for the great autograph you signed for me, a "longtime fan." It was a great birthday gift. And, thank you for sharing your life story with us. It's a great, great read!
Thanks to all three of you — J.J.Dillon, Scott Teal, and Philip Varriale. It was a great team effort.
Rob Moore
The voice of PCW Wrestling

---
I was fortunate enough to meet Mr. Morrison (Dillon) last week at a special wrestling card in Kingsport, Tenn. where he autographed a copy of Wrestlers Are Like Seagulls: From McMahon to McMahon for my young son. He was the class act he portrays himself as in the book. As he suggested, I enjoyed the book very much.
I grew up in the 70's and 80's as a wrestling fan and was fortunate with the old Southeastern Championship Wrestling show on the local CBS affilate in Johnson City, the ICW ran by the Poffos (Savages)on the ABC station in Kingsport and the Mid-Atlantic show on the NBC affilate in Bristol. Obviously through that I became a huge mark for Flair over the years. I loved reading all aspects of the book from working for the McMahons to the Horseman days to the dirtsheets.
My favorite part was J.J. reliving all the territorial days. Some people dream of going back in time during the Civil War or Revolutionary War days. For myself, I would have loved to have been in Florida in the early 70's, in Amarillo when the Funks were running the promotion or working in the Mid-Atlantic heyday.
I feel fortunate in my own life as I have worked part-time the last dozen years as a sportswriter. Like Mr. Dillon, I have written a book. It's based on a statistical ranking of NASCAR's top drivers. Unlike Mr. Dillon, I do not have all the wonderful inside stories or the great travel stories to share. I must admit a part of me felt jealous. Another part of me was happy to grow up in that magical time, when the Four Horsemen sold out every town in the Crockett territory.
Thanks for all the years of entertaining and for being such a nice person.
Jeff Birchfield
Sportswriter, Johnson City (Tenn.) Press

---
I just finished reading your book that I received several days ago. My congratulations on writing the best, most insightful, HONEST, and informative wrestling book I have read to date.
Growing up in the New York metropolitan area just a few years after you, I too got my love for wrestling watching Ray Morgan announce from the Capitol Arena in Washington, DC. Years later with the advent of cable, I used to think how much Gordon Solie's seriousness and reverence for the in ring action reminded me of listening to Ray on Saturday nights on channel 5 in New York in the 1960's. After much searching, I was able to recently find two hours of this show on tape and hear Ray Morgan again, and watch Steve Stanlee, Tony Neuberry, and Johnny Rodz get crushed like they did every week.
I greatly appreciate all of the detail you went into about the booking meetings, and behind the scenes at both Titan and WCW. It is refreshing as a life long fan to be allowed such detailed insight. Your book has managed to find the elusive balance of being both respecful to the business and the serious fan.
I, too, am saddened by the current state of wrestling. I am, however, hopeful that TNA can step up to the plate with thier new exposure and fresh faces. I am also excited to see Flair being given an increased role, as it makes Monday nights alot more watchable.
Like many other of your fans, I believe your days with the Horseman were among the best, most entertaining, and exciting times in pro wrestling.
Thank you for all of those days, and more importantly for your excellent, candid, and highly informative book.
The best to you always.
Marty Greenfield

---
I just finished the book after finally getting the time to read it. My brother and I had gone to the 2005 LegendsFest in Charlotte, N.C., and were each a V.I.P. there. I was never a J.J. fan, but my brother was. He was able to get his picture taken with J.J. and his book personally autographed. We also were able to talk with Scott Teal, which was very cool!
I'm writing this because I had resigned from a job in a profession that I am deeply passionate about because of the low pay, politics and poor management at the place I had worked. Surprisingly J.J. talks about similiar experiences in his book. Hopefully I will find the right place to work in my chosen profession as I have already taken steps to do so.
But for not liking J.J. because of his "character" as J.J. Dillon, it is very surprising that he has inspired me through his honesty in his book to always follow my dream. Thank you!
Kevin B. Taylor

---
I just wanted to let you know how much I enjoyed your book. Many thanks to you (and Scott and Philip) for a truly enjoyable read. Thanks also for taking time to sign the book.
I met you briefly at Wrestle Reunion in Tampa this past January. I think I had only seen you work in person one or two times, so it was a pleasure to see you at ringside with Tully for his match. I'm only sorry that we weren't treated to the "Hully Gully" that night!
Here's a strange question for you if you don't mind. My friends and I have always been big fans of Abdullah the Butcher (honestly, who isn't?), and we always got a kick out of seeing you "direct" the madman by shouting "Malafita! Malafita!" (or something like that) at him. My Sudanese is a little rusty, so can you tell me what, if anything, those words meant? I told you it was a strange question.
I just recently dug out an old VHS tape of Big Time Wrestling from Detroit that has a few of your early studio matches on them!
Thanks again for the book, and for sharing your memories. My best to you and your family.
Scott Cornish

---
Wow! That's all I can really say. I just spent six hours reading your autobiography and I must say it's been the most enjoyable wrestling-related books I've ever read. This is coming from someone who knows Mick Foley (as my friend is the one who created his famous "Wanted Dead" t-shirt and have made numerous deliveries to his home in Long Island, NY), and a huge fan of Ric Flair, and have read Mick's two books and Flair's autobiography.
I had been a fan of yours since when in high school I could get Championship Wrestling from Florida on the Spanish UHF station on Monday nights at 1:30 AM to watching when WCW went national on cable. I actually met you once at WWE's Wrestlemania X Fanfest when my friend and I were there helping out a small company trying to sell a WWF role-playing game (basically rolling dice for moves and whatnot). During the three-day weekend, we were there during intermissions also when agents and wrestlers would walk freely throughout the Rotunda room at MSG. We were getting these books signed that explained the role-playing game by everyone we could (which I believe the whole roster of who was there, except for Owen Hart who didn't come out and Jeff Jarrett who refused). We had finished spending about half an hour with Paul Bearer (who was kind enough to kill some time with us telling some funny old Von Erich stories) and I saw you walking by. I didn't want to seem like a mark, but I think it came out that way anyway, as I wasn't sure whether to call you Mr. Morrison or Mr. Dillon. You very graciously signed our books and shook our hands, which we both deeply appreciated. The very funny thing was our booth was right in front where several wrestlers were playing poker, and every few minutes, Mr. Fuji would win a hand and remark "Very good for Fuji!" in his classic voice which had us chuckling.
Nonetheless, I just wanted to say how much I enjoyed the book and thank you for personally dedicating it. Sadly, I no longer have any of those old Florida tapes, but I always will remember the great presence you made on that show and during the Four Horsemen days. Remember seeing Blackjack Mulligan chase you off his "ranch" was very funny, also!
Continued success in whatever you do. It was an honor to buy your book.
Anthony Lucisano

---
I got the book a couple of weeks ago for my birthday and really enjoyed reading it (just finished this morning). I've been a wrestling fan since I was a kid and I used to hate you big-time when you managed the Horsemen, so you must've been doing a good job! Things have changed so much that I've probably been to my last house show, but I rarely miss the TV shows. Thanks for sharing your honesty with us—though I've never been inside the business, it interests me and I wonder what the future holds.
Bill Baldwin

---
I hardly know where to begin. I have read so many wrestling books. I guess I am of the opinion that most people have no business writing these books in the first place. They are filled with mindless dribble (I wrestled here, I wrestled there). These books jump all over the place and the people have very little to say, because their boss might just take the time to read what they have written. Not to mention that they are written on a sixth grade level with lots of pictures. When I put the book down, I wonder—why did I bother to read this in the first place?
I definitely can not say this about Dillon's book. It is like going on a journey through time with a new friend. I felt as if I had actually learned what it was like to be in the wrestling business from a true insider. He was not afraid to share his experiences without actually demeaning people in a cruel manner. It was one of the very best books that I have read in recent years.
I can honestly say that I cried, when I learned that he is now divorced and living with his mother. He seems happy about his life and does not seem to have any regrets, which many wrestlers in the business seem to have. I am truly grateful for the time and effort that everyone took to write and publish this book. I would definitely recommend it to other people to read.
My only disappointment, I think, came when I discovered through reading that the PWI Annual Award winners were selected by Bill Apter. I have probably at least 500 issues of PWI and all the sister publications going way back. Every year, I have seriously considered and voted for the people I though deserved these awards—silly me!!!
Kathy Keeley

---