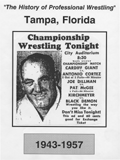 BOOK DETAILS
Paperback: 50 pages

Dimensions: 8.5 x 11

Publisher: Crowbar Press

Item #: hpw-01

Price: $24.95

The History of Professional Wrestling #1
Tampa, Florida
1943-1957



The first volume of this series covers the period between 1943 and 1957, the post-war years that saw the rise of pro wrestling in Tampa ... a city that would become a hub of exciting wrestling action in the later, modern age of pro wrestling.

Professional wrestling was a big draw in Tampa prior to World War II, but with the advent of the war, many of the wrestlers were drafted and shipped overseas, or assigned to duty on bases in the U.S. With a lack of talent available for wrestling promoters to draw from, wrestling hit a lull during the war years. In 1943, pro wrestling gradually made a comeback with several promoters trying to find their niche in the area. Most of us are familiar with the two most well-known promoters, 'Cowboy' Luttrall and Eddie Graham, but few people remember the pioneers like Price Daulton, Paul Butler, Chester Dix, Bill Sallade, and ... Nick Gulas. These were the men in charge of the grunt-and-groan game in Tampa during the '40s. You'll read about a full-scale wrestling war between rival promotions in 1946 and 1947; the events that moved wrestling from the downtown Municipal Auditorium into Fort Homer Hesterly Armory; the appearance of the first version of the Florida Heavyweight Title; and the beginnings of the promotion headed by C.P. "Cowboy" Luttrall.

The early '50s featured a transformation of wrestling into the style that would become popular in the '60s and '70s. This was an era that saw the promotion bring in all of the big stars ... Buddy Rogers, Don Eagle, Gorgeous George, Mr. Moto, Lou Thesz, The Great Togo, Argentina Rocca, Baron Leone, Gino Garibaldi, Hans Schmidt ... and unknown young men who were trying to make a name for themselves in the squared circle ... like Eddie Gossett (Eddie Graham), Ray Stevens and Dick Steinborn. This was the era when Tampa mat fans witnessed the area's first live TV card featuring Harry Smith vs. Chris Zaharias, Mae Young vs. Phyllis Hoffman, and Ray Stevens vs. Bennie Trudell. Plus, it was a time when Ella Waldek, Dot Dotson, Betty Hawkins, and many other ladies were featured in the main event as the reigning Florida Women's champion.


To be re-published in The Great Wrestling Venues series in 2024!

To be re-published in
The Great Wrestling Venues
format in 2024!