BOOK DETAILS

Paperback: 386 pages

Dimensions: 6x9

Publisher: Crowbar Press

Photos: 271 b&w

Cover: Full color

ISBN: 978-1-940391-17-5

Item #: cbp32-wa2

Price: $22.95
PRIORITY MAIL UPGRADE
ORDER BY MAIL
CLICK HERE
CREDIT CARDS
CLICK HERE

INTERNATIONAL ORDERS
For orders of
more than 3 books
please contact us at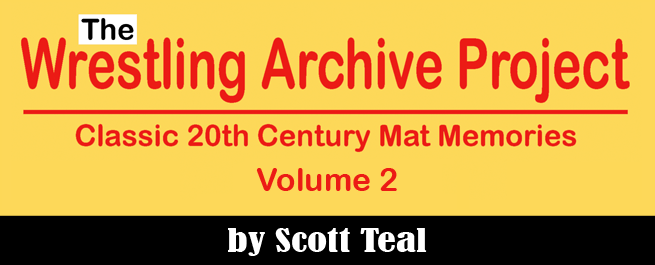 ---
---
"Wrestling Archive Project, volume 2" is available exclusively from Crowbar Press.
All books will be shipped via Media Mail (U.S.), Priority Mail, or International Priority Mail (Canada/overseas).
---

In this second volume of "Wrestling Archive Project," you will find interviews with the professional wrestling legends of yesteryear. Scott Teal, the man behind Crowbar Press, conducted most of these interviews in the days when the wrestlers refused to open up and break the code of "kayfabe." And yet, because of his friendship with them over several decades, they talked openly and told their stories in a frank, candid manner.

The "MAIN EVENT" for this volume is an interview with KILLER KARL KOX. Karl steadfastly refused to grant an interview to anyone other than Scott, and he leaves no stone unturned as he tells his story. Youíll feel as if youíre sitting across the kitchen table from Karl as he relates his life story and talks about the wrestling business and the people with whom he crossed paths during his career.

Three other exclusive, never-before-published interviews appearing in print for the first time are with Jackie Fargo, Larry Cheatham & Kody Kox, and filling out the 386-page book are interviews with Bob Orton Sr., Count Billy Varga, Bulldog Bob Brown, Gentleman Ed Sharpe, J Michael Kenyon, Lou Thesz, Maniac Mike Davis, Sailor Art Thomas, Karl Von Stroheim, Tom Jones & Violet Ray. They all open up to Scott with details about their lives and careers as they have with no one else — before or since. Plus, Jody (Assassin) Hamilton talks about his brother, the Missouri Mauler. Finally, we have interviews with two legends of the American Wrestling Association (AWA) conducted by Minnesota wrestling historian George Schire.

Scott Teal has returned to doing what he does best — sitting down with the wrestling legends and asking them tough, probing, insightful questions that give us an insight into what professional wrestling was all about in the days before "sports entertainment" became vogue. Go behind the scenes with the true legends of professional wrestling with indepth, hard-hitting, no-holds-barred interviews.


---

Acknowledgements
Dedication
Foreword by Scott Teal

INTERVIEWS

1. KILLER KARL KOX
This is the first and only time Karl opened up about his life and career. In this interview, he talks about —
— wrestling Ruffy Silverstein at the YMCA in Baltimore
— wrestling under a mask during the early part of his career
— how he got the name Killer Karl Kox
— Sputnik Monroe puking on his dashboard
— the goose in Lubbock, Texas, that crapped all over the ring
— throwing rotten eggs with Art Nelson at promoter Mike London
— his true feelings about Fritz Von Erich
— using the brainbuster on Giant Baba
— the promoters he liked, and those he didn't
— the dead wallabee in a fancy hotel
— working in Australia for Jim Barnett
— double-crossing a police inspector
— killing a spot show town with Spiros Arion
— teaching Playboy Gary Hart to swim
— helping Steve Keirn ask for a divorce
— Gory Guerrero saving him for being stabbed
— a "blind" Junkyard Dog working the fans
— teaching a young Tommy Rich a few things about punching
— wrestling Lou Thesz behind the concession stand
— the Sheik having the commission suspend him in Michigan
— how he came up with the idea for his imaginary friend, Alex
— and much, much more!

OTHER INTERVIEWS INCLUDE:
Baron Von Raschke
Count Billy Varga
Bob Orton Sr.
Bulldog Bob Brown
Gentleman Ed Sharpe
J Michael Kenyon
Jackie Fargo
Jody Hamilton on The Missouri Mauler
Karl Von Stroheim
Kody Kox
Larry Cheatham
Lou Thesz
Maniac Mike Davis
Nick Bockwinkel
Sailor Art Thomas
Tom Jones
Violet Ray
---

Excerpt from the interview with Killer Karl Kox
Copyright 2017 © Scott Teal
When it come time for us to go in the ring, the guy made all the announcements, then he told the people that we were gonna go one hour through.
He told the people?
Yeah. He told the people, "This is gonna be a one-hour match and theyíre gonna go one hour through." Boy, I looked at Spiro, and he looked at me. Well, the bell rang and we got into it immediately ... out of the damn ring we went. They had these sheetrock walls. I threw a chair at Spiros and it went through that damn sheetrock wall. We literally tore up the damn place. (laughs) I mean, we tore it up! We broke tables, chairs. Meanwhile, this guy was going crazy. Spiros gets in front of him and I grab a big piece of sheetrock. I went to hit Spiros and Spiros moved ... BAM! I broke that sheetrock over that guyís head. Down he went! We just kept it up. The guy was going crazy around ringside with the damn microphone hollering, "No, no, no! This is the way itís supposed to be! You werenít supposed to do this!"

---
Excerpt from the interview with Baron Von Raschke
Copyright 2017 © Scott Teal
Not too many people remembered regular, old Jim Raschke. He was a pretty mild, background type of guy. Very few of them even remembered him. There was one guy who always stood outside the ramp going into the St. Paul Auditorium. Heíd always yell, "Jim Raschke! Youíre Jim Raschke!" Other than that, I never had any problem.

---
Excerpt from the interview with Count Billy Varga
Copyright 2017 © Scott Teal
In many cases, I didnít get the money I had coming to me. The promoters used all kinds of creative math to taint the results. I know damn well that they sifted the money. They threw it in a box and whatever fell out was mine. I had trouble in Ohio with Al Haft. When I went into Columbus, everything was way down. When things started selling out, the payoff didnít change. I stormed into his office. "What are you trying to tell me ... that they were all passes?" (laughs) I told him, "Thatís my last match," and I left.

---
Excerpt from the interview with Bulldog Bob Brown
Copyright 2017 © Scott Teal
Another one, me and Bob Geigel wrestled the Hamilton brothers [Larry and Joe] in Quincy, Ilinois, and the place was jam packed. We went to an hour draw and the people were just pissed off because they had us beat throughout the match. Afterwards, we went across into Missouri and stopped in a gas station to get a six-pack. Bob got out and, when he was coming back, these guys got out of their car and said, "Yeah, you think youíre tough, right?"
Bob said, "Yeah, you want a piece of me?" ó and he set the beer down. The guys started walking forward, but for some unknown reason, all the guys ran away, got into their car, and drove off. Bob looked around and there I was with a double-barrel shotgun. Geigel later told me that he wondered, "Am I that tough?" That story still goes around today. He thought he was the greatest tough guy around, until he turned around.

---
Excerpt from the interview with Bob Orton Sr.
Copyright 2017 © Scott Teal
Homer OíDell took over at that point. He pulled out a .44 Magnum that wasnít even loaded, stood over me, and thatís what kept the people back. Two or three guys then pulled me out, but it was Homer standing his ground that kept the crowd away. Malenko was leaking like a sieve and took 33 stitches in his abdomen.

---
Excerpt from the interview with Gentleman Ed Sharpe
Copyright 2017 © Scott Teal
They wanted Mike to put Pat over for the world championship, but Mike just didnít want to do it. He told me, "Iím going home." I took him to the airport and he left. Actually, Mike and his wife separated, so Mike left in the middle of the night. (laughs) I went to Morris and asked him what I should do. He said, "You can stay here as long as you want." I did. I stayed as Ed Sharpe.

---
Excerpt from the interview with J Michael Kenyon
Copyright 2017 © Scott Teal
There was a kid at ringside. In New York, kids brought these huge autograph books. In later years, when I traveled with the ballclubs, weíd come into a hotel and there would be 25 kids there would autograph books. They knew exactly when teams were coming in, where they stayed, and everything, so they could get the autographs. So thereís a kid at ringside with one of those huge books. He mustíve had every autograph (pause) ... who knows what was in there. He hands the autograph book over to Murphy. Murphy nods and smiles at him, takes the autograph book, and the pen that the kid hands him. He breaks the pen in half and tears the autograph book to shreds. The kid just collapsed in tears. It was hysterical. This wasnít a work ... at least as far as he was concerned.
(laughs) For that kid, this was the end of the world. You talk about getting some serious heat. It was unbelievable. I thought, "Boy, that takes a lot of courage to do that."

---
Excerpt from the interview with Jackie Fargo
Copyright 2017 © Scott Teal
Toots said, "Boy, youíre gonna make some big money." In fact, he wanted to put me under contract. He guaranteed me something like $2,000 a week. That was (pause) ... man, listen! I made so much money. I had money stickiní out of both pockets. I was wearing tailor-made suits and $75 alligator shoes, smoking five-dollar cigars. I was buying new cars ... well, you know how it is. I was used to making a hundred dollars a week. I walked in Madison Square Garden and everybody said, "Toots, youíre crazy puttiní that man on the main event against Argentina Rocca and Miguel Perez."
He said, "Well, weíll see."
Five weeks before the show, that thing was sold out. They told people, "If you donít have a ticket, donít come."

---
Excerpt from the interview with Karl Von Stroheim
Copyright 2017 © Scott Teal
The night before I got married here in Tampa, we were wrestling in San Juan. We were in the baseball park and had a huge crowd. We were wrestling Eddie Graham and Sam Steamboat. It had been raining earlier in the afternoon and some of the fans at ringside were making mudballs. Kurt and I pulled some dirty angle and beat Steamboat and Graham. When the referee lifted our hands into the air as the winners, I turned to the crowd Ö and a mudball sailed right into my eye. Boom!
I got married the next day with a black eye and sunglasses. (laughs) It was wild down there. The Bahamas were wilder yet. They throw stones. Gene Kiniski and Lou Thesz were in Freeport one night. Kiniski got a big rock on the side of the face and Lou got one in the head. They were ready to take off.

---
Excerpt from the interview with Kody Kox
Copyright 2017 © Scott Teal
The first story that ever comes to mind had to do with one of the shows at the [New Orleans] Superdome. It was sold out, a huge house. [attendance 43,000] A lot of the wrestlers, my dad included, thought the payoff wasnít what it should have been. Shortly after that, Watts had a party or something at his house and my dad was there. It was a really big, nice house and supposedly this was a house that Watts had just bought. My dad was looking around at the nice house, bought with all the money Watts had earned, and thinking about his payoff. So, he went up onto the diving board and pulled down his pants and started peeing in the pool. Watts came out and said, "What the hell are you doing. Why are you pissing in my pool?"
My dad said something to the effect of, "Well, I helped pay for the damn thing, so I feel itís my right to piss in it."

---
Excerpt from the interview with Larry Cheatham
Copyright 2017 © Scott Teal
It didnít matter to Nick. He just wanted different faces and different names. He had a mummy outfit. I donít remember who he told me to call, but Nick told me to call one of the referees before I went to Huntsville. When I did, the guy told me to stop by his place and pick up the mummy outfit. I wrestled quite a few shows as "The Mummy." That first night in Huntsville, I got out of the car and started walking across the parking lot. I sort of dragged my leg behind me. (laughs) I used to watch the mummy on TV and I tried to act like that. I thought I really looked like the mummy. This old girl standiní there says, "Thatís Larry Cheatham! You canít fool nobody."
"Shut your mouth."
Hey, the rats [groupies] knew everybody. I donít care what you did. I donít care what you dressed up like. They knew everything. That made me mad. Here I am doing what Nick said and she knew my gimmick before I got started. I wasnít even in the building.

---
Excerpt from the interview with Lou Thesz
Copyright 2017 © Scott Teal
Daro and Mondt were the hated skippers of the entire Southern California operation. Either of them would have robbed their mother on her death bed. I hope the revenge on these two guys was sweet for the boys who testified. These two were totally amoral. My disgust with them followed to me the days when Mondt was back in the New York office and the squabble went on with the NWA. I may have worked with them more readily had Mondt not been involved. I knew I would be watching my back every step. I also made myself a promise to never put another dime in his pocket. He just didnít know how to play nice. Yes, I think the boys testified out of revenge. In fact, I am surprised Daro died in bed at a ripe old age.

---
Excerpt from the interview with Maniac Mike Davis
Copyright 2017 © Scott Teal
Barry Windham walked up to me afterwards and said, "Thatíll be the first of many." Of course, it wasnít a belt. We actually lugged a seven-foot trophy around. They had ordered the belts. (Mike) Rotundo and I had to ride alone because the trophy took up the whole back seat. We had to break it down and build it ... twice a day. (laughs) In fact, when Bass and Bart won the belts from us in West Palm Beach, it was the first day the belts were there. I slid out of the ring and kicked the hell out of the trophy because J.J. [Dillon] was gonna take it home as a souvenir. (laughs) All he could say to me was, "You bastard!" (laughs)

---
Excerpt from the interview with Jody Hamiton, talking about his brother
Copyright 2017 © Scott Teal
I wasnít around them that much, but he talked a lot about him. I think their big thing was they loved to argue. Brute [Bernard] was such an overbearing person. He was so opinionated ... the only one that dared have an opinion on anything. Of course, Larry wasnít gonna be overwhelmed by anybody. From what I understand from some of the guys that rode with them on occasion, they said it was the funniest thing you ever saw in your life. They sat there and argued back and forth, but they loved each other to death. Sit there and just argue to beat hell all the way to the town and all the way back.

---
Excerpt from the interview with Nick Bockwinkel
Copyright 2017 © Scott Teal
When I went to Houston, my intent was to buy a house. Even though I was the AWA champion, I would have lived in Houston. Paul and I had a lot of philosophical points of view in common. He liked the way I handled myself professionally, and he knew that my philosophy towards booking and promotion coincided very much with his. If he was still going to be associated with it, he wanted somebody that fit his format. Paul let me buy ten percent and was willing to let me buy up to 70 percent of the territory. He wanted to retain 30 percent of it for his nephew [Peter Birkholz]. I bought an additional one percent and was in the process of buying more.
This was about the time that [Bill] Watts and Fritz Von Erich were like two vultures ready to grab Houston. It was also about the time that [Vince] McMahon started to make his move. I still donít know what really happened, but Paul told me that Watts was coming in to talk some business. I told him to let me know after the meeting what Watts had to say. I was in Minneapolis at the time. As it turned out, Watts came in and bought some of Houston. I was kind of shocked and amazed that Paul would do that, so I left shortly thereafter. Once Watts got into the picture ... well, what was so strange was that Paul knew Watts was a piranha.

---
Excerpt from the interview with Sailor Art Thomas
Copyright 2017 © Scott Teal
Bulldog Brower tried me in some little town outside of Detroit. He couldnít shoot, though. Blackjack Mulligan tried it in Madison, Illinois. Heís gonna shoot with me, so I picked him up and set him over the top rope. Blackjack jumped back in the ring ... "Art, Art, Art, Art. Please! Hey, hey, hey ... we ... weíre workiní now. Donít be doiní that to me."
I said, "Thatís what I thought we was doiní."
He wouldnít speak to me no more, either. I think their pride was hurt. A whole lot of Ďem tried me. But the thing was, I was so nice about it. I didnít push things, or carry through with it. I just let Ďem know and then, "Hey, letís forget it." I think because of my attitude, I got a lot of guys in the business that love me to this day, and I love them, too. I donít have an enemy in the world. (laughs) At least none that I know about. I never looked for any trouble. Iíd rather get along with the littlest man in the world if I had to.

---
Excerpt from the interview with Tom Jones
Copyright 2017 © Scott Teal
I worked for Jack Pfefer one time. I got in the ring and they announced me as Highway Hamilton. The problem was, Highway Hamilton was pretty well known, and the people from that area knew who he was. They all started laughing and shouting, "Highway Hamilton? Boy, you sure have gotten a dark tan." Iím sitting there thinking, "What in the hell are they talking about?" I get back to the dressing room and they told me. (laughs) He was a white guy and, to make matters worse, that was his hometown. (laughs) That was Pfefer for you.

---
Excerpt from the interview with Violet Ray
Copyright 2017 © Scott Teal
[Jerry Adams] wrestled on some of our shows. I donít know if he did for any other promoter or not. The promoters didnít like it when we came into their territory. (laughs) Marlene Schmidt worked as the Lady Bolo when Tom Renesto was so popular as Bolo in the Carolinas. Van bought a mask for Marlene and made her Lady Bolo. Boy, that made Renesto so mad! He later told me the boys used to tease him and call him Lady Bolo.

---

---