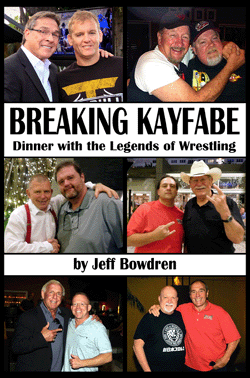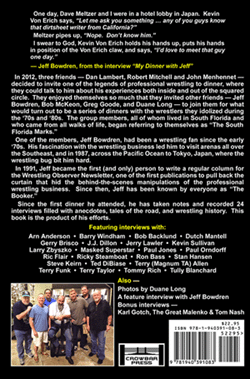 BOOK DETAILS
Paperback: 225 pages

Dimensions: 6x9

Publisher: Crowbar Press

Photos: 145 b&w

Cover: Full color

ISBN: 978-1-940391-05-2

Item #: cbp27-kf

Price: $22.95 $19.95
PRIORITY MAIL UPGRADE
ORDER BY MAIL
CLICK HERE
CREDIT CARDS
CLICK HERE

INTERNATIONAL ORDERS
For orders of
more than 3 books
please contact us at



---
---
"Breaking Kayfabe" is available exclusively from Crowbar Press.
All books will be shipped via Media Mail (U.S.), Priority Mail, or International Priority Mail (Canada/overseas).
---

One day, Dave Meltzer and I were in a hotel lobby in Japan. Kevin Von Erich says, "Let me ask you something ... any of you guys know that dirtsheet writer from California?"
Meltzer pipes up, "Nope. Donít know him."
I swear to God, Kevin Von Erich holds his hands up, puts his hands in position of the Von Erich claw, and says, "Iíd love to meet that guy one day."
— Jeff Bowdren, from the interview "My Dinner with Jeff"

In 2012, three friends ó Dan Lambert, Robert Mitchell and John Menhennet ó decided to invite one of the legends of professional wrestling to dinner, where they could talk to him about his experiences both inside and out of the squared circle. They enjoyed themselves so much that they invited other friends ó Jeff Bowdren, Bob McKeon, Greg Goode, and Duane Long ó to join them for what would turn out to be a series of dinners with the wrestlers they idolized during the Ď70s and Ď80s. The group members, all of whom lived in South Florida and came from all walks of life, began referring to themselves as "The South Florida Marks."

One of the members, Jeff Bowdren, had been a wrestling fan since the early Ď70s. His fascination with the wrestling business led him to visit arenas all over the Southeast, and in 1987, across the Pacific Ocean to Tokyo, Japan, where the wrestling bug bit him hard.

In 1991, Jeff became the first (and only) person to write a regular column for the "Wrestling Observer Newsletter," one of the first publications to pull back the curtain that hid the behind-the-scenes manipulations of the professional wrestling business. Since then, Jeff has been known by everyone as "The Booker."

Since the first dinner he attended, he has taken notes and recorded 24 interviews filled with anecdotes, tales of the road, and wrestling history. This book is the product of his efforts.

Interviews with: Arn Anderson, Barry Windham, Bob Backlund, Dutch Mantell, Gerry Brisco, J.J. Dillon, Jerry Lawler, Kevin Sullivan, Larry Zbyszko, Masked Superstar, Paul Jones, Paul Orndorff, Ric Flair, Ricky Steamboat, Ron Bass, Stan Hansen, Steve Keirn, Ted DiBiase, Terry (Magnum TA) Allen, Terry Funk, Terry Taylor, Tommy Rich, Tully Blanchard.

Also included are interviews with Karl Gotch, Great Malenko & Tom Nash


---

Excerpt from the interview with Terry Funk
Copyright © Jeff Bowdren
I remember we had this big show in Houston, or San Antonio. And we booked Tommy Rich to come out of Atlanta and be on our show. And we were pulling up to the building and I saw this group of young girls, just going crazy. And they came running towards me. And I was thinking, "Wow, these girls really want to see me." And they got close ... and ran right past me and towards Tommy Rich! (laughs)

---
Excerpt from the interview with Jerry Brisco
Copyright © Jeff Bowdren
A tough guy? Iíll tell you what Buzz was. He was a *%@. He thought he was tough. Heíd work out with me and Jack and go throw up. I saw it. He wasnít tough. He thought he was tough and acted it, but he wasnít tough.

---
Excerpt from the interview with Ted DiBiase
Copyright © Jeff Bowdren
I go up to Vince Sr. before the match and I ask him what he wanted, since I understood they were going to be giving Hogan a big push. He looked at me and said, "Ted, I trust that youíll know what to do," which was a big compliment, ya know? So, I go out and put Hogan over. I get back to the dressing room and Hogan walks up to me and says, "I owe you one." And Iíll tell you what. He never, ever, forgot that I did that for him.

---
Excerpt from the interview with Steve Keirn
Copyright © Jeff Bowdren
I get a call from Vince McMahon Sr. He tells me he wants me to go to Japan and drop the junior heavyweight title to [Tatsumi] Fujinami. I said, "I donít have a belt," and he says, "Thatís okay. Iím having one made."

---
Excerpt from the interview with Terry Taylor
Copyright © Jeff Bowdren
One thing I knew was that you never fell asleep in a car with Steve (Keirn). I would be in the backseat, and after I fell asleep, Steve would very quietly pull the front seat up as far as he could, and then he would slam on the brakes, scream as loud as he could, and I would go flying forward, usually onto the floor of the backseat. And while I was laying there, thinking I was in a car accident, Steve would start pushing the button for the seat to go back ... with me laying there.

---
Excerpt from the interview with Barry Windham
Copyright © Jeff Bowdren
If you ask Dusty, he would say it was him. I always rode with Dusty and we would listen to cassettes and talk about the business, but I came up with the Yellow Dog idea. He had an Allman Brothers cassette that we wore out and he loved the Midnight Rider song. He said, "How can we work this into an angle?" Thatís how the Midnight Rider came about.

---
Excerpt from the interview with Jerry Lawler
Copyright © Jeff Bowdren
The table ... and you know, it was kind of my own fault. I reached out right before he tossed me and grabbed the top rope. Thatís why I landed on the side of the table, so when I hit the floor, I knew right away that I was hurt. Now I was supposed to get up and go back into the ring for my big comeback, but I knew that wasnít gonna happen. As Iím laying there, Eddie Marlin comes running up to me and says, "Hey, Jerry, that looked really good. Maybe you should just stay down," and I kinda turned my head and said, "Yeah, thatís not gonna be a problem, Eddie."

---
Excerpt from the interview with Larry Zbyszko
Copyright © Jeff Bowdren
I mean, that guy was scary. I saw him and Billy Robinson one night ... and they were really just screwing around. Billy throws Maivia, and is on top of him, but you know, face to face. All of a sudden, Robinson starts screaming, and we canít figure out whatís wrong, and then we notice the blood forming on Billyís shirt. Maivia had begun biting his chest ... and I donít mean a little bit. I mean, he was chewing off chunks of his chest like he was an animal. It was scary.

---
Excerpt from the interview with Tommy Rich
Copyright © Jeff Bowdren
Pfffft. Big wannabe tough guy. Acts like heís so tough, like he was Steve Dr. Death. I went down and worked a Superdome show for him and I was like third from the top. You know how much he paid me? One hundred fifty dollars.

---
Excerpt from the interview with Arn Anderson
Copyright © Jeff Bowdren
Right after we had done the angle with Dusty, we were up there and we were in a six-man tag against Dusty and the Road Warriors. Dusty heads down the aisle and heís wearing their face paint. As they are coming down the aisle, this (pause) ... I donít know, roar starts emerging from the back of the arena and follows them up to the ring. It was the loudest thing I think I ever heard. I looked at Tully and said, "Whattaya think?" He says, "I think Iím gettingí the hell out of here," and drops out of the ring. It was great.

---
Excerpt from the interview with Bill Eadie
Copyright © Jeff Bowdren
Iím zipping along and I see the red lights behind me and I pull over. The cop walks up and asks where I was going in such a hurry. Well, I had bladed in my match with Slater and had a bandage over it. When he came walking up, I took it off. When he asked me about my speed, I pointed to my head, which was still bleeding. I told him I was looking for a hospital and thatís why I was going so fast. The cop looks at me and says, "Thatís a pretty good story, but unfortunately, Slater told me the same one about five minutes ago when I pulled him over."

---
Excerpt from the interview with Magnum TA
Copyright © Jeff Bowdren
They actually paid me through the entire contract. They eventually brought me in as an announcer, but when Dusty left and Jim Herd came in, he calls me in and tells me that he wants me to go to sort of a broadcasting school. I was like, "Okay, whatever", and then a couple of days later, they called me up and fired me over the phone.

---
Excerpt from the interview with Paul Jones
Copyright © Jeff Bowdren
One night we were at a bar and Andre asks me to introduce him to a girl, so I do, and he is off talking with her most of the night. At the end of the night, he goes to leave with her, except sheís driving a VW bug. Iím watching Andre try and squeeze into the car, and all Iím thinking is, "Man, he really wants to get laid!"

---
Excerpt from the interview with Ricky Steamboat
Copyright © Jeff Bowdren
Ric and I had the return match on TV. During the match, he gave me a hardway shot to the eyebrow. I remember right before he hit me, he said, "Sorry, kid," and then he potatoed me. I rolled out of the ring and they threw a towel over my head and led me back to the dressing room. They had sent David Crockett to the hardware store to get some sandpaper. Harley told me to sit in the chair and then told a couple of guys to hold my arms. He then came behind me, grabbed my hair, and started rubbing the skin around my eye until it was raw. A couple minutes later, I went out and cut my promo in front of the cameras.

---
Acknowledgements

Bowdren the Booker

OUR FAVORITE INTERVIEWS
by Dan Lambert, Greg Goode, Robert Mitchell, Bob McKeon

My Dinner with Jeff, by Scott Teal

Jeffís Photo Gallery

BONUS INTERVIEWS
Karl Gotch
The Great Malenko
Tom Nash

Index
INTERVIEWS
Ivan Koloff
Kevin Sullivan
Terry Funk
JJ Dillon
Gerry Brisco
Paul Orndorff
Ted DiBiase
Steve Keirn
Ric Flair
Terry Taylor
Barry Windham
Jerry Lawler
Larry Zbyszko
Tommy Rich
Arn Anderson
Masked Superstar
Tully Blanchard
Stan Hansen
Ron Bass
Terry (Magnum TA) Allen
Paul Jones
Ricky Steamboat
Dutch Mantell
Bob Backlund
---

---