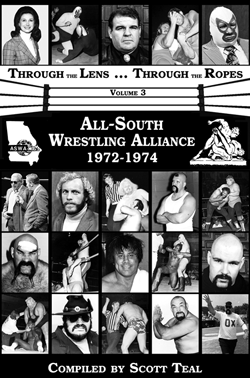 BOOK DETAILS

Publisher: Crowbar Press

6x9 Perfect Bound

Pages: 150

Photos: 316 b&w

Cover: Full color

ISBN: 978-1-940391-22-9

Item #: 53-ttl3

Price: $22.95
PRIORITY MAIL UPGRADE
ORDER BY MAIL
CLICK HERE
CREDIT CARDS
CLICK HERE

INTERNATIONAL ORDERS
For orders of
more than 3 books
please contact us at



---
---
"All South Wrestling Alliance" is available exclusively from Crowbar Press.
All books will be shipped via Media Mail (U.S.), Priority Mail, or International Priority Mail (Canada/overseas).

---
Through the Lens ... Through the Ropes
Volume 3: All South Wrestling Alliance
by Scott Teal


This collection of photographs from the Atlanta-based All-South Wrestling Alliance territory, owned by Gunkel Enterprises, Inc., are some of the best photos ever seen from that promotion.

The photos, most of which were shot in either Atlanta or Columbus, were all taken between 1972 and 1974, and we've included shots of just about every wrestler who made an appearance for Gunkel Enterprises during that time.

The 316 black-and-white photos include publicity stills, candid shots, and action pictures from house shows, with most being published for the very first time. While some have been seen in arena programs and magazines, they have never been presented in this quality. All photos were scanned from the original negatives and put through a laborious cleaning, brightening and sharpening process so they appear in this book in the highest quality possible.

It's a shame that no video footage remains of those great moments in wrestling history, but I'm hopeful that these photos will take everyone back to a time when we still "believed" and were captivated by the weekly scenarios concocted by the promoters.

Wrestling fans who remember the stars of All-South Wrestling Alliance — The Assassins, Thunderbolt Patterson, Ox Baker, Ted Oates, the Missouri Mauler, Ray Candy, Tommy Seigler, Ernie Ladd, El Mongol, Dick Steinborn, Wayne Cowan, Argentina Apollo, Rock Hunter, and many others — will treasure this beautiful collection of memories for years to come.

Note: No part of this book may be reproduced or transmitted in any form or by any means, electronic or mechanical, including photocopying, recording, or by any information storage and retrieval system, without permission in writing from Crowbar Press.


---
---
WRESTLERS
Ann Gunkel
Angelo Poffo
Argentina Apollo
Assassin #1 (Tom Renesto)
Assassin #2 (Jody Hamilton)
Avenger (Francisco Flores)
Bearcat Wilkerson
Bill Bowman
Bobby Simmons
Bobby Starr (Ron Starr)
Bull Zomar
Carlos Colon
Champ, The
Charlie Cook
Charlie Smith
Cisco Grimaldo
Cowboy Bob Ellis
Crusher Verdu
Dick Steinborn
Dr. Jerry Graham
El Mongol
Enforcer, The
Ernie Ladd
Golden Gladiator
Goldie Rogers
Goliath
Gorilla Watts
Great Fuji
Guillotine Gordon
Hollywood Blondes
Jack Armstrong
Jerry Oates
Jesse James
Jim Wilson (2x)
Joe Turner
John Foley Johnny Ringo
Juan Caruso
Koa Tiki
Krusher Karlson
Kubla Khan
Lanny Poffo
Luke Graham
Magnificent Zulu
Midgets (Chris Columbo, Cecil Strong

WRESTLERS
Mighty Yankee (Luke Graham)
Mike & Pat Kelly
Mil Mascaras
Missouri Mauler
Mitsu Arakawa (1x)
Mongols
Mr. Kleen
Oki Shikina
Ox Baker
Pedro Godoy
Pepper Gomez
Randy Curtis
Ray Candy
Roberto Soto
Rock Hunter
Ron Pritchard
Royal Kangaroos
Super Gladiator
Super Soul Davis (Don Serrano)
Tarzan Tyler
Ted Oates
Thunderbolt Patterson
Tim Geohagen
Tommy Seigler
Tracy Rivers
Wayne Cowan
Whipper Watson, Jr.

TOP FEUDS
Assassin #1 vs. Assassin #1
Carlos Colon vs. Super Soul Davis (Don Serrano)
Ted Oates vs. Wayne Cowan (Dutch Mantel)
Rock Hunter's Army vs. Everyone
Ernie Ladd vs. Missouri Mauler

SPECIAL FEATURES
ASWA Launch Party Photos
Action Photos
Wayne Cowan's Haircut
Battle Royal Action
Those Fabulous Fans
The Wrestling Bear
Softball Game: Wrestlers vs. Jaycees
---
---

---