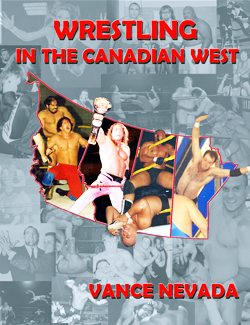 BOOK DETAILS
Perfect Bound: 220 pages

Dimensions: 8-1/2 x 11

Publisher: Crowbar Press

Photos: 101 b&w

Cover: Full color

ISBN: 978-0-9745545-9-4

Item #: cbp08-vn

Price: $22.95

---
---
"Wrestling in the Canadian West" is available exclusively from Crowbar Press.
All books will be shipped via Media Mail (U.S.), Priority Mail, or International Priority Mail (Canada/overseas).

"Wrestling in the Canadian West" is currently out of stock, but a 5th printing is in the works.
As soon as they are available, information will be posted here.
---

For more than 40 years, western Canada was best known as the home of Stampede Wrestling, and the region has been the site of great wrestling action for more than a century. It has produced, hosted, and developed, a multitude of top wrestling talent. And yet, until recently, western Canada has been frequently overlooked for its significance in the history of the sport in North America ... until now.

WRESTLING IN THE CANADIAN WEST is a celebration of more than 100 years of professional wrestling in western Canada. Recognizing the efforts of promoters and wrestlers alike, the histories of the titles, Canadian wrestling trivia, and stories from the wrestlers who traversed the territory, this book offers a thorough insight into the legacy of the sport in one of the continent's most oft-forgotten regions.

"Vance Nevada has done as much as anyone in the business as a writer, historian, and as a wrestler. I'd say his contribution is as significant as the Harts or any of the top people in the business in Canada. Having spent a lot of time in that country during my career, it was very interesting to learn some of the history. This book was hard to put down once I started reading it."
— Honky Tonk Man

Over the past sixteen years, Vance Nevada has been one of the most active performers in Canadian wrestling. With appearances from coast to coast, he has stepped in the ring with top names in the business such as Tatanka, Bryan Danielson, Robert Roode, "Maniac" Matt Borne, Jim "The Anvil" Neidhart, and many more. As one of the most visible headliners, he has laid claim to numerous championships, but perhaps one that has brought him the most professional satisfaction is his recognition as a leading historian of the pro mat game.

Away from the glare of the ring lights, Nevada has piggybacked his touring commitments to get into libraries across western Canada, often spending hours scrolling through years of microfilm, researching the history of his business. After several years, and documentation of 18,000 matches later, Nevada has released his book, a comprehensive almanac of professional wrestling in Canada — WRESTLING IN THE CANADIAN WEST.

"Wrestling In The Canadian West accurately describes what it was like for those of us who travelled the roads on a daily basis in this unique and spectacular area of professional wrestling history. The author clearly illustrates how the business over the years has now come around full circle, as he is living it himself, and dealing with the same trials and tribulations wrestling's pioneers faced in this area more than a hundred years ago."
— Moondog Ed Moretti

WHAT'S INSIDE? —
— Profiles on more than 100 promotions over the past century
— Championship histories
— Statistical rankings for wrestlers and tag teams
— "A Day in Canadian Wrestling History" trivia
— Road stories from the wrestlers themselves, including:
J.J. Dillon, Moose Morowski, Kerry Brown, Paul Diamond, Tony Condello, Dean Higuchi [Dean Ho], Steve Corino, and more!
— Features on women's and midget wrestling
— A discussion about the relevance of wrestling commissions in modern wrestling
— "The State of the Business" in 2009.
— A directory of the top drawing wrestling events of all time in western Canada
— Statistics for more than 200 active Canadian wrestlers
— 101 photos
— And much, much more!!

---

Copyright © Vance Nevada
The following year, Whelan succeeded Harry Miller as the promoter of semi-weekly cards from Vancouver's Orange Hall. Presenting cards each Wednesday and Saturday night, Whelan's Vancouver Wrestling Club drew a steady following.
Within months, Whelan's cards started to draw attention when its headline villains spurred riotous conclusions to the night's action. One card in November 1943 required Whelan, a detective with the Vancouver police force by day, to call upon his fellow "blue jackets" to prevent the fans from exacting revenge on American baddie, Ralph Loeffler. Two months later, the Vancouver Athletic Commission suspended the operation of rival promoter Lew White when a similar melee occurred, with fans getting involved with the action. Whelan appeared to be immune to the Commission's scrutiny.
The popularity of Whelan's attractions inspired him to add a second night per week of matches – first holding his events at the Orange Hall, then later moving them to the Vancouver Athletic Club gym in 1944. The scene was active at this time, and in addition to the Vancouver Wrestling Club events, Sam Nolan was offering weekly exhibitions with his Pender Wrestling Club and Percy Hicks' Big Time Wrestling returning to action in the summer of 1944.
With the business booming, the Vancouver Athletic Commission weighed in with a proposal that threatened to effectively end Whelan's promotion in October 1944. The Commission ruled that the city was not large enough to support three promotions.
In a move which most benefited Big Time promoter Percy Hicks, the Commission ordered that Hicks would be allowed to promote his weekly attractions on Fridays, while the two "minor" promoters (Nolan/Whelan) would be relegated to promoting cards on alternating Tuesdays. Commission chairman, Charlie Jones defended the decision citing that: "One of our duties is to protect the fans and that's what we're going to do."


---


Introduction
The Territory
Origins of professional wrestling in western Canada

Promotion/Promoter profiles 1930–1934 – Emil Klank
1930–1938 – Tillicum Athletic Club (Fred Richardson)
1931–1940 – Josef Zabaw
1932–1933 – A.E. Chilton
1933 – Ivan Mickailoff
1934–1937 – George Fitch
1935–1938 – Kamloops Athletic Association (Bob Watson; Art Sanderson)
1937–1947 – Big Time Wrestling (Percy Hicks; Jack Whelan)
1938–1948 – Darby Melnick
1941–1945 – Vancouver Wrestling Club (Harry Miller/Jack Whelan)
1944–1947 – Pender Wrestling Club (Sam Nolan/Jack Keeling)
1946–1966 – Alex Turk Promotions
1948 – 1952 – Larry Tillman
1948–1989 – Stampede Wrestling (Stu Hart)
1940s–1957 – Crescent Boxing & Wrestling Club (Bill Runner)
1948 – Northwestern Boxing & Wrestling Club (Antonios Evans)
1949–1968 – Cliff Parker/Rod Fenton
1950–1952 – Olympia Wrestling Club (Al Tomko)
1952–1968 – Madison Boxing & Wrestling Club (G. Mackie/ A. Tummon)
1954–1958 – Brooklands Wrestling Club (Joe Sawtus)
1957 – Thunderbird Wrestling Promotions (Mike Bulat)
1957–1959 – Norland Wrestling Club (Albert Olsen)
1958–1960 – Atlas Wrestling Club (Mike Koncur & Wally Hewack)
1960–1966 – Westbrook Athletic Club (Jack Ward)
1962–1989 – American Wrestling Association (Verne Gagne)
1966 – Hercules Athletic Club (Joe Vogl)
1968–1976 – Northwest Wrestling Promotions (Sandor Kovacs)
1973–present – Tony's Championship Wrestling (Tony Condello)
1972–1977 – Central Canadian Championship Wrestling (Al Tomko)
1977–1989 – Vancouver All-Star Wrestling (Al Tomko)
1977–1995 – Central Canadian Pro Wrestling (Ernest Rheault)
1977–1984 – New Brand Wrestling (Walter Shefchyk)
1982–1984 – Manitoba Wrestling Alliance (Joan McGuire)
1984–present – World Wrestling Entertainment (Vincent K. McMahon)
1986 – Northwestern Wrestling
1987 – North American Wrestling Association (Zmyndak/Paquin)
1988 – North West Wrestling Federation (Les Thornton)
1988–present – International Championship Wrestling (Tim Flowers)
1989 – Can-Am Wrestling (Martin Boroditsky)
1989 – Keystone Wrestling Alliance (Bob Holliday)
1989 - ?? – Canadian International Wrestling Federation (Fred Jung)
1989–1994 – Pacific Coast Championship Wrestling (Roselli; Dellaserra)
1989–1992 – Canadian Wrestling Connection (Bob Pupetz)
1990–1991 – Canadian National Wrestling Alliance (Fred May/Frank Sisson)
1990s – Rock & Wrestling (Dean Hart)
1990–1992 – Canadian Wrestling League (W. Shefchyk/T. Tomko)
1991–1996 – West Coast Championship Wrestling (Michelle Starr)
1992–1993 – United Championship Wrestling (Walter Shefchyk)
1992–1995 – Canadian Rocky Mountain Wrestling (Ed Langley)
1993 – World Organization of Wrestling (Phil Melby)
1993–1994 – Canadian Wrestling Alliance (Dave & Judy Bruce)
1993–present – River City Wrestling (Wayne Stanton)
1994 – Rough House Rasslin' (Martin Boroditsky)
1994 – Teen Pro Wrestling (Phil Watson)
1994 – Wildcat Wrestling (Dan Micallef)
1995–present – Canadian Wrestling Federation (Piche/Collins/Todd)
1995–1996 – Badlands Championship Wrestling (Rick Lackey)
1995–1996 – Pro Wrestling Canada (Rocky Dellaserra)
1996–present – Extreme Canadian Championship Wrestling (Parlett/Starr/Teixeira)
1996 – Winnipeg Championship Wrestling (Ken Ricard)
1996–1997 – Hardcore Wrestling (Scott Wheatley)
1997–1999 – Body Slam Wrestling (Isaac & Matthew Evans)
1997 – Action Wrestling Alliance (Tom Bland)
1997–2003 – Can-Am Wrestling Federation (Otto Gentile)
1997 – Power Pro Wrestling (Steve Stryker & Bugsy Slugg)
1998–2000 – Wildcat Championship Wrestling (Gerard Lightfoot)
1998–present – High Impact Wrestling (Charles Pichette)
1999–2003 – House of Pain (John Parlett & Michelle Starr)
1999–2008 – World Organization of Wrestling (Bruce & Ross Hart/Bill Bell)
1999–2003 – No Holds Barred Wrestling (Don Callis)
2000–2001 – World Championship Wrestling (Ted Turner)
2000–2003 – Top Rope Championship Wrestling (Bob St. Laurent)
2000–2002 – Renegade Wrestling (Wavell Starr & Mel McGee)
2000–2004 – All Star Wrestling (Roselli & Tyler/Chiesa)
2000–present – Maniac Wrestling Alliance (Stuart Brown)
2000–2001 – Western Canadian Extreme Wrestling (Alex Karmis)
2000–2001 – Indigenous Wrestling Alliance (Nelson Mayer)
2000–2001 – Canadian Championship Wrestling (Robert O'Keefe)
2001 – Saskatoon Championship Wrestling (Bill Karasz)
2001–present – Prairie Wrestling Alliance (Kurt Sorochan)
2001–2003 – Ultimate Thunder Promotions (Jon Giroux)
2001–2005 – Pro Outlaw Wrestling (Brian Bailey)
2001 – Mat Rats (Graham Owen)
2001–2002 – Young Lions Wrestling (Johnny Devine & Spencer Tapley)
2001–2002 – Hybrid Wrestling Coalition (Rick Bognar & Allen Coage)
2002–present – Premier Championship Wrestling (Nguyen/Shallcross & Davidson)
2002–2003 – Vancouver Island Wrestling Federation (Shaun Lafleur)
2002 – Twin Wrestling Entertainment (Jian & Page Magen)
2002–2008 – CyberFights (Ron Sexton)
2002–present – Monster Pro Wrestling (Sean Dunster & Jeff Thomas)
2002–2003 – Impact Championship Wrestling (Robby Royce & Scott Reid)
2003 – New Attitude Wrestling (John Parlett)
2003–present – Real Canadian Wrestling (Steve Ewaschuk)
2003–2005 – Action Wrestling Entertainment (Mike Davidson & Jeff Dyck)
2004–present – Ring Masters Entertainment (Chris MacFarlane)
2004–2005 – Top Ranked Wrestling (Todd Fontaine & Clint Istace)
2004–2005 – Just Wrestling (Vance Nevada & Shaun Lafleur)
2004–2007 – Independent Wrestling Manitoba (Jason Gagne)
2005 – Victoria City Wrestling (Trevor Davis)
2005–present – Alberta Wrestling Federation (Perry Delbridge)
2005–present – Power Zone Wrestling (Tim Strom)
2006–2007 – Live Pro Wrestling (Ryan Wood)
2007–present – New Wrestling Nation (Dan Rautavuori)
2007–present – Thrash Wrestling (Nick Szalanski)
2007–present – Western Canadian Championship Wrestling (Chris Wayne)
2007–present – All Star Wrestling (Michelle Starr)
2007–2008 – New Canada Pro Wrestling (Seth Knight)
2008 – Steeltown Pro Wrestling (Robert Maxwell)

Features
Kayfabe [wrestling movie]
Canadian Unified junior heavyweight title
The top drawing wrestling events of all time in western Canada
The history of women's wrestling in western Canada
The Mighty Midgets
Debate: The Merit of Regulation
The State of the Business 2008
Statistics for active western Canadian professional wrestlers
Wrestling Resources
Recommended Reading
About the Author
---



Nevada's work cannot be understated. He has mined the rich history of wrestling in Western Canada through time and effort to provide a fascinating book. Much has been revealed about professional wrestling on the pages of this book and the reader will find it difficult to put it down. As the quote has so often been used, it's a must read for wrestling historians and fans alike.
Read the entire review at the SLAM! Sports website.


---

---