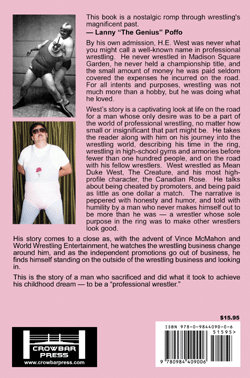 BOOK DETAILS
Paperback: 153 pages

Dimensions: 6x9

Publisher: Crowbar Press

Photos: 20 b&w

Cover: Full color

ISBN: 978-0-9844090-0-6

Item #: cbp09-hw

Price: $15.95
PRIORITY MAIL UPGRADE
ORDER BY MAIL
CLICK HERE
CREDIT CARDS
CLICK HERE

INTERNATIONAL ORDERS
For orders of
more than 3 books
please contact us at



---
"Long Days and Short Pays" is available exclusively from Crowbar Press.
All books will be shipped via Media Mail (U.S.), Priority Mail, or International Priority Mail (Canada/overseas).
---

This book is a nostalgic romp through wrestling's magnificent past.
— Lanny "The Genius" Poffo —


By his own admission, H.E. West was never what you might call a well-known name in professional wrestling. He never wrestled in Madison Square Garden, he never held a championship title, and the small amount of money he was paid seldom covered the expenses he incurred on the road. For all intents and purposes, wrestling was not much more than a hobby, but he was doing what he loved.

West's story is a captivating look at life on the road for a man whose only desire was to be a part of the world of professional wrestling, not matter how small or insignificant that part might be. He takes the reader along with him on his journey into the wrestling world, describing his time in the ring, wrestling in high-school gyms and armories before fewer than one hundred people, and on the road with his fellow wrestlers. West wrestled as Mean Duke West, The Creature, and his most high-profile character, the Canadian Rose. He talks about being cheated by promoters, and being paid as little as one dollar a match. The narrative is peppered with honesty and humor, and told with humility by a man who never makes himself out to be more than he was — a wrestler whose sole purpose in the ring was to make other wrestlers look good.

His story comes to a close as, with the advent of Vince McMahon and World Wrestling Entertainment, he watches the wrestling business change around him, and as the independent promotions go out of business, he finds himself standing on the outside of the wrestling business and looking in.

This is the story of a man who sacrificed and did what it took to achieve his childhood dream — to be a "professional wrestler."


---

Lou Klein
Copyright © H.E. West
When I talked to Mr. Klein in mid 1973, he said he remembered my uncle and invited me to come to his gym in Detroit where he would work with me. When I met with Klein, I told him a few of my "Uncle Louie" stories. Klein just said, "Kid, you should only believe about one-half the horsesh–t an old wrestler tells you." And don't believe a damn thing he told you about me." He asked about Uncle Louie and I told him he had been dead for some time. He shook his head and grunted, "Well, don't matter. You're gonna have to get in that ring and show me you got somethin'." I was about as green as you could get, and I know that during that first session, I looked like crap, but, probably out of courtesy to my late uncle, Louis let me keep coming back.

---
Homer, Bobby, and Rick
Copyright © H.E. West
Unfortunately, he was equally bad as a referee. He was always in the way and did not have a clue about what he was supposed to do. If someone was pinned or outside the ring, we had to remind Rick that he was supposed to be counting that person out. Miller promised he would figure out some way to get Rick out of our hair. He finally decided to tell Rick he could get into the show for free the following week by helping them set up the ring. Rick showed up early to help set up.
When it was time for the show, Rick planted himself at front row ringside. Before the night was over, he managed to pull out the proverbial "straw that broke the camel's back." He not only showed up at the match wearing his wrestling boots, but he rolled up his pant legs to make sure everyone saw them. He then announced to everyone within ear shot that he was one of the wrestlers. He told them he might be called on if one of the other wrestlers didn't show up. To make matters worse, he began screwing with our "gimmicks" by proceeding to tell everyone our real names, where we lived, and what we did for a living when we weren't wrestling.

---
Sgt. Bobby Golden
Copyright © H.E. West
Another incident took place when Bobby Golden and I set up Miller's ring at Buck Lake Ranch in Angola. There were a couple of females on the card that night. One was an older lady who was somewhat attractive. Bobby immediately took a shine to her and began hitting on her backstage before her match. The ring was pushed up against the stage, so we could stand in the back and watch the show. Even during the girls' match, Bobby and the gal kept shooting remarks back and forth. Bobby was convinced he was going to get a little action that night. He went back the dressing room and tried to get more information on the gal from Tommy Lynch. He wasn't happy when he came back onstage. It turns out the two ladies were much more than just ring partners. Tommy told him she would most likely be more interested in her opponent than she would him. Of course, that gave me some great material with which I could rib Bobby. From that day on, whenever I saw him checking out a young lady, I would always remind him to check on her sexual orientation.

---
Moose Cholak and the Caddy Salesman
Copyright © H.E. West
Before the police arrived, the workers all gathered in the lounge, where one of the guys insisted the promoter come to pay us. It was there that we realized why the promoter kept us all in separate dressing rooms. If we had talked to each other sooner, the rebellion would have happened much sooner than it did. We would have learned that the big name guys who had worked the shows were complaining about advance and expense checks which were bouncing. We also would have known about the other broken promises, like the tapes we had been promised. No, we never saw them, either. We all agreed that we either get a fat cash envelope, or we would walk and never wrestle for him again.
When the police arrived, they had to drag him up to the lounge, where they pressured him to pay what he owed us. He agreed to pay everybody in cash. For my efforts of driving 100 miles (each way) from Fort Wayne to Sylvania on five different occasions, and working two to four matches each time, I was paid a whopping 20 dollars. No, not 20 dollars a match ... 20 dollars for the whole gig! It probably worked out to about a dollar a match. Not only that, but he paid us in Canadian money. We gave that guy three months worth of TV, good houses, and some damned good matches. For that, we got a royal screwing. At any rate, that was the end of the Sylvania promotion.

---
A Bloody Mess
Copyright © H.E. West
When I finally convinced him to lie down, I grabbed a clean towel and told him to hold it to his head, and then asked someone to find a first-aid kit. Unfortunately, nobody could find the janitor who opened up the building. The best anyone could come up with was a couple of Band-Aids, and they were practically useless in this situation. When Bobby walked into the dressing room, he looked at Johnny and calmly said, "He cut a little deep."
All I could say was, "No sh—, Bobby!" and I sent him out to call an ambulance.
Before long, the ambulance showed up and the medics walked in to see a room with blood all over the walls and floors. Johnny was still lying on the floor and holding the towel to his head. By that time, the towel was almost useless. It was totally soaked with blood. Johnny was yelling and babbling about what a great match it had been. Most of the other wrestlers are going about their business, while Bobby and I stood over Johnny and smoked cigars. As the medics went to work, one of them looked up at me and said, "Do you guys really like doing this stuff?" I shrugged my shoulders as if I was indifferent to the whole situation. Then Johnny piped up, "Hell, yes! I love this sh—!" The two medics looked at each other as if they had found themselves lost in some strange world that was like nothing they had ever seen. I suppose that was true.

---
It's a Long Way to Minnesota (and back)
Copyright © H.E. West
My partner was a local kid and he volunteered to start out the tag match. I soon discovered how glad I was that he did. They tossed him around like a rag doll for a good five to seven minutes, while I stood outside the ring wondering what they were going to do with me. I soon found out. While I was leaning over the top rope in an attempt to tag my partner, who was about to pass out from exhaustion, Lanza spotted me. He grabbed the back of my neck and hair and snapped me over the top rope. It happened so quickly that I was caught totally off guard. I tried to grab the middle rope as I fell, but my fingers slipped off. My right shoulder hit the mat first, causing me to snap around and twist my back. My shoulder felt like it was on fire.
The rest of the match was a complete blur. I remember very little about it, other than the fact that my shoulder was killing me and I wanted the match to be over. I think we made them look good enough. I remember that when it was over, my partner and I were both lying on the mat. I saw Heenan coming into the ring with a cane or something in his hand. I fully expected he would either wind up kicking me or hitting me with whatever it was, and at some point, he would probably hit my shoulder. While Heenan stood in the middle of the ring raising Lanza's and Duncum's hands in victory, I crawled out under the nearest ropes and left my partner to fend for himself.

---
Acknowledgements
Foreword
1 The Dark Period
2 Homer, Bobby and Rick
3 The Canadian Rose
4 Sgt. Bobby Golden
5 Moose Cholak and the Caddy Salesman
6 The "Real" Dick the Bruiser
7 "Bo"
8 The Chief
9 A Bloody Mess
10 Fixing the Ring (and the promoter
11 It's a Long Way to Minnesota (and back)
12 Mr. No Emotion
13 Row 9, Seat 11
14 From "The Rose" to "The Ref"
15 Old School
16 Dancing with Danger
17 Good Guys, Bad Guys
18 Life Lessons from the Squared Circle
19 The Kayfabe Generation
Index
---

---