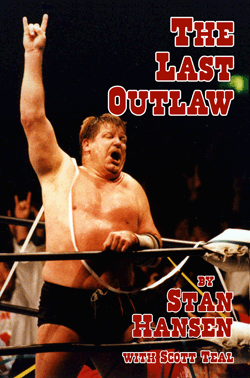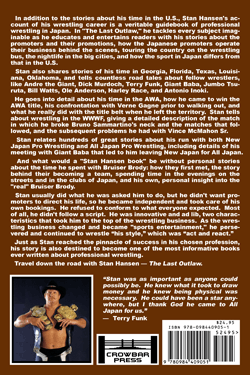 BOOK DETAILS

Paperback: 377 pages

Dimensions: 6x9

Publisher: Crowbar Press

Photos: 203 b&w

Cover: Full color

ISBN: 978-0-9844090-5-1

Item #: cbp14-sh

Price: $24.95
PRIORITY MAIL UPGRADE
ORDER BY MAIL
CLICK HERE
CREDIT CARDS
CLICK HERE

INTERNATIONAL ORDERS
For orders of
more than 3 books
please contact us at




---
---
"The Last Outlaw" is available exclusively from Crowbar Press.
All books will be shipped via Media Mail (U.S.), Priority Mail, or International Priority Mail (Canada/overseas).
---

"Stan Hansen was as important as anyone could possibly be. He knew what it took to draw money and he knew being physical was necessary. He could have been a star anywhere, but I thank God he came to All Japan for us."
— Terry Funk

In addition to the stories about his time in the U.S., Stan Hansen's account of his wrestling career is a veritable guidebook of professional wrestling in Japan. In "The Last Outlaw," he tackles every subject imaginable as he educates and entertains readers with his stories about the promoters and their promotions, how the Japanese promoters operate their business behind the scenes, touring the country on the wrestling bus, the nightlife in the big cities, and how the sport in Japan differs from that in the U.S.

Stan also shares stories of his time in Georgia, Florida, Louisiana, Texas, Oklahoma, and tells countless road tales about fellow wrestlers, like Andre the Giant, Terry Funk, Giant Baba, Jumbo Tsuruta, Bill Watts, Dick Murdoch, Ole Anderson, Harley Race, and Antonio Inoki.

He goes into detail about his time in the AWA, how he came to win the AWA title, his confrontation with Verne Gagne prior to walking out, and what he really did with the title belt when he left the territory. Stan tells about wrestling in the WWWF, giving a detailed description of the match in which he broke Bruno Sammartino's neck, the matches that followed, and the subsequent problems he had with Vince McMahon Sr.

Stan relates hundreds of great stories about his runs with both New Japan Pro Wrestling and All Japan Pro Wrestling, including details of his meeting with Giant Baba that led to him leaving one for the other.

And what would a "Stan Hansen book" be without personal stories about the time he spent with Bruiser Brody: how they first met, the story behind their becoming a team, spending time in the evenings on the streets and in the clubs of Japan, and his own, personal insight into the "real" Bruiser Brody.

Stan usually did what he was asked him to do, but he didn't want promoters to direct his life, so he became independent and took care of his own bookings. He refused to conform to what everyone expected. Most of all, he didn't follow a script. He was innovative and ad lib, two characteristics that took him to the top of the wrestling business. As the wrestling business changed and became "sports entertainment," he persevered and continued to wrestle "his style," which was "act and react."

Just as Stan reached the pinnacle of success in his chosen profession, his story is also destined to become one of the most informative books ever written about professional wrestling.

Travel down the road with Stan Hansen — The Last Outlaw.


---

Excerpt from Chapter 2
Copyright © Stan Hansen & Scott Teal
During the visit, I was shown around campus by Phil Hampton, a senior center on the team. I had already visited several other colleges, so I was expecting to be shown the dorms where I would be living when I came to the university. Phil walked me from one side of the campus to the other, but he never volunteered to show me his dorm room. I wanted to see where he was staying, so I finally summoned up the courage to ask. He seemed to hesitate before answering, but he finally agreed.
When we reached the door of his room, he hesitated again and told me that all football players have roommates. He also said he had a roommate, and that we donít normally have a choice as to who our roommate will be.
When he opened the door, the first thing I noticed was there were two beds ó one on each side of the room. It was as if an invisible line was painted down the center of the room. On Philís side were a neatly-made bed and a desk on which his books were neatly stacked. His closet was open and the clothes were all hung neatly inside. His side of the room would have passed an Army inspection.
The other side of the room was a different story. It was messy beyond belief. Newspapers, trash, food, and food containers were everywhere. Just like Philís closet, the hangers were hung neatly in a row Ö but there wasnít a stitch of clothing on a single one of them. Dirty clothes were piled up on the floor and draped over the back of the desk chair. There were no sheets on the bed, and a big guy was sleeping on the bare mattress. As we walked in, he woke up. This was two in the afternoon. He rolled his eyes, said, "Hi," turned over, and went back to sleep.
That was my first meeting with Frank Goodish, who would later become a big name in professional wrestling as Bruiser Brody. Years later, when Frank and I were both wrestling, we would laugh when we talked about our first meeting.

---
Excerpt from Chapter 3
Copyright © Stan Hansen & Scott Teal
To this day, football players in Texas tell stories about "The Fat Man," which was our nickname for [Coach Joe] Kerbel. Of course, we only used that name behind his back and when he wasn't within earshot. Many of them sound bizarre and unbelievable, but I have no doubt the biggest percentage of them are true.
Bobby Duncum, a pro wrestler during the Ď60s, Ď70s, and Ď80s, played for Kerbel before I arrived at West Texas. During one game near St. Louis, he was sent to the hospital for heat exhaustion. In the meantime, the team lost the game. Several players who were there told me that after the game, Kerbel had the bus driver make a detour to the hospital. He got out of the bus and found Bobby sitting in the emergency room, hooked up to IV lines. Kerbel walked up to him and told him, "The bus is leaving. Get your ass on it right now." When Bobby didnít move, Kerbel pulled out his IVs and proceeded to drag him off the stretcher and out to the bus.
Over the years, many of us, who played for Kerbel and ended up wrestling, would talk about how we were all treated pretty harshly by Kerbel at one time or another. We would all laugh about our shared experiences and considered them to be a rite of passage that we had to endure. Bobby was the only one who never laughed. He still harbors ill feelings towards the Fat Man.

---
Excerpt from Chapter 4
Copyright © Stan Hansen & Scott Teal
When we got into the ring, Gordon [Nelson] showed me how to get a headlock, and what to do if somebody got one on me. I learned the basics of the body slam, and the proper way to apply an arm bar to an opponent.
A month or so later, when I was working a match with Gordon in Colorado Springs, we were scheduled to go fifteen minutes broadway. I was still green and stiff. During the match, Gordon told me to get him in a headlock. After I had held him for a few seconds, he said, "Squeeze harder." I did what he said, but each time, he would repeat what he had said. "Come on. Squeeze harder!" After a few minutes, I discovered I couldnít squeeze at all. My muscles had tired out and were limp. I held his head in my arms so loosely that I could barely feel his head. Gordon then whispered to me, "This is how youíre supposed to hold your opponent. Itís called working." That was one of the first, great lessons I learned.

---
Excerpt from Chapter 5
Copyright © Stan Hansen & Scott Teal
I was ready to head back to Amarillo at the end of July. On my next to the last night in the territory, I was booked against Don Carson at the Jacksonville Coliseum. Carson was a middle-of-the-card heel who had just come in from Tennessee. He wore a black welding glove on one hand and used it to get heat during his matches. He would work over his opponent with the glove, leading the people to think he had something in it that gave him an illegal advantage, and then refuse to let the referee inspect it.
During our match that night, when he threw me into the ropes, I pushed myself up and onto the top rope, catching myself just before I went completely over. My intent was to pull myself back in, but being hot and sweaty, I lost my grip and slipped over onto the ring apron. In most wrestling territories, one of the things we werenít allowed to do was throw our opponent over the top rope. If we did, we were automatically disqualified. In this case, the referee had no choice but to disqualify Carson, even though the match was set up to promote Carson, who was the new heel in the territory. When I went over the ropes, I was declared the winner of the match.
As Carson exited the ring, he went out where I was laying. As he jumped to the arena floor, he gave me one last parting shot with his glove. I went down and sold it. It was the least I could do to help him get over. It was his first match in Jacksonville, so he wanted to impress the fans with a strong match, but my getting him disqualified had deprived him of that opportunity.
When I got back to the dressing room, Carson was shouting at Eddie Graham, ranting and raving about having lost the match. He knew I was green and that I was leaving the territory. Jack Brisco, Paul Jones, Buddy Colt, and all the other top guys were there, as well. When I walked into the room, Carson vented his rage towards me. I was shocked by the anger he showed towards me, but I realized he was doing it in order to look important to the other guys. What he didnít realize was that I wasnít going to sit back and take it.

---
Excerpt from Chapter 8
Copyright © Stan Hansen & Scott Teal
In September 1974, I told Dory Funk Jr. it was time for me to get out and find work in other places, and that I would appreciate it if he could help me get booked. Karl von Steiger had told me that Portland, Oregon was a good territory. It covered a small area of the Northwest, the trips were fairly short, and a wrestler could make $500 each week working underneath. I also told Dory that the two places I didnít want to work were Kansas City and Louisiana/Oklahoma. Both territories were well-known for long trips for little money, much like Amarillo, and I was tired of traveling long distances. I made my preferences real clear to Dory.
A week later, he told me he had me booked in Louisiana Ö one of the places I had specifically told him I did not want to go. I had no choice other than to take the booking. In those days, when a promoter went to bat for someone and got them booked in another territory, they were expected to fulfill the obligation. Looking back on things, though, I canít fault Dory for what happened. Thereís a very good chance that Louisiana was the only place that would take me. However, other than the time when Vince McMahon Sr. booked me to New Japan in January 1977, that was the last time I depended on somebody else to book me into another territory. I promised myself then and there that from that day on, I would take care of my own bookings.

---
Excerpt from Chapter 9
Copyright © Stan Hansen & Scott Teal
On this [Stan's first] tour, we spent a great deal of time trying to figure out the Japanese style of wrestling and determine what we should be doing. One of the first things we were told was "there is no noise," which meant the audience didnít make noise. In America, the audience was never quiet. They were always cheering, booing, yelling, or screaming. If it was anything close to quiet in an American arena, then you can bet you werenít doing your job. We were told not to worry if the Japanese people didnít react to things we did.
For the first week or so, it was really strange, because when [Bobby] Jaggers or I would grunt, we could hear it echo through the arena. In an attempt to rile up the audience and get some feedback, Jaggers yelled at the people at ringside. He didnít get a response, whatsoever. He just got blank, seemingly uncomprehending, stares. "Thatís out," he muttered to me. It was so very different from the States, and it took a long time before we got used to it. Of course, by the early Ď80s, that began to change and the crowds [in Japan] became a little more vocal. Today, there is a lot of noise, and the audience reacts much like they do here in the States.

---
Excerpt from Chapter 11
Copyright © Stan Hansen & Scott Teal
I was really excited the first night I walked into Madison Square Garden. My thoughts immediately went back to the time when my dad and I watched the Friday night boxing matches from the Garden on television. Iíve always had bad vision, and I remember thinking the building was so big that I couldnít see the fans at the top of the grandstands. The show itself didnít sell out, but it drew 17,493 fans, which was still a respectable number.
Little did I know that my first match with Bruno would end in disaster. Eight minutes into the match with Bruno, I hit him with my Lariat move and put him on the mat, after which I brought him up into position for a body slam.
When I was in the Dallas territory, I had several matches with "High Chief" Peter Maivia. I did a move where I caught Peter coming off the ropes and scoop slammed him. In a variation of that move, I would sometimes reach past the middle of his legs to the outside when I picked him up for the slam. Since my shoulders were stiff and Peter was really stocky, I would do it that way so Peter could slide down my back. He could then avoid being slammed by rolling me up with a pinning move. That habit would result in disaster for Bruno.
During my match with Bruno, I scooped him, just like I did Peter. However, Bruno wasn't expecting me to do that. Being uncertain of what I was going to do, he stiffened up. His reaction threw me off balance, and when I tried to go through with the slam, I ended up slamming him on the back of his head and the back of his neck, rather than flat on his back. I went around behind him, pulled him up to a sitting position, and got a head lock on him. Concerned, I held it for a few seconds before whispering, "Are you all right?"
He didn't say anything right away. He just sat in place. He finally said, "Give me a few seconds."

---
Excerpt from Chapter 13
Copyright © Stan Hansen & Scott Teal
One of [Bill] Wattsí traits was that he liked to spell out, move for move, all the details for the end of a match. His ideas would often be long and very complicated. In 1977, when he wasnít able to personally attend a house show, he would send over a tape recorder with his ideas on how he wanted things to go. It was comical in many respects because, as we listened to the tape, there was always background noise, and Watts constantly started and stopped the tape as he added idea after idea. Often, I would picture his face in my mind as he described in detail what and how things could go, more often than not punctuated with curse words. You had to try and filter out the curse words in order to keep up with the flow of his thoughts. As the referee held the tape recorder, we would look at each other and silently laugh as we tried to filter out the extra adjectives and adverbs. That said, I always thought his ideas were good, and in many respects, they were innovative. I was never in a room when Watts made the tapes, but I believe he came up with most of the ideas on his own. When it came to putting those ideas into action, we knew we had better do what he wanted. His word was final.

---
Excerpt from Chapter 14
Copyright © Stan Hansen & Scott Teal
As time went by, that changed, along with everything else, when Nippon Television [NTV] became more involved with the programs. At one time, they told me they wanted me to do specific moves in my matches. I refused to let them dictate to me. When they would come and say something about what they wanted, I would act like I didnít understand what they were saying. I would then go to the ring and do what I felt was right to get my match and opponent over. Iím not sure why I developed that attitude. I realize they got a lot of feedback from viewers on what they liked to see, but I didnít see myself in the TV business. I was in the wrestling business. In addition to that, I respected the wrestling promoters because they knew the wrestling "business," but I had no desire to listen to someone tell me how to do my job when they knew next to nothing about our business. I always liked to go out and do what came to me in a split second, and then wait for my opponent to react to what I did. I felt that was much better because it was an authentic reaction to my impromptu action.

---
Excerpt from Chapter 15
Copyright © Stan Hansen & Scott Teal
Within a week or so after Abdullahís first appearance, Shinma asked to meet me in private after one of the shows near the end of the tour. He tried to reassure me that my position with the company was secure. He also said I was the focus of their future business plans. But then he said something which shocked me. "Donít worry about Abdullah. He is a fat piece of shó. He will be dead in a few years, so donít worry."
I was really taken aback by his statement. If he said that about Abdullah, who was a major player in the wrestling business, especially in Japan, then I wondered what he was saying to others about me. That was when I lost respect for Shinma. It also was when I came to the realization that professional wrestling in Japan was a cold, hard business. I wasnít friends with Abdullah. He was my competition, but I respected his ability and the position he had worked so hard to get. A few days after bringing him over from All Japan, Shinma was already saying negative things about him to me. It sure it was done to put me at ease, but he shouldnít have put him down as a person. He was a major talent who would help their business for many years. That one statement told me a lot about how New Japan looked at their talent. Perhaps they only viewed the gaijin talent that way, but they made me realize that we were just pieces of meat. It also made me remember what Jack Brisco had said to me about getting what was due me, and that things didnít last forever.

---
Excerpt from Chapter 16
Copyright © Stan Hansen & Scott Teal
I arrived at the show early and went to the dressing room. Not too many people saw me when I walked in. There were a number of smaller dressing rooms in the building, so Brody and Snuka were dressing alone. Brody was in a bad mood. When I asked him why, he said the office kept him completely in the dark about me coming to All Japan. Of course, he knew about it because we had discussed it in Nagoya, but he felt like the office should have included him in such an important piece of business. As their up-and-coming young talent, his pride was hurt. Of course, Baba and Terry Funk had promised me to keep it a secret, and perhaps they werenít sure just how Brody would respond to me coming over. Brody might not have trusted the Funks as much as I did, for whatever reason. He also had his tag-team partner and good friend, Jimmy Snuka, to think about. My entry into the mix gave Brody some things to discuss with the office about his own position with the company.
I felt Brodyís participation was important. Even then, I didnít think of myself as being separate from Brody in stature with the company. I wanted us both to have a successful run, so I determined to smooth things out. I sent word to the office that I wanted a meeting with Baba, Brody, Snuka, and the Funks. We agreed to meet at the Takanawa Tobu Hotel, which was located two blocks from the Shinagawa train station, and where the All Japan gaijins were staying.

---
Excerpt from Chapter 17
Copyright © Stan Hansen & Scott Teal
I also was placed into the "outlaw" group of wrestlers due to my relationship with Brody. I believe we were labeled "outlaws" way back in the early days, when we were both in Louisiana, and there was no questioning the fact that promoters looked at us as outlaws when we wrestled in Japan and Puerto Rico. When we were the U.S. tag-team champions in Louisiana, we didnít show much respect for the belts. When we walked into the TV studio, we would drag the belts on the ground behind us, or toss them around. To us, we were just showing our displeasure on being booked in the second-tier towns. It also enhanced our rebel characters. I donít know if Watts minded our disrespect of the belts, but other wrestlers told us we should show more respect for them. Of course, most of them wanted the belts themselves. We held the belts for almost nine months, but in hindsight, Watts did the right thing when he took them from us.
I never tried to do anything to dispel my outlaw reputation, and at the time, I thought of myself in those terms. Later, I thought of myself as an "independent," rather than an outlaw, and working for All Japan gave me that independence. Of course, to most wrestling promoters, being independent was what made us outlaws.

---
Excerpt from Chapter 20
Copyright © Stan Hansen & Scott Teal
When Verne told me he wanted to put the belt on Nick, I looked him right in the eye and said, "I donít think so."
His mouth dropped open and he said, "What?"
"Iím not doing it."
Verneís face turned beet red. He stepped up and got right in my face. I didnít back down. I just stared at him, face to face, and with my peripheral vision, I kept an eye on Nick. I wasnít really worried about Nick. He had too much class to do something like attack me, but situations like that were uncharted territories. I liked Nick, but I also knew he had worked almost exclusively for Verne for 16 years. Needless to say, his loyalty was with Verne, period, which was as it should be. Verne glared at me and said something like, "Itís my belt and youíll do what I tell you ..."
I interrupted him and said, "I didnít ask for the belt, but I havenít made any money and itís too soon to switch it!"
Verne edged closer and growled, "Youíre dropping it!"

---
Excerpt from Chapter 23
Copyright © Stan Hansen & Scott Teal
I wrestled Carlos [Colon] at a baseball stadium show. While the ring announcer was introducing us, a knife with about a 10-inch blade flew from the grandstands and the point buried itself in the center of the ring. If it had hit either one of us, it would have buried itself to the hilt. Carlos and I turned our heads to look at each other. Simultaneously, we grabbed hold of each other, fell down to the mat in a heap, and began rolling around the ring. The fans thought each of us was trying to wrestle and get the advantage, but in reality, we both were trying to pull the other one on top of himself to protect himself from another knife or thrown object.

---
Excerpt from Chapter 25
Copyright © Stan Hansen & Scott Teal
A few years earlier, I had a run-in with Heyman at an independent show in Alabama. At the time, he was a photographer and writer for the Pro Wrestling Illustrated magazine. He strolled into the dressing room like he owned the place and without any introduction, asked me what had happened between Verne Gagne and me. I didnít know who he was. As far as I was concerned, he was a mark ... and he was in my dressing room. I tried to be polite and told him to "get out of here," but he just stood there and repeated his question. At that point, I pointed at the door and yelled, "Get the hell out of here!" When he didnít move fast enough for my liking, I stood up and chased him out. He stumbled as he ran, giving me enough time to stop and pick up a folding chair, which I proceeded to throw at him. When he saw the chair flying in his direction, he took off running down the hall. I yelled after him, "If you come down to the ring during my match, youíll regret it!" I probably peppered the threat with a few choice curse words, but that was the gist of what I said.
Later that night, I went to the ring. Heyman didnít come down.

---
Excerpt from Chapter 27
Copyright © Stan Hansen & Scott Teal
Going to and from the ring with thousands of people chanting my name, Hansen! Hansen! Hansen!, was something I can't even describe. I've heard that before over the years, but I must say, that time, it really hit an emotional chord with me. Pete Roberts used to tell me that I never understood how over I was, but I never thought about it. I just went out and did my job. On that night, however, as the fans poured out their feelings, it humbled me. I can never give back what they have given to me, not only that night, but through all the years I wrestled in Japan.
I didn't realize it until my retirement ceremony, but one of the things I'm going to miss the most is the wrestling fans. I was a heel, so I never set out to win fans, but inevitably, over time, some began to like me. I still can't figure out what it was about me they liked. Perhaps it was the wildness, or the style which didn't change over time, that attracted those fans. However, even when I realized that I had a following, I stayed in character and never tried to work to them. Today I consider myself blessed to have had the support of those fans, and I'm thankful for everyone who has supported me over these years. There are a few fans who have stuck with me for more than twenty years, and I have special relationships with individuals in Osaka, Tokyo, and Nagaoka. They were just kids when I first met them. Now they're grown up, married, work a variety of jobs, and have children of their own. I wish them luck.

---

Acknowledgements by Stan Hansen
Foreword by Pete Roberts
Foreword by Terry Funk
Prologue: The Phone Call

1 Tomatoes and Pasta
Family roots ... Early childhood in Knox City, Texas ... Meeting Ernie "The Cat" Ladd ... Classroom debate ... Moving to Tempe, Arizona ... Pop Warner Football ... The family moves back to Texas

2 The Invisible Line
Friona varsity football team ... The losing streak ... The boss's son ... Work ethic ... Sports and academics ... Visiting West Texas State University ... First meeting with Frank Goodish, aka Bruiser Brody ... Dinner with Coack Joe Kerbel ... Ranking by "Coach and Athlete" magazine

3 A Gallon Jug of Blood
Coach Joe Kerbel ... The whistle ... Buff dessert ... Black football players ... Playing football with Duane Thomas and Mercury Morris ... The "Fat Man" ... Coach Kerbel pulls Bobby Duncum out of his hospital bed ... The dry county ... Frank Goodish escapes through a bathroom window ... Coach Kerbel threatens Goodish ... Goodish transfers to Iowa State ... Mistaken for Terry Funk ... Attending the wrestling matches at the Amarillo Sports Arena ... Russian chain match ... Terry Funk versus Harley Race ... West Texas State football ... Joe Kerbel threatens Stan ... Knee injury ... Baltimore Colts training camp ... Return to West Texas State ... West Texas recruits Tito Santana and Ted DiBiase ... Trying out with the San Diego Chargers ... The handshake deal

4 Forearm Class
Coaching eighth-grade football ... Meeting Dory Funk, Sr. ... A life decision ... Introduction at the Amarillo Sports Arena ... Pat O'Connor tests Stan ... The Lawman ribs Jerry Kozak ... Memories of Ricki Starr, the Viking, El Gran Tapia, Hank James, the Beast, and Ciclon Negro ... Carpenters ... Learning a valuable lesson ... Trans money ... Traveling with Ernie Ladd ... Bull Ramos and Pizza Hut ... Mike London, Albuquerque promoter, introduces Kay Faben, the referee ... Doublespeak ... The Funks teach Stan how to throw a forearm ... Gordon Nelson teaches Stan ow to hold a headlock ... Dory Funk Sr. gives Stan "The Talk" ... Introduction to Moose Morowski and Ciclon Negro ... Stan's realization that wrestling is a "business" ... Borrowing Terry Funk's ring gear for his debut ... "The tag" ... Blowing up ... Body slamming Jerry Kozak ... Stan's "character" ... Potatoes and chops ... On-the-job training ... Learning a lesson from Killer Karl Kox ... Overview of the Amarillo territory ... Refereeing a match with Don and Johnny Fargo ... Road expenses ... Johnny Heidemann, "King of the Eaters" ... Big Texan Steak Ranch ... Wrestling Lord Alfred Hayes in a battle royal ... Dory Funk, Sr. ribs Lord Alfred Hayes ... A game of eight-ball pool ... The "need to know" ... Learning to do interviews ... Bobby Duncum attempts to learn the "head stomp" ... A rib on Frank "Gorilla" Marconi ... Good advice from Moose Morowski ... A celebrity returns to Knox City, Texas

5 Dressing Room Promo
Booked in Florida ... Sharing a room with Bob Bruggers ... Bed bugs and fleas ... Fast food junkie ... Johnny Valentine tells Stan to "lay it in!" ... Buddy Colt shows Stan respect ... The Florida office and small payoffs ... The wrestling business — inside and outside the ring ... The passing of Dory Funk, Sr. ... Dick Slater gets "real heat" ... Slater's confrontation with Riki Choshu ... Johnny Powers and Ox Baker get sent home from Japan ... Second-generation wrestlers ... Charlie Laye ... Tony Nero and Stan Hansen, captain and soldier ... Man Mountain Mike signs autographs ... Terry Funk's bad joke ... Watching marks get stretched in the Sportatorium ... Teaming with Steve Keirn ... Dressing room confrontation with Don Carson ... Taking a stand

6 Decision Time
Return to Amarillo ... The psychology of "working" ... Introduction to Jumbo Tsuruta ... Chipped teeth ... The boys teach "English" to Motoshi Okuma ... Cases of beer ... Praying in the back seat of Terry Funk's car ... Speeding tickets for everyone ... Bob Backlund takes on challengers from the audience ... Backlund wears the Western states title belt ó in a restaurant ... A freak accident that almost ended Stan's career ... John Black breaks his neck ... The wrestlers' emergency fund ... Learning life lessons

7 The Little Blue Pill
Wrestling in Dallas, Texas ... Reunited with and forming a friendship with Frank Goodish ... Doug Somers buys a used Pontiac ... Protein pills ... Traveling with Blackjack Mulligan and Black Jack Lanza

8 Gadget man
Stan gets booked in Louisiana ... Overview of the Louisiana territory ... Bill Watts, the pilot ... Long trips and small payoffs ... Weekly road trips and life on the road ... Living in a Ford van ... The definition of "good" hotels ... A motel room with no toilet ... Leroy McGuirk offers to drive for Scandor Akbar ... Working for George Culkin ... Bobby Jaggers, Duke Miller, and Treach Phillips ... Accidents on the road ... Testing the strength of Danny Hodge ... Luke Brown scares Japanese pedestrians ... Frank Goodish's girlfriend ... The "Bruiser Brody" character ... Saving money ... Tag teaming with Frank Goodish ... "Heat" ... Frank Goodish, the cowboy ... Bill Watts books Stan and Frank in the "second tier" towns ... Gas rationing ... Grizzly Smith pulls a pistol on Mr. Chin ... U.S. tag team champions ... Riot in Alexandria, Louisiana ... "Never show fear!" ... The timekeeper's table ... Texas justice ... Stan protects Big John Studd from a crowd that "smells blood" ... Protection for heels ... Chairs, rocks and knives ... Nick Roberts and Terry Funk pull a rib on Stan ... Accepting the risk heels face ... Security details ... A warning from Giant Baba ... Chasing fans through the arena ... Death threats ... Two 300-pound wrestlers in a 240Z ... Larry Tillman sells a ticket to a baboon ... Working their way to the top ... Taking the battle into the concession stand ... Bill Watts returns as booker, and things go downhill ... Watts splits up Stan and Goodish ... Goodish develops his philosophy ... Knee surgery

9 Land of the Rising Sun
First tour of Japan ... Arrival at Haneda Airpot ... Sponsors ... The Yakuza ... Joe Higuchi, All Japan Pro Wrestling's goodwill ambassador ... Joe complains about cheap heat ... Jimmy Snuka and Victor Rivera brawl at a hotel ... Joe Higuchi's place in the company ... The "oldest guys on the bus" ... Joe Higuchi's influence on Stan ... Meeting Yoshihiro Momota, the son of Rikidozan ... Learning the Japanese style of wrestling ... The differences between audiences in the States and in Japan ... Working to get a better position on the cards ... Negotiating pay and perks with the Japanese wrestling offices ... Thoughts on the Japanese mindset and culture, heels and babyfaces, calling matches ... Freddie Blassie's definition of what it took to "be a heel" ... Being taught a lesson about heels signing autographs ... The origin of the nickname "The Bad Man from Borger, Texas" ... Ox Baker teaches Japanese women the proper way to bow ... Learning basic Japanese words ... Payoffs and Japanese taxes ... Wrestling the Intelligent, Sensational Destroyer

10 White-Meat Babyface
Flying back to Dallas, Texas ... Stopover in Hawaii and Los Angeles ... Wrestling in Houston for Paul Boesch ... Red Bastien, booker ... The Mongolian Stomper ... Working with Peter Maivia ... "Bulldog" Danny Plechas, referee ... Rick Martel beats Stan in nine seconds ... Mike Paidousis tells Bruno Sammartino about Stan ... A call from Vince McMahon, Sr. ... A starting date with the WWWF

11 Death Threats
The "New York" territory ... Comparing the north and the south ... Life in a motel ... Travel, payoffs, and expenses in the WWWF ... Freddie Blassie, Stan's first "and only" manager ... Stan's first match with Bruno Sammartino ... "The break that was heard around the world" ... Dead silence in the dressing room ... Surprising advice from Bruno ... The fine line between aggressiveness and being careless ... Windows of opportunity ... The definition of "real heat" ... Confrontation on a commuter train ... Ernie Ladd warns Stan about signing a contract for his return match with Bruno at Shea Stadium ... The $1,000 bonus ... A lesson in taking a stand ... Wrestling Ivan Putski in the Garden ... Saved by the security force ... Jerry Blackwell saves Stan's life ... Vince Sr. sends Stan home to Texas ... Rematch with Bruno Sammartino, the "Living Legend&quot ... Rats in the dressing room ... Once again, teaming with Frank Goodish, now known as "Bruiser Brody" ... Confrontation with Chief Jay Strongbow, the Italian Indian ... $10,000 prize money ... "First count" and box office receipts ... Calling Vince McMahon, Sr. at home ... Writing on the wall ... More sage advice from Bruno ... Code word "Bluejay" ... Walking and talking with Gorilla Monsoon ... First trip for New Japan Wrestling ... "Net" payoff vs "gross" payoff

12 Gaijin
"Gaijin" wrestlers ... Meeting Pete Roberts ... Comparision of the All Japan and New Japan wrestling companies ... Separation of talent ... Charlie Tanaka assists the gaijins ... Peter Takahashi, referee and go-between ... Tiger Jeet Singh, star gaijin of New Japan ... The match that changed the direction of Stan's career ... A lesson in loyalty ... Pay television [set] ... Attack on the New Japan gaijin bus ... Return to Louisiana ... Switch to babyface ... Bill Watts, the babyface, makes a heel move ... John Tolos and Tony Charles cause dissension between the McGuire brothers ... A call from Ole Anderson ... "Oppportunity" ... Return to New Japan ... Origin of "The Lariat" finisher ... Fighting Blackjack Mulligan on the streets of Kyoto ... Introducing the "Stan Hansen style" to Japanese fans ... Being spontaneous ... Trips on the wrestling bus ... Harley Race arrives late ... Roddy Piper wins the "unclean" championship ... Poor hygiene

13 Manipulators
First time in the Atlanta, Georgia, territory ... Comparing Ole Anderson and Bill Watts: attitude towards talent, temperament, payoffs, working ability ... The job of a booker ... Bill Watts and tape-recorded instructions ... Double-cross in the ring while wrestling Jake Roberts ... Ribbing with Ole ... Making and saving money for the future ... Comparing programs in Japan to those in the States ... Pinfalls versus disputed finishes ... Stan builds his reputation in Atlanta ... Meeting Jimmy Carter's mother ... Thunderbolt Patterson's unorthodox style ... Wahoo McDaniel, the "Man's Man" ... Wahoo shoots a bullet into Dick Slater's leg ... Memories of Tommy Rich, Ivan Koloff, and Bobby Duncum ... Greg Gagne stands up for himself ... Meeting wrestling icons — Dick the Bruiser, Crusher, and Mad Dog Vachon ... Bodyslamming Dick the Bruiser against his will ... Conflict between All Japan and Verne Gagne ... Buying and selling a house in Atlanta ... Giving Verne Gagne his notice ... Lighting Angelo Mosca's fuse ... A trip with Ray Candy ... Andre the Giant refuses to move ... Ric Flair drives Stan's rental car ... Wrestling Sterling Golden (aka Hulk Hogan) in the Omni ... Remembering the "good 'ol days"

14 Hansen's Guide to Japan
The Japanese wrestling business: how it was tied in to their culture, how it was different from wrestling in the States, format of the TV wrestling shows, the Japanese wrestling fans, the evolution of Japanese wrestling, the shoot style of wrestling, gaijins wrestlers versus Japanese wrestlers, local promoters, the differences between American and Japanese TV, Nippon TV's influence on the wrestling business, the length and makeup of tours, wrestling in small towns, a look at the major arenas, jealousy among the gaijins, influence the Japanese magazines had on the direction of the business, income and ticket prices compared to those in the States, the Japanese wrestling heirarchy ... Behind the scenes of a wrestling tour: the contract, taxes, payoffs, travel arrangements, schedules, the quality of hotel accomodations, interpreters, the nightlife, the Japanese culture and mindset, the Japanese diet and food choices, the language barrier, communication with the Japanese wrestlers both in and out of the ring, passing time on the wrestling bus, drawing money ... Joel Deaton misses his flight ... Masonobu Fuchi as a booker ... learning a lesson about gambling ... Umanosuke Ueda pulls a rib on Chavo Guerrero ... Skip Young thinks he got cheated ... Negative feedback from wrestlers about Stan's "style" ... Del Wilkes gets bad advice ... Credit to the WWE ... Exposes of the wrestling business in Japan ... Dirt sheets and their part in the downfall of the business ... Working in Mexico with Canek and Dos Caras ... Working under a mask in the Amarillo territory ... Finding gaijin talent for All Japan ... Abdullah the Butcher gives advice in the ring to David Isley ... David Isley's "southern" breakfast ... Abdullah's "birthday" ... Stan's trouble with booking talent ... Stan's interaction with Giant Baba ... Top talent versus "white meat"

15 Elevator Stampede
Stan's fourth trip to Japan ... Guaranteed money ... Establishing the Stan Hansen "character" ... Strong Kobayashi, Kuniaki Kobayashi, Kenta Kobayashi, and Kenta Kobashi ... Antonio Inoki's style of promoting and wrestling ... Trying to bodyslam Seiji Sakaguchi ... Dealing with Hisashi Shinma (Mr. Shinma) ... Teaming with Hulk Hogan in the MSG tag league tournament ... Stan gives credit to Andre the Giant for "getting him over" in Japan ... Going to the movies with Andre ... Andre's legendary drinking ability ... Andre the Giant on the Keio Plaza Hotel elevator ... Favorite eating and drinking establishments ... A classic Terry Funk incident ... A Mama-san wrestles Stan and Dick Slater ... Jim Duggan and Stan mingle with the "beautiful" crowd ... The young Japanese boys ... Japanese dojos ... The difference in attitudes between Stan and Bruiser Brody ... Accidentally injuring Kenta Kobashi ... Table charges, snack charges, and hostess charges ... Harley Race offers to pay the liquor bill ... Snack clubs ... Brody teaches Stan about the Japanese nightlife ... Teaming with Akira Taue ... Blackjack Mulligan in a test of strength with Akira Maeda ... Nobuhiko Takada gets stripped naked in a Tokyo hotel ... Working with Riki Choshu ... Stan gets put on the back burner ... The genius of Giant Baba ... A new relationship ... Inoki throws 10,000 dollar bills into the audience ... More good advice, this time from Jack Brisco ... Asking Mr. Shinma for a raise ... The "American Dream" comes to Japan ... Dusty Rhodes makes a "mistake" ... Stan turns the tables on Dusty ... Wrestling Japanese opponents ... Jim Duggan and Stan brawl in a soba shop ... Questioned at the police station ... Mr. Takamori, Stan's good friend and sponsor ... Abdullah the Butcher jumps to New Japan ... Mr. Shinma talks badly about Abdullah ... Stan questions New Japan's loyalty ... Stan finally gets a raise ... Mr. Shinma and Vince McMahon, Sr. meet to discuss a new run for Stan in the WWWF ... A five-month run in the northeast ... Hulk Hogan gets a phone call from Sylvester Stallone ... Stan stands his ground against WWWF demands ... Samurai warrior ... Rumors about All Japan's business ... Wally "The Weasel" Yamaguchi ... An unexpected phone call from Terry Funk

16 Clandestine Meeting
Mixed emotions ... Negotiations with Mr. Shinma and New Japan ... Clandestine meeting with Giant Baba ... An agreement is reached ... Closing the deal with a handshake ... Family and marriage problems of wrestlers ... Mr. Mom ... The Mafia boss ... Sharing secret news with Brody ... New Japan puts pressure on Stan to sign a long-term contract ... Blue-sky incentives ... Confiding in Hulk Hogan, Andre the Giant, and Pete Roberts ... New Japan negotiations heat up ... A private discussion with Giant Baba ... Dick Murdoch, Jim Duggan, and Stan entertain themselves ... Stan's final night with New Japan ... Avoiding Mr. Shinma ... Using an assumed name ... Appearance at an All Japan show in Yokosuka ... Another secret meeting ... More thoughts on the differences between Brody and Stan ... Stan's surprise appearance in Ryogoku Kokugikan arena ... Unscheduled dressing room brawl ... Looking forward to new challanges and opportunities

17 When in Japan ...
Looking back to New Japan ... Friends versus acquaintances ... Mrs. Baba's place in the All Japan company ... More differences between All Japan and New Japan ... Tough times ... Hotels used by All Japan ... Baba does Stan a favor ... Boys will be boys ... Mark Lewin's influence on Bruiser Brody ... Wrestling Ashura Hara in his debut match ... Staying in character while away from the arenas ... The persistent autograph seeker ... Celebrity status ... Memories of Nikolai Volkoff, Kelly Kiniski, Gypsy Joe, and Tor Kamata ... Teaming again with Bruiser Brody ... Herding sheep ... Working stiff with Giant Baba ... Baba's knowledge of the psychology of wrestling ... Wrestling "The Boss" ... Acting and reacting ... The toughness of Baba ... The difficulty of wrestling Jumbo Tsuruta ... Brody and Stan work with Jumbo and Genichiro Tenryu in St. Petersburg, Florida ... Developing the reputation of being "outlaws" ... The position of Dory and Terry Funk with All Japan ... The differences between Inoki and Baba ... Knowing when to look strong and when to sell ... The Japanese versus gaijin formula ... Past dealings with promoters ... Feuding with Terry Funk ... The real competition in pro wrestling ... A controlled act of violence

18 The Gravy Train
All Japan's emphasis changes ... The Brody-Hansen versus Dory-Terry Funk feud ... Tearing Lou Thesz' referee shirt ... Wrestling in Kuwait ... Abdullah demonstrates his proficiency with a fork ... The Wild Samoans entertain the flight crew and passengers ... Little Sam headlocks Charlie Pride ... Giant Baba, multi-tasker ... Training and learning Japanese customs with Brody ... Developing a taste for Japanese beer ... Eluding the fans and autograph seekers ... Experiencing the Japanese lifestyle ... Lord James "Tally-Ho" Blears ... Commissioner of the PWF

19 Killer Khan and the Gorilla
Thanksgiving in Japan ... Dinner with the Baba family ... Brody makes a startling announcement ... Stan gives Brody a warning and friendly advice ... Stan and Brody in Australia ... Brody shares his feelings with Stan ... Masashi Ozawa (Killer Khan), Stan, and Jimmy Suzuki at the zoo ... Brody jumps to New Japan ... Inoki's attitude towards gaijins ... Brody decision comes to a sad conclusion

20 Showdown in the Shower
Back to work for Verne Gagne and the AWA ... A brief history of the business relationship between Hulk Hogan and Verne Gagne ... Thoughts on Nick Bockwinkel, Buck Zumhote, Rick and Scott Steiner, and Kevin Kelly ... Stan "accidentally" loses his balance ... Baron von Raschke, the heel everyone likes ... Buddy Roberts refuses to do business ... Jerry Blackwell at the Dairy Queen drive-thru ... Blackwell hunts Snake Brown ... Leon White breaks the timekeeper's table ... Vader's eyeball pops out ... A run for the AWA heavyweight title ... The night Chicago fans "believed" ... Stan wins the AWA title from Rick Martel ... Stan returns the favor in Quebec City ... A typical AWA TV booking sheet ... Greg Gagne fails to react, so Stan gives him no choice ... Verne criticizes Rick Martel ... Transitional champion ... Shower room confrontation with Verne ... Stan walks out ... A registered letter ... The truth about what happened to the title belt ... Verne keeps his word ... Stan's allegiance to Japan ... Meeting Verne again ten years later

21 Opportunity
Japanese personality and style development ... Steroid use ... Stan's training regimen ... Athletics and competition versus sports entertainment ... Memories of Genichiro Tenryu ... Tenryu's favorite American meal ... Flea infestation ... Japanese wrestlers in America ... Fighting from underneath, aka "selling" ... Tenryu's powerbomb ... Discord in the All Japan ranks ... Avoiding business politics ... Mass exodus ... Opportunity for the young Japanese wrestlers ... Mitsuharu Misawa, the right place at the right time ... Power struggle ... The development of Toshiaki Kawada's character and style ... The price wrestlers pay ... All Japan's business undergoes a rejuvenation

22 The Show Must Go On
Wrestling on cruise ships, in department stores, on the roofs of department stores, and in the lobbies of public bath hous ... Outdoor shows ... Changing clothes on the wrestling bus ... The logistics of setting up outdoor shows ... Selling merchandise ... Wrestling Joe and Dean Malenko in a thunderstorm

23 Silent Heat
House fire ... News about Bruiser Brody's death ... Wrestling in Puerto Rico ... Danger from the crowd ... "Chilling" ... Herd mentality ... Flying spark plugs ... Urine shower ... Roddy Piper finds himself at gunpoint ... Tony Atlas and silent heat ... Brody returns to All Japan ... Working "against" Brody ... Stan's last meeting with Brody ... "Bruiser Brody Memorial Night" show

24 Veteran Gunslingers
Teaming with Ted DiBiase, the young "Funk boy" ... Roughhouse Fargo, the cartoon ... Austin Idol "injures" his ribs ... Fans in the dressing room ... Eating raw chickens ... Terry Gordy, a natural wrestler ... Gordy refuses to "do business" with Hulk Hogan ... Steve Williams, the toughest guy in wrestling ... Danny Spivey takes a stand ... Teaming with Giant Baba ... Memories of Danny Spivey, Johnny Ace, Dan Kroffat, Rob Van Dam, Gary Albright, and Bobby Duncum, Jr. ... Bobby Duncum, Jr. stands nose to nose with Gary Albright

25 "Get 'em, Daddy!"
Working for WCW ... Chewing tobacco ... Stan Hansen, "a bad example for youth" ... Losing matches on TV ... Strange confrontation with Jim Herd ... Cartoon-land ... Teaming with Sid Vicious ... "Arachnaphobia" ... Run-in with Paul Heyman ... The clean finish ... What the fans chanted at Shane Douglas and Johnny Ace ... "Get 'em, daddy!"

26 Terry Gordy and the Birthday Girl
Meeting sumo wrestlers and baseball superstar Randy Bass ... Blocking Jesse Jackson and his party ... Steve Williams sneaks up on George Kennedy

27 Return to West Texas
Old man time catches up with Stan ... Living up to his promise ... Time off to recuperate ... Operations and four artificial joints ... Stan Hansen's retirement ceremony ... An emotional time ... Praise for the wrestling fans ... Easy money ... Changing of the guard ... Giant Baba and Antonio Inoki — Wrestling icons ... Praise for Giant Baba ... Reunion at West Texas A&M ... Reminiscing about football ... More memories of the Fat Man ... Steve Williams' Memorial Service ... Expression of faith ... Thoughts about retirement and the passage of time ... Final thoughts

Stan's Japan Tours
Photo Gallery
Index
---

---