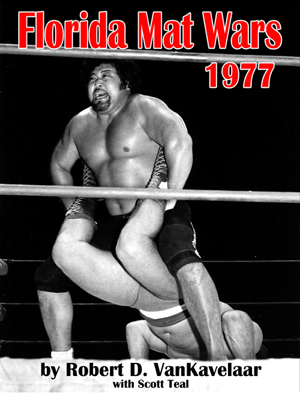 BOOK DETAILS

Paperback: 386 pages

Dimensions: 6x9

Publisher: Crowbar Press

Photos: More than 271 b&w

Cover: Full color

ISBN: 978-1-940391-17-5

Item #: cbp77-fmw77

Price: $24.95
PRIORITY MAIL UPGRADE
ORDER BY MAIL
CLICK HERE
CREDIT CARDS
CLICK HERE

INTERNATIONAL ORDERS
For orders of
more than 3 books
please contact us at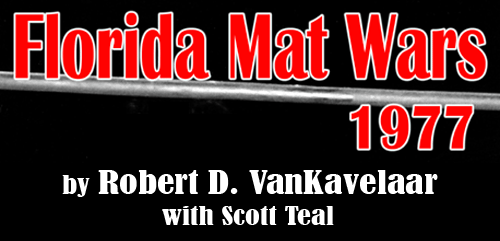 ---
---
"Florida Mat Wars: 1977" is available exclusively from Crowbar Press.
All books will be shipped via Media Mail (U.S.), Priority Mail, or International Priority Mail (Canada/overseas).
---

"Florida Mat Wars: 1977" is the first of a series of books that will take you back in time to a day when professional wrestling was king. Many of us remember waiting with anticipation for the newspaper to be delivered so we could check the sports page for the upcoming wrestling card or the results from the night before.

This volume, the first of many, contains all the known ads and results for 1977 that were published in the Florida territory, as well as feature articles, letters to the editor, and photo features that appeared in the newspapers in the days before professional wrestling became sports entertainment and no longer deemed worthy of being reported as a legitimate contest.

Travel back in time to spark your memory of matches that featured such superstars as Jack & Jerry Brisco, Superstar Billy Graham, Killer Karl Kox, Lars Anderson, Ivan Koloff, The Assassin, Mr. Saito, Ox Baker, Ernie Ladd, Buddy Wolff, Rocky Johnson, Dusty Rhodes, Pat Patterson, and hundreds more.

Plus, full page photos of Killer Karl Kox, Superstar Billy Graham vs. Joe Leduc, Lars Anderson in action, Lars Anderson with the Florida title belt, Dusty Rhodes vs. Sir Oliver Humperdink, Ivan Koloff, Ivan Koloff vs. Joe Leduc, Superstar Billy Graham, & Jerry Brisco vs. Pat Patterson.

Relive the memories through more than 900 newspaper clippings in "Florida Mat Wars: 1977."


---
---
---
The book features 181 more pages like these!
---

---