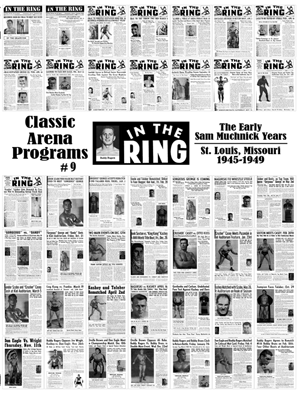 BOOK DETAILS

Paperback: 232 pages

Dimensions: 8.5x11

Publisher: Crowbar Press

Programs: 58 b&w

Cover: Full color

ISBN: 978-1-940391-40-3

Item #: 84-cap09

Price: $24.95
PRIORITY MAIL UPGRADE
ORDER BY MAIL
CLICK HERE
CREDIT CARDS
CLICK HERE

INTERNATIONAL ORDERS
For orders of
more than 3 books
please contact us at




---
---
"Classic Arena Programs #9: St. Louis, volume 4 — The Early Sam Muchnick Years: 1945-1949"
is available exclusively from Crowbar Press.
All books will be shipped via Media Mail (U.S.), Priority Mail, or International Priority Mail (Canada/overseas).
---

A NOTE FROM THE AUTHOR —

Sam Muchnick's first promotional effort took place on March 27, 1942 with Bobby Bruns vs. Swedish Angel as the main event. After four shows, none of which drew very well compared to Tom Packs' promotion, Sam was inducted into the U.S. Army and left wrestling behind. After his Sept. 18, 1945, honorable discharge, he resumed promoting on Dec. 5, 1945, with a main event featuring Ed Virag vs. Roy Dunn. Packs, however, continued to exceed Sam's attendance by three or four times, sometimes more.

The programs in this volume begin with Sam's very first show — Dec. 5, 1945 — upon his return to the St. Louis mat scene. Also included is the program for the Nov. 26, 1948, card at which Sam drew 10,176 paying customers for a Buddy Rogers vs. Jim Wright main event, a record crowd for Muchnick during his opposition to Packs' promotion. Muchnick's best crowd before that was 6,476 for a Ray Steele-Gorgeous George match on Jan. 17, 1947.

That show also marked the first night that Muchnick exceeded the attendance of the opposition — now headed by Martin & Lou Thesz after Tom Packs' retirement — which drew slightly less at 10,102 for a world heavyweight title defense by champion Wild Bill Longson against Lou Thesz with Ed (Strangler) Lewis as the special referee!

Every program from Muchnick's Dec. 5, 1945, promotional debut is included in this volume except for June 12, 1947. It's likely a program wasn't published on that date because these programs came from Sam Muchnick's personal bound volume of programs.

This is the fourth of what will be 16 volumes of classic arena programs from St. Louis, the pro wrestling capitol of the U.S.A.


---
---
---
---

---