Classic Wrestling Programs #2
SLAM-O-GRAM, volume 2
by Scott Teal
Once again, Scott Teal opens his archives, this time to present the second volume of his SLAM-O-GRAM arena program. As the official program for the Nashville-based Gulas-Welch Enterprises wrestling promotion, these programs were sold in Nashville, Bowling Green, Huntsville, and Chattanooga.
This volume chronicles an amazing amount of wrestling history, including classic feuds like Tommy Rich vs. The Russian Stomper, Ken Lucas vs. The Masked Superstar, King Ripper Collins & Crazy Luke Graham vs. Abdullah the Butcher & The Sheik, Jackie Fargo vs. The Executioner, father-son teams Angela & Lanny Poffo vs. Len & Joey Rossi, Cowboy Frankie Lane vs. Gypsy Joe, and many more. Each issue contained stories, interviews, and photos, both posed and action.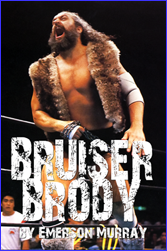 Bruiser Brody
by Emerson Murray, with Scott Teal
Frank "Bruiser Brody" Goodish was known as a brawler, a wild-man, and an outlaw. His style and character have been copied by countless other wrestlers. Mick Foley (Cactus Jack/Mankind), whose name is synonymous with the hardcore style of wrestling, claims to have studied Brody's Japan tapes for hours while training to be a pro wrestler, and patterned his ring style after him. However, like the old saying, "Often imitated, never duplicated," that applies to Bruiser Brody. There will never be another one like him.
This book is the story of Bruiser Brody, told in the words of those who knew him best—childhood friends, family members, fellow wrestlers, photographers, and newspaper reporters. No punches are pulled and the rulebook has been thrown out. This is THE definitive … Bruiser Brody.
Please note: This is the second edition of "Bruiser Brody," with all the material from the first edition, plus 90 additional photographs, for a total of 264 b&w pictures.