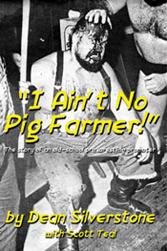 "I Ain't No Pig Farmer!"
by Dean Silverstone, with Scott Teal

In an era when few people were allowed into professional wrestling's inner circle, Dean Silverstone pitched the idea of publishing an arena program to Harry Elliott, the wrestling promoter in Seattle, Washington. Harry gave him permission and Dean's career as a wrestling publicist began … when he was only 14 years old.

An entrepreneur in every sense of the word, Dean wrote, created, printed, and sold the programs at Seattle's Senator Auditorium and Masonic Temple for the next 11 years. During that time, he also would promote spot shows, referee, write and handle publicity for Elliott's promotion, act as box-office manager, and run a few towns of his own.

Dean tells about putting together a roster of talent and struggling to build his company, despite opposition from other promoters, who considered him to be an outlaw. In the process, he faced anti-Semitism, unpredictable actions from his talent, crowd riots, warnings from the Hell's Angels, collapsing rings, the tragic death of one of his top wrestlers, and even a Molotov cocktail. Through it all, he developed a rapport and trust between himself and the wrestlers he employed.

His story includes opening Golden Oldies Records — a retail business venture which would eventually grow to eleven stores in all parts of Washington state — hosting an annual reunion for veteran and retired wrestlers, and working on the board of directors for the Cauliflower Alley Club.

This is the story of a self-made man, who, in his own words, was "born at just the right time in history."


$11.50



---





The Hard Way
by Don Fargo, with Scott Teal

Don Fargo is one of the overlooked stars of the classic era of pro wrestling. He was a headliner in almost every territory in which he appeared — New York, Amarillo, Dallas, Tennessee, Buffalo, Detroit, Indianapolis, and Louisiana, just to name a few.

For the first time, Don tells, in detail, the story about what happened when he and his tag-team partner ran afoul of a group of motorcycle outlaws, and how he inadvertently wound up on the wrong side of the law on more than a few occasions. He also tells stories about pulling ribs on his fellow wrestlers, including well-known celebrities like boxing champ Joe Louis, and classic, hilarious stories about many of the well-known wrestlers of the golden era of pro wrestling. Don tells the story about how he met Jackie Fargo, how they formed the tag team that became known as the Fabulous Fargos, and the story behind how they became the first team to be billed as "world tag team champions" in Madison Square Garden.

This is the most detailed book ever written that ties together important events in wrestling history with the hilarious shenanigans that went on behind the scenes. You've never read a more entertaining life story than this one.


---

Copyright © 2020 by Scott Teal
Pages designed by Scott Teal