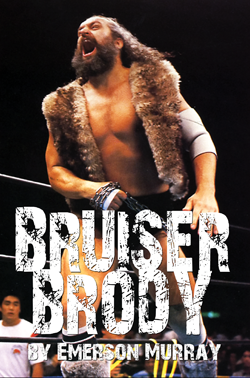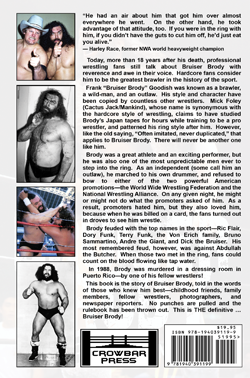 BOOK DETAILS
Paperback: 292 pages
Dimensions: 6x9
Publisher: Crowbar Press
Photos: 264 b&w
Cover: Color
ISBN: 978-1-9403911-9-5
Item #: cbp05-bb
Price: $19.95
---
---
---
"Bruiser Brody" is available exclusively from Crowbar Press.
All books will be shipped via Media Mail (U.S.), Priority Mail, or International Priority Mail (Canada/overseas).

Please note: This is the second edition of "Bruiser Brody," with all the material from the first edition, plus 90 additional photographs for a total of 264 b&w pictures.
---
"A masterful idea, masterfully executed, therefore, a veritable masterpiece … a difficult subject, but approached in an intelligent and searching fashion that tells the reader a ton of stuff he likely never knew about Goodish/Brody."
— J Michael Kenyon

"He had an air about him that got him over almost everywhere he went. On the other hand, he took advantage of that attitude, too. If you were in the ring with him, if you didn't have the guts to cut him off, he'd just eat you alive."
— Harley Race, former NWA world heavyweight champion

"He was feared by all the fans. And I'll tell you what. There were a lot of guys in the locker room who were scared of Bruiser Brody. He was a bad dude."
— Lance Russell, legendary Memphis wrestling announcer
---
Today, more than 18 years after his death, professional wrestling fans still talk about Bruiser Brody with reverence and awe in their voice. Hardcore fans consider him to be the greatest brawler in the history of the sport.
Frank "Bruiser Brody" Goodish was known as a brawler, a wild-man, and an outlaw. His style and character have been copied by countless other wrestlers. Mick Foley (Cactus Jack/Mankind), whose name is synonymous with the hardcore style of wrestling, claims to have studied Brody's Japan tapes for hours while training to be a pro wrestler, and patterned his ring style after him. However, like the old saying, "Often imitated, never duplicated," that applies to Bruiser Brody. There will never be another one like him.
Brody was a great athlete and an exciting performer, but he was also one of the most unpredictable men ever to step into the ring. As an independent (some call him an outlaw), he marched to his own drummer, and refused to bow to either of the two powerful American promotions—the World Wide Wrestling Federation and the National Wrestling Alliance. On any given night, he might or might not do what the promoters asked of him. As a result, promoters hated him, but they also loved him, because when he was billed on a card, the fans turned out in droves to see him wrestle.
Brody feuded with the top names in the sport—Ric Flair, Dory Funk, Terry Funk, the Von Erich family, Bruno Sammartino, Andre the Giant, and Dick the Bruiser. His most remembered feud, however, was against Abdullah the Butcher. When those two met in the ring, fans could count on the blood flowing like tap water.
In 1988, Brody was murdered in a dressing room in Puerto Rico—by one of his fellow wrestlers!
This book is the story of Bruiser Brody, told in the words of those who knew him best—childhood friends, family members, fellow wrestlers, photographers, and newspaper reporters. No punches are pulled and the rulebook has been thrown out. This is THE definitive … Bruiser Brody

---
— SPECIAL FEATURES —
• 168 b&w and 34 color photographs
• 4-page FOREWORD written by Brody's friend and tag team partner, STAN HANSEN
• Exclusive photos of Brody in high school and college
• A copy of Brody's application for admission to West Texas State University
• Photos from Brody's first wedding
• Frank Goodish and Stan Hansen's first publicity photos
• Exclusive photos of the infamous Bruiser Brody-Lex Luger match!
• 16-page color section of bloody matches between Brody and Abdullah the Butcher
• Photos from Brody's last match
• The most indepth information on the night of Brody's death ever published!
• A transcript of the coroner's report
• Exclusive photos of the Atsushi Onita stabbing angle

---
— INTERVIEWS with 92 people who knew Brody the best! —
Wrestlers, Managers and Promoters
• Abdullah the Butcher
• Adam Windsor
• Adrian Street
• Bad News Allen
• Bill Lehman, aka Siegfried Stanke
• Bill Watts (wrestler, promoter)
• Bob Geigel (wrestler, promoter)
• Bob Orton Jr.
• Bob Roop
• Bobby Fulton
• Bobby Jaggers
• Brian Blair
• Bruno Sammartino
• Carlos Colon (wrestler, promoter)
• Chavo Guerrero
• Chris Benoit
• Dennis Stamp
• Dick Beyer
• Dick Steinborn
• Dick the Bruiser
• Dory Funk Jr.
• Dusty Rhodes
• Dusty Wolfe
• Dutch Mantell
• Dutch Savage
• Ed "Moondog" Moretti
• Frankie Cain, aka The Great Mephisto
• Gene Lewis
• Greg Lake
• Harley Race (wrestler, promoter)
• Ivan Putski
• J.J. Dillon (manager)
• Jerry Grey
• Jim Duggan
• Jimmy Snuka
• Jody Hamilton (wrestler, booker, promoter)
• Joe Blanchard (promoter)
• Joyce Grable (lady wrestler)
• Kamala
• Kevin Sullivan (wrestler, booker)
• Kevin von Erich
• Killer Karl Kox
• Killer Kowalski
• Killer Tim Brooks
• Lou Thesz
• Magic Schwarz (wrestler, stuntman)
• Malak Al Rahim, aka Jim Vasaldua
• Nick Bockwinkel
• Ole Anderson (wrestler, booker, promoter)
• Ox Baker
• Paul Christy
• Percy Pringle (manager)
• Playboy Gary Hart (manager)
• Red Bastien (wrestler, booker)
• Road Warrior Animal
• Road Warrior Hawk
• Roger Kirby
• Scandor Akbar (wrestler, manager)
• Sika Anoai
• Sir Oliver Humperdink (manager)
• Spike Huber
• Stan Hansen
• Steve "Dr. Death" Williams
• Terry Funk
• The Missing Link
• Tony Atlas
• Vader
Family and Childhood Friends
• Don Goodish (cousin)
• J.R. Obrecht (family friend)
• Larry Salci (childhood friend)
• Marie Neece (first wife)

Sports Teammates
• Bill Lehman (football teammate) (see Siegfried Stanke)
• Dan Nixon aka Dirty Dan (gym owner)
• Fred Ekmark (football teammate)
• Jerry Jones (football teammate)
• Larry Brazon (basketball teammate)
• Leo Sykes (football teammate)
• Marc Allen (football teammate)

Wrestling Announcers
• Allen Bolte
• Lance Russell
• Larry Matysik (announcer, promoter)
• Larry Nelson

Wrestling Referees
• Bobby Simmons
• James Beard

Journalists
• Dan Cook (sports journalist)
• Dave Meltzer (wrestling journalist)
• Craig Cohen (videographer)

Wrestling Photographers
• Eddie Gries
• George Napolitano
• Scott Romer

Wrestling Historians
• J Michael Kenyon

Wrestling Authors
• Gordon Grice
• John Dananay
---

Acknowledgements
Foreword by Stan Hansen
Contradictions, Exaggerations, and Downright Lies
Bruiser Brody: A man of many facets ... Separating the truth from the fiction ... The king of hardcore
Meet Bruiser Brody
An overview of Bruiser Brody
1 Childhood
Growing up in Warren, Michigan ... Little League football ... The Frank Goodish family ... Neighborhood football ... Love-hate relationship ... First arrest ... Football, basketball and hockey ... Football scholarships
2 Outlaws
Iowa State University ... The Tight Five ... Promise, promises ... ... Joining a fraternity ... Defending a frat brother recruit ... Money under the bed ... Caught by security in a girl's dorm ... Wayne State University ... West Texas State University ... Coach Joe Kerbel ... Redshirted with Dusty Rhodes ... Meeting "The Gypsy," his future first wife ... First meeting with Stan Hansen ... Homemade Valentine's Day card ... Bouncing at the Reveler Nightclub ... Chopping down a tree
3 Football and Wedding Bells
The Continental Football League ... First wedding: no cake, no party, no reception ... Playing football for the San Antonio Toros ... Barbells in the street ... Passing freshman English ... Peanut butter and mashed banana sandwiches ... The San Antonio Health Club ... Dirty Dan the Barbell Man ... The antique exercise machine ... Confrontation with the owner of the Toros ... Sports writer for the San Antonio Express ... Traded to the Monterrey Golden Aztecs ... Beer for breakfast ... Potatoes in the manhole ... The gay waiters ... Traded to the Odessa Rufneks ... Writing for the Midland Reporter-Telegram ... The Washington Redskins training camp ... Frank charms Marie's divorce lawyer ... Furniture in the swimming pool ... Introduction to steroids
4 Jimmy Hoffa
Ivan Putski convinces Frank to try pro wrestling ... Second meeting with Stan Hansen ... "The fan in the seats" ... Frank Goodish makes his debut in Dallas ... Fritz von Erich takes a shine to Frank Goodish ... World Class Wrestling ... Frank goes to Louisiana ... Mixed tag team match ... Goodish and Hansen form a tag team ... Killer Karl Kox and tuna fish ... Bill Watts' opinion of Frank Goodish ... Frank and Bobby Jaggers at Waffle House ... Goodish's push is crushed by Art Nelson ... Repackaged ... The King of the American Hippies ... Frank loses a shoe ... Drinking Rhodes and Murdoch under the table ... Trapped in an apartment for three days (with two girls) ... Killer Kowalski makes a phone call to New York
5 Good Cop, Bad Cop
Frank Goodish goes to New York and the WWWF ... Bruiser Brody makes his debut ... Wrestling Bruno Sammartino ... First confrontation with Jose Gonzales ... Verbal dispute with Gorilla Monsoon ... Playboy Gary Hart, Brody's booking agent ... Making a name for himself in Texas ... Good cop, bad cop ... A trip to Australia and meeting his second wife
6 The Intelligent Monster
Becoming a big star in Japan ... Unbeatable ... Training with Mark Lewin
7 King Kong vs. The Bruiser
Bruiser Brody becomes King Kong Brody ... Wrestling Dick the Bruiser ... Jealousy rears its ugly head ... Never make a comeback on King Kong Brody ... Brody and Miss Bunny ... Behind the scenes of the Bruiser-Brody lockerroom fight ... Back to Texas
8 New Attitude
Unwarranted confrontation with Pat O'Connor ... Fired by Paul Boesch ... First match against Abdullah the Butcher ... Harley Race warning to Nick Bockwinkel goes unheeded ... No assigned seats on the bus! ... Teaming with Jimmy Snuka and Stan Hansen ... Fritz von Erich's kids kill the San Antonio territory ... The origin of Jim Duggan's 2x4 ... Joe Blanchard gets swindled ... Brody begins controlling his own destiny ... Gary Hart's overview of Brody's worth to the business ... Bruiser Brody vs Ric Flair ... Brody's sport coat ... Brody and the wheelchair ... Brody's commitment to fundraisers and charities ... The birthday party ... The National Wrestling Alliance address book ... Promoters are the enemy!
9 Killer Heels
Wrestling for Sam Muchnick in St. Louis ... Harley Race's compares Brody and Dick Murdoch ... Brody as NWA world champion according to Harley Race ... Brody's partnership with Larry Matysik ... Brody and Hansen wrestle (briefly) in the Carolinas ... The Missing Link
10 Puerto Rico
Brody's first tour of Puerto Rico ... Carlos Colon comments on Brody ... Major riots in Trinidad ... Brody's relationship with Victor Quinones ... Fighting for your money in Puerto Rico ... Brody pays back Bob Geigel for a bad payoff ... Brody gives advice to Kamala ... Brody shoots with Ric Flair, then they wrestle for an hour ... The death of David von Erich ... David von Erich's funeral
11 Red River Jack
Working in the AWA for Verne Gagne ... Vader's first three opponents ... Brody "breaks" Vader's leg ... Brody shoots with Verne Gagne ... Brody's opinion of promoters ... Beating Verne Gagne to the punch ... Brody jumps to New Japan ... Brody and Killer Brooks refuse to do the job ... Brody whacks Yatsu and Choshu with his chain ... Tim Brooks' first-hand account of the incident ... One Man Gang ... Brody and Mark Lewin kill the San Antonio territory ... Bruiser Brody vs Antonio Inoki ... Brody stands up for Jimmy Snuka ... New booker for WCCW ... Confronation with Tony Atlas ... Texas Red makes his debut against Bruiser Brody ... The true origin of the Undertaker ... Behind the scenes of the Brody-Lex Luger incident ... Lex Luger tells his side of the story ... Jim Crockett panics ... Red River Jack, personal friend of Bruiser Brody ... Brody returns to All Japan ... Brody wrestles Stan Hansen, his tag team partner
12 The Wildman from the Sudan
Bruiser Brody vs Abdullah the Butcher ... Abdullahs' memories of his first encounter with Brody ... Brody versus Abdullah in a cage! ... Brody-Abdullah win-loss record
13 The Rebel
Bruiser Brody, as seen by those who knew him best
14 If Heaven Ain't A Lot Like Dixie
Bruiser Brody's last tour of Puerto Rico ... Bruiser Brody versus the Angel of Death ... Carlos Colon verbally attacks Brody ... A comprehensive listing of events leading up to Brody's death ... Brody and Jose Gonzales as a tag team ... Gonzales invites Brody to talk in the shower stall ... The scream! ... Tony Atlas protects Brody and warns Colon to stay away ... The chest wound ... The long wait for help ... What happened in the hospital ... Bruiser Brody dies in the hospital ... Lies and subterfuge ... Mass exodus from Puerto Rico ... The trial — more lies and subterfuge
15 Coroner's Report
16 Replay
Incidents that took place following Brody's death ... Atsushi Onita and the stabbing angle
17 Legacy
Final thoughts on Bruiser Brody
Index
---

Adams, Chris, 151
Adnan Alkaissy, Sheikh, 140, 149
Adonis, Adrian, 68, 120
Afi, Sivi, 82
Akbar, Scandor, 57-58, 148, 184
Alfonso, Bill, 156-157
All Japan Wrestling, 12-14, 85, 98
Allen, Bad News, 11, 155, 158
Allen, Marc, 29-30, 33, 38-40, 44, 48, 52, 115
Anderson, Ole, 11, 175
Anderson, Lars, 111
Andre the Giant, 96
Angus, Black, 54
Animal, Road Warrior, 197
Anoai, Sika, 191
Apter, Bill, 186, 192
Assassin, The Cuban, 155
Astea, Luis, 159
Atlas, Tony, 11, 18, 62, 64, 78, 107-108, 137, 152-153, 184-185, 187-192, 194-195
Austin, Bill, 48
Ayala, Hercules, 187
Ayoub, Sheik Wadi, 82
Baba, Giant, 13-14, 62, 85, 87, 95, 97, 100, 116, 137, 143-144, 146, 151, 160, 210
Baker, Ox, 135. 147, 150, 180
Baker, Barry, 130
Barbarian, The, (see Nord, John)
Barnett, Jim, 82, 112, 152
Bastien, Red, 52, 54, 58
Beard, James, 11, 143-144, 150
Bearer, Paul, 154
Bednarski, Joe, (see Putski, Ivan)
Behrend, Fred, 104-105, 148-149
Belia, Maria, 11
Benoit, Chris, 175, 212
Bernard, Brute, 83
Beyer, Dick, 87
Blackjack Lanza, 54
Blackstone, Boni, 176, 179
Blackwell, Jerry, 139, 142
Blair, Brian, 22, 123
Blanchard, Tully, 30, 104
Blanchard, Joe, 51-53, 55, 79-80, 101, 104-105, 106, 113, 141, 145, 148
Bockwinkel, Nick, 21, 30, 73, 97, 107, 109, 115-117, 138-139, 141-142, 181, 195
Boesch, Paul, 55, 79, 95-96, 106, 141
Bolte, Allen, 175
Brazon, Larry, 28-30, 32, 36
Brisco, Jack, 107
Brody, Howard, 155
Brody Jr., Bruiser, 101
Brooks, Killer Tim, 11, 21, 89, 131, 143-145, 192
Brown, Bulldog Bob, 95
Bruiser, Dick the, 82, 90-94, 134, 138, 142, 205
Bunny, Miss, 92-93
Butcher, Abdullah, the, 11-12, 18, 20, 91, 96, 126-128, 131, 145, 148, 154-155, 159-161, 163-170, 184-186, 189-192, 195, 197, 203, 207-209
Cain, Frankie, 11, 54, 71-72
Candy, Ray, 66
Caras, Cien, 80
Casey, Scott, 67, 104, 131
Castillo, Jr., Hurricane, 189
Championship Wrestling from Florida, 71
Choshu, Riki, 143-144
Christantello, Donna, 58
Christy, Paul, 11, 92-93
Clayton, Jay, 59
Cohen, Craig, 156-158
Colon, Carlos, 22, 125-126, 128, 165, 184-192, 196-197, 204, 207, 210
Continental Football League, 28, 38-39
Cook, Dan, 44, 48
Crockett, Jim, 111, 123, 158, 210
Curry, Bull, 17
Curtis, King, 13, 82, 87, 96, 149
Dananay, John, 54, 56, 79, 137, 151, 154
Davidson, Rick, 160
Destroyer, Super, 66-68
Destroyer, The, 87
DiBiase, Ted, 30
Dillon, J.J., 11, 83
Duggan, Jim, 11, 109, 111, 149
Duk, Kim, 204
Duncum, Bobby, 30
Dundee, Bill, 147
Eagles, Johnny, 59
Ekmark, Fred, 45-49
Eliminator, Eli the, 160
Ellering, Paul, 198
Fernandez, Manny, 30
Flair, Ric, 111, 117, 119, 122, 126, 134-135, 175
Freebirds, The, 120
Fuji, Mr., 127
Fuller, Buddy, 82
Fulton, Bobby, 11, 95, 106, 109, 152, 166
Funk, Terry, 12-13, 20, 30, 32-33, 36-37, 64, 66-67, 82, 85, 87, 97-100, 194, 196
Funk Jr., Dory, 13, 30, 36, 51, 57, 64, 69, 71, 85, 87, 91, 97-101, 115-116, 109, 123-126, 129, 134, 137, 146, 160, 175, 180-181, 197, 206, 208-210
Gagne, Verne, 57, 82, 114, 138-142
Gagne, Greg, 142
Gang, One Man, 147
Geigel, Bob, 95, 120-121, 131, 134-135, 212
Golecky, Eddie, 36
Gonzales, Jose Huertas 74, 78, 125, 127-128, 184-189, 191-192, 194-198, 204-207
Goodish, Don, 23, 25-26
Goodish, Barbara, 82-83, 191-192, 203
Gordy, Terry, 15, 120, 123-124, 161
Grable, Joyce, 58
Graham, Eddie, 71, 82
Grey, Jerry, 11, 149-150, 152, 156, 159, 197, 208
Grice, Gordon, 11, 21, 66-67
Gries, Eddie, 11, 125, 128, 129, 184-185, 188-189, 191-192, 194, 196, 203-204
Grindle, Bill, 51
Guerrero, Chavo, 21, 97-98, 149, 211
Hamilton, Jody, 11, 176, 179
Hansen, Stan, 11-15, 20-21, 30, 33-34, 52-53, 59, 62-63, 75, 77, 97-101, 115-116, 123, 137, 139, 143, 145-147, 161, 180, 196, 203, 208-209
Hara, Ashura, 161
Hart, Gary, 11, 21, 78-79, 82-83, 89, 94, 101, 106-107, 112-115, 126-127, 147-148, 152, 154-155, 159-160, 164-165, 198, 212
Hawk, Road Warrior, 21, 197
Hayes, Michael, 120, 123-124
Heenan, Bobby, 36
Hennig, Larry, 73
Hernandez, Gino, 80, 83, 96, 154, 198
Hight, Henry, 43
Higuchi, Joe, 136
Hodge, Danny, 59, 63
Hogan, Hulk, 15, 138
Huber, Spike, 93-94, 131, 141, 151, 153, 160
Humperdink, Sir Oliver, 22, 58, 155, 157-159, 197, 210
Idol, Austin, 147
Inoki, Antonio, 62, 85, 143, 145, 150-151, 210
Invader, The, (see Gonzales, Jose Huertas)
Iowa State University, 28-29
Irvin, Larry, 112
Irwin, Scott, 95
Jack, Red River, 159-160
Jaggers, Bobby, 11, 64-65, 104, 187, 189
Japan, 85, 96-98, 105, 116, 124, 143-146, 150-151, 160
Jardine, Don, 66, 94
Jarrett, Jerry, 147
Johnson, Walter, 49
Johnson, Rocky, 71, 184
Jones, Jerry, 39, 45, 48-49
Jones, S.D., 78
Jovica, Victor, 125, 186
Kabuki, The Great, 79, 165
Kamala, 22, 109, 117, 129, 135-136, 146
Karras, Gust, 95
Kelly, Kevin, 149
Kenyon, J Michael, 11, 71, 77, 91, 94, 105, 164, 173, 175, 184
Kerbel, Joe, 29-30
Kiniski, Kelly, 30
Kirby, Roger, 11, 54, 72-73, 127-128
Koloff, Nikita, 175
Koloff, Ivan, 175
Koppler, Ted, 130
Kowalski, Killer, 20, 73, 75, 77-79, 196
Kox, Killer Karl, 11, 62
Kroffatt, Dan, 189
Ladd, Ernie, 95
Lake, Greg, 92
Lano, Dr. Mike, 11
Latham, Terry, 59
Lawler, Jerry, 147
Lehman, Bill, (see Stanke, Siegfried)
Lewin, Mark, 82, 88-89, 149
Lewis, Gene, 20-21, 87, 121, 181, 208
Link, The Missing, 11, 124, 135-136
Londos, Jim, 173
Lothario, Jose, 54, 80
Lubich, Bronco, 52-54
Luger, Lex, 155-158
Madison Square Garden, 74-75, 77
Mantell, Dutch, 11, 186-189, 191-192, 194-195, 203
Martin, Pierre, 54
Mascaras, Mil, 87
Matsuda, Hiro, 155, 157-159
Matysik, Larry, 26, 37, 62, 104, 111-113, 117-121, 123, 128, 130-131, 134-137, 139, 148, 154, 163-164, 179, 190, 192, 196-197, 203, 210-212
McCombs, Red, 45
McDaniel, Wahoo, 57
McGraw, Bugsy, 83
McGuirk, Leroy, 52, 57, 59
McMahon Jr., Vince, 91, 104, 117, 129-131, 138, 150, 210
McMahon Sr., Vince, 62, 74, 79
McShain, Danny, 17
Meltzer, Dave, 21, 59, 73, 77-79, 85, 88, 98, 100, 105, 116-117, 125-126, 128, 131, 134, 137-138, 140-143, 145-146, 150-151, 155, 158, 161, 163, 165, 173, 175, 192, 196-197, 203, 209-210, 212
Menacker, Sam, 92
Mephisto, The Great, 11
Milano, Mario, 82, 83
Monroe, Sputnik, 64
Monsoon, Gorilla, 79, 125, 194
Morales, Pedro, 82
Moretti, Ed "Moondog", 21, 97, 161
Muchnick, Sam, 82, 117, 120-121, 210-212
Muhammed, Kareem, 147
Mulligan, Blackjack, 54, 157
Murdoch, Dick, 12, 30, 72, 95, 117, 120
Nagasaki, Kendo, 184-185, 196
Napolitano, George, 77-78, 90, 167
National Wrestling Alliance, 12, 52
Neece, Marie, 23, 27, 33-35, 37-41, 44-49, 51, 56-57
Nelson, Larry, 21-22, 138-140, 142, 208
Nelson, Art, 66
New Japan Wrestling, 14-15, 85, 98
Nixon, Dan, 23, 27, 41, 43-44, 52
Nord, John, 140, 142, 160
O'Connor, Pat, 67, 95, 114, 120, 131, 134-135
O'Day, Larry, 82, 147
O'Hannon, Davey, 69
Oates, Jerry, 95
Oates, Ted, 95
Obrecht, JR, 112-113
Okuma, Motoshi, 85
Oliver, Jerry "Ox", 40
Onita, Atsushi, 203-206
Orton Jr., Bob, 54, 120
Oski, Jerry, 147
Patera, Ken, 54
Patrick, Nick, 176
Patterson, Thunderbolt, 71
Patton, Tank, 79
Pedicino, Joe, 176, 179
Perez, Al, 164-165, 198
Piper, Roddy, 144
Plechas, Danny, 54
Poffo, Angelo, 109
Pogo, Mr., 128, 184-185, 196
Pringle, Percy, 11, 153-154
Putski, Ivan, 41, 43, 49, 51-52, 54-57, 74, 113
Quinones, Victor, 125, 128, 186, 194, 203-204
Race, Harley, 11, 18, 80, 83, 94, 97, 107, 117, 120-121, 131, 134-135, 184
Rahim, Malak Al, 166
Reed, Butch, 123
Reynosa, Juan, 166
Rhodes, Dusty, 20, 30, 32, 36, 63, 71-72, 107, 123, 175
Rich, Tommy, 161
Rickard, Steve, 82
Roberts, Buddy, 83
Roberts, Nick, 67
Robley, Buck, 80, 136, 149
Rogers, Tommy, 106
Romer, Scott, 11, 93, 130, 137, 142, 203-206
Roop, Bob, 54-55
Roper, Scott, 11
Rude, Rick, 151
Russell, Lance, 21, 147
Sabu, 207
Sakaguchi, Seiji, 149-150
Salci, Larry, 23-27, 29, 35
Sammartino, Bruno, 11, 59, 77, 79, 98, 175, 195
San Antonio Health Club, 41
San Antonio Toros, 39, 43-45
Sandman, The, 207
Santana, Tito, 30
Savage, Randy, 109, 120, 147
Savage, Dutch, 90-91, 93-94
Sawyer, Buzz, 154
Schultz, David, 147
Schwarz, Magic, 11, 41, 43, 139-140, 208
Scott, George, 152-153
Sharpe, Larry, 125
Sheik, The (original), 80, 181
Sheik, Iron, 181
Sheldon, Dave, 184
Shire, Roy, 175
Simmons, Ron, 155
Simmons, Bobby, 11, 111-112
Singh, Tiger Jeet, 12
Slater, Dick, 101
Smith, Grizzly, 12, 58
Snuka, Jimmy, 15, 80, 98-100, 142, 150, 161, 165
Snyder, Wilbur, 90
Solie, Gordon, 73, 111-112
Somers, Doug, 54
Spivey, Dan, 185, 187
Spoiler, The, 94
St. Mary's University, 40
Stamp, Dennis, 68-69, 180, 195
Stanke, Siegfried, 39-40, 49, 52-53, 56, 58
Stasiak, Stan, 88
Steele, Ray, 173
Steinborn, Dick, 78, 95-96, 125, 127, 196
Street, Adrian, 181
Studd, John, 62, 80, 150, 196
Sullivan, Kevin, 71, 75, 77
Suzuki, Jimmy, 203-204, 206
Sweetan, Bruiser Bob, 90
Swensen, Jeep, 160
Sykes 24, 30, 39-41, 43-46, 48, 52, 128
Tanaka, Toru, 88
Teal, Scott, 11
Tenryu, Genichiro, 124, 161
Terrible, Jason the, 184
Texas Red, 154
Texas A&M University, 30
Thesz, Lou, 18
TNT, 190-191
Tsuruta, Jumbo, 13, 95, 124, 161
Turner, Ted, 112
Tyler, Tarzan, 72
Undertaker, The, 154
University of Detroit, 29
Vader, 11, 139-140
Valentine, Johnny, 57
Valentine, Dale, 83
Valentine, Greg, 131
Van Galder, Tim, 37
Vanz, Otto, 140
Von Erich, Chris, 56
Von Erich, Kerry, 56, 89, 96, 120, 123, 151, 154, 184
Von Erich, Mike, 56
Von Erich, Mike, 154
Von Erich, David, 56, 83, 121, 136-137
Von Erich, Kevin, 56, 83, 120, 136, 148, 151
Von Erich, Fritz, 12, 51-56, 59, 63, 68, 71, 79-80, 82-83, 85, 101, 107, 120-121, 145, 148-152, 163
Warrior, Dingo, 160
Warrior, The Ultimate, 152-153
Warriors, The Road, 11, 123, 143, 175, 198
Watt, Ed 107
Watts, Bill, 52, 57-59, 62-63, 106, 145, 175, 180, 195
Wayne State University, 29
West Texas State University, 12, 28-30, 32-33, 36-37, 40
White, Harry, 122
Whitmire, Dave, 38
Williams, Steve, 11, 100
Windham, Kendall, 155
Windham, Barry, 30
Windsor, Adam, 206
Wizard, The Grand, 90
Wolfe, Dusty, 101, 104-105, 148-149, 151
World Wide Wrestling Federation, 57
WWF, 129
WWWF, 68, 74, 77, 79
Yatsu, Yoshiaki, 143-144
York, Mike, 80
Young, Gary, 96
Young, Skip, 152
Youngblood, Chris, 187-188
Youngblood, Mark, 187-188
Youngblood, Jay, 147
---

Thanks for letting me read the book. It is a masterful idea, masterfully executed, therefore a veritable masterpiece. A superb piece of reportage. A difficult subject, but approached in an intelligent and searching fashion that tells the reader a ton of stuff he likely never knew about Goodish/Brody and enables him to make up his own mind about a number of rather strange interludes in the man's tumultuous life.
J Michael Kenyon, wrestling historian

---
I read your story on Brody. When i was little, maybe about five or six years old my mom and I were in Albertson's and I was running down the aisle. I ran head first into a big, giant leg. I stood and looked up ... and it was Bruiser Brody. The man almost stepped on me. He bought me a Pespi and gave my mom tickets to the next match, but he was killed before it took place. That man was my reason to watch wrestling in the first place.
Angela Thomas

---
To schedule radio interviews or other media appearances with the author, please contact Scott Teal at
---

Copyright © 2019 by Scott Teal
Pages designed by Scott Teal