BOOK DETAILS
Paperback: 222 pages
Dimensions: 8-1/2 x 11
Publisher: Crowbar Press
Photos: 150 b&w
Cover: Color
ISBN: 978-0-9844090-8-2
Item #: cbp16-rd
Price: $22.95
U.S. ORDERS
CLICK HERE
UPGRADE TO PRIORITY MAIL
Books are sent via Media Mail.
To upgrade to Priority Mail,
click
HERE.
CANADA/OVERSEAS ORDERS
For postage rates,
please e-mail us with the
items you wish to purchase:
whtreslr@gmail.com
ORDER BY MAIL
FOR INFO, CLICK HERE
CREDIT CARDS
FOR INFO, CLICK HERE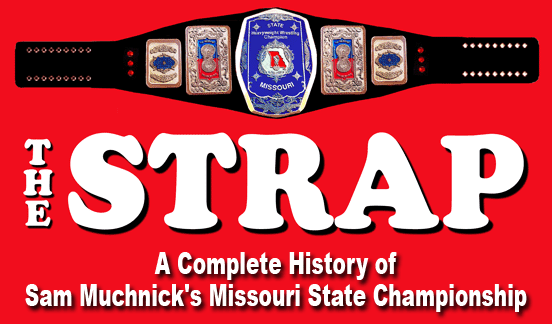 ---
---
Please note:
"The STRAP: A Complete History of Sam Muchnick's Missouri State Championship" is available directly from Crowbar Press.
For a limited time with no extra charge, every copy of the book ordered through this website will include a photo of one of the Missouri champions wearing or holding the title belt. Photo included will be our choice and taken from those in stock.
All books will be shipped via Media Mail (U.S.), Priority Mail, or International Priority Mail (Canada/overseas).
---
The STRAP: A Complete History of Sam Muchnick's Missouri State Championship

The definition of a biography is "the account of someone's life written by someone else." This book isn't about "someone's" life, but author Roger Deem does bring life to the story of the Missouri championship belt, the "crème de la crème" of professional wrestling's title belts, second only to the world heavyweight title. Deem covers everything about the title, from the creation of the belt in 1972 to its demise with the death of the St. Louis Wrestling Club in 1987.

Held by legendary superstars like Harley Race, Terry Funk, Ric Flair, Jack Brisco, Ted DiBiase, Bob Backlund, Dick Murdoch, Kerry Von Erich, David Von Erich, and many others, the Missouri title was what every wrestler who appeared in St. Louis hoped to win, and each titleholder has been given a section of their own.

But this book isn't only about the title. It's a look at the history of the St. Louis wrestling promotion itself during the time the title was in use; the genius of promoter Sam Muchnick; the behind-the-scenes manipulations that determined who would be given the opportunity to hold the title, or have it taken away; and the problems that beset the promotion both from within and without.

Several of the wrestlers who held or wrestled for the title — Kevin Von Erich, Ted DiBiase, Jerry Brisco, Bob Backlund, Ric Flair, Dory Funk Jr., Terry Funk, Harley Race, and Ken Patera — as well as others close to the promotion, weigh in on the subject by sharing their memories of the times, and, in many respects, the most important contribution to the story come from Larry Matysik, someone who never wrestled, but was a key figure in the offices of the St. Louis Wrestling Club.

Also included are: listings and descriptions of every match wrestled when the Missouri title was at stake, the television matches in which the champion wrestled on the famous "Wrestling at the Chase" television program, reprints of the "Wrestling" arena program covers, and over 150 photos and images of the wrestlers and the events that took place during that time.

Deem attacks the subject from the viewpoint of a fan who was on the outside of the wrestling business looking in and a photographer on the fringe who made friends with many of the personalities who graced the wrestling ring in both Kiel Auditorium and the St. Louis Arena.

Relive the memories of the days when St. Louis was the wrestling capital of the world and the Missouri heavyweight title was the goal of every wrestler.

— SPECIAL FEATURES —
• More than 150 b&w photographs
• FOREWORD written by LARRY MATYSIK, wrestling promoter and key figure in the old St. Louis Wrestling Club
• Classic photos of each of the champions wearing or holding the title belt
• The origins of the Missouri championship from the days of the Central States title
• A complete listing of all title defenses
• A complete listing of every match the champions had during their reign as champion
• Listings of NWA world title changes and the effect they had on the Missouri title
• Cover images of key issues of the "Wrestling" program sold in the St. Louis arenas
• Comments from many of the champions and those who were in St. Louis during the time

---
— COMMENTS by the people who were there! —
Wrestlers and Promoters
• Bob Backlund
• Bob Geigel
• Bruiser Brody
• Dick Murdoch
• Dory Funk, Jr.
• Gordon Solie
• Harley Race
• Jack Brisco
• Jerry Brisco
• Ken Patera
• Kevin Von Erich
• Larry Matysik
• Ric Flair
• Rip Hawk
• Ted DiBiase
• Terry Funk
• Lou Thesz
Fans, Journalists, Historians, Photographers
• Butch Fletcher
• Chris Charboneau
• Craig Buchman
• Darla Staggs
• Diane Devine
• George Schire
• Harry White
• Jim Fossell
• Libnan Ayoub
• Mark Nulty
• Mitch Hartsey
• Roger Deem
• Steve Munari
• Tim Hornbaker
• Victor Failoni

• Author's Note
• Preface
• Contributors
• Foreword by Larry Matysik
• The Wrestling Capital of the World: Sam Muchnick's St. Louis
• Before the Beginning
• The Central States Championship: Harley Race
• A Straight Line in No Direction: The Tournament
• The First Missouri State Champion: Harley Race
• Clash of the Titans: Johnny Valentine
• A Serious Dose of Hell: Terry Funk
• A Revised History Revised: Gene Kiniski
• Back in the Saddle Again: Harley Race
• Sweet Revenge: Dory Funk, Jr.
• Back to the Future: Harley Race
• A New Generation Ascends: Bob Backlund
• On the Comeback Trail: Jack Brisco
• A Dark and Stormy Night: Dick Slater
• Bumping a Future Star: Ted DiBiase
• Catch a Rising Star: Dick Murdock
• Man of the People: Dick the Bruiser
• By Hook or By Crook: Dick Murdock
• No Escape: Dick the Bruiser
• A Right to Reign: Dick Murdock
• The Young Gun: Kevin Von Erich
• The Power and the Glory: Ken Patera
• The Second Coming: Ted DiBiase
• Return of the King: Jack Brisco
• Coming Full Circle: Ken Patera
• One Final Victory Lap: Dick the Bruiser
• The Best Man Always Wins: Harley Race
• Dark Days: Kerry Von Erich
• One Small Step, One Leaping Giant: Crusher Blackwell
• Ascent!: Harley Race
• A New World King & Vacant State Title: Missouri State Title Tournament
• Out of Many, One: Ric Flair
• Heir to the Throne: David Von Erich
• The Persistent Titleholder: Harley Race
• By Any Means Necessary: Crusher Blackwell
• The First Shall Be Last: Harley Race
• End of the Road: Missouri Championship Retired
• Afterword
• About the Author
• Acknowledgements
• Index

Abdullah, Sheik, 200
Abel, George, 33
Adams, Chris, 189, 193
Adonis, Adrian, 100
Afflis, Richard (Dick the Bruiser), 104
American title (Dallas), 128
American Wrestling Association (AWA), 217
Anderson, Gene, 90
Anderson, Lars, 206
Anderson, Ole, 90
Anderson, Tiny, 133
Andrews, Tom, 95, 122, 124
Angle, Kurt, 8
Angus, Black (Ian Campbell), 53, 188
Arnett, Jim, 51, 63
Atlas, Mighty, 104
Atlas, Omar, 26, 76, 94, 158
AWA heavyweight title, 195, 198, 200
Ayoub, Libnan, 190
Baba, Ali, 213
Baba, Giant (Shohei), 62-63, 118, 120, 130, 165
Backlund, Bob, 9, 17, 32, 66, 73-81, 83, 86, 108, 122, 140
Baker, David, 202
Baker, Ox, 69, 77, 106, 122, 133
Baptiste, George, 20
Barnett, Jim, 90, 137-138
Bashara, Ellis, 21
Bastien, Red, 70
Bavan, Caesar, 37
Beach, Johnny, 51
Blackwell, Crusher (Jerry), 11, 32, 146, 148, 152-153, 156, 160, 165-169, 171, 174, 176, 183, 193-194, 196-200, 202-202, 209
Blanchard, Joe, 10, 62, 71, 143
Blanchard, Tully, 62
Blue, Max, 98, 122, 133, 153, 156
Bockwinkel, Nick, 198, 200, 202
Bockwinkel, Warren, 20
Boesch, Paul, 15, 131, 190
Bolus, Steve, 25, 31, 35, 45
Booker, Larry, 99
Boston Garden, 15
Boyd, Lee, 171
Brady, Bob, 62
Brazil, Bobo, 60, 63, 66, 81, 117, 206
Brewer, Randy, 84, 86
Brewer, Tom, 160
Brisco, Jack, 8, 16-17, 31-32, 35, 43-45, 49-51, 53-54, 57, 59-60, 62-64, 69-71, 73, 79-87, 89, 92, 99-100, 102, 123-124, 141-144, 146-147, 162, 188, 207
Brisco, Jerry (Gerald), 9, 16, 26, 31, 44-45, 64, 89-90, 99
Brody, King Kong 102-104, 106, 113, 123-124, 126, 129, 131, 152, 163-165, 168, 171, 189, 194-195, 197-200, 204
Brown, Bulldog Bob, 60, 73, 87, 90, 95-96, 106, 118, 121-122, 124, 136, 146, 152-153, 156, 174, 183, 198, 211
Brown, Jerry, 152-153
Brown, Kerry, 130-131, 183
Brown, Orville, 14
Bruiser, Dick the, 23, 25, 35, 56, 63, 68-70, 83, 84-86, 90-91, 98, 100-106, 108-113, 115, 123-124, 128, 134, 136, 146, 148-150, 152-156, 158-159, 169, 174, 194, 198, 200, 217
Bruns, Bobby, 20, 21, 206
Buchmann, Craig, 9, 33, 94, 108, 135-136
Bundy, King Kong, 202
Byers, June, 86
Campbell, Ian (Black Angus), 53
Carpentier, Edouard, 23, 25, 62, 66, 68-69, 183
Casey, Scott, 95
Cauliflower Alley Club, 10
Central States title, 22-23, 27-28, 33, 35, 96, 154, 173
Championship Wrestling, 23, 25-27, 31-33
Charboneau, Chris, 9, 113, 150
Chase-Park Plaza Hotel, 17-18, 33, 47, 60, 198, 209, 216
Checkerdome (see St. Louis Arena/Checkerdome)
Cholak, Moose, 81
Claridge Hotel, 47
Clayton, Kevin, 73
Clayton, Max, 14
Cochran, Derrell, 54
Cohen, Ed, 208
Colon, Carlos, 171
Colosetti, Coloso, 105
Costello, Bill, 60
Crews, Art, 154, 160, 208
Crimson Knight (Bill Miller), 38
Crockett, Jim, 135, 208-209, 211-212
Dalton, Jim, 47
DeBeers, Colonel, 126
Deem, Roger, 12-13, 217
Deleone, Ben, 133
Demarco, Tom, 32, 68
Devine, Diane, 9, 27, 32, 37, 59, 77, 80, 86
Diamond, Frank, 25, 108
DiBiase, Ted, 9, 17-18, 32, 92-96, 98, 104-105, 109, 131-141, 143-144, 154
Dillinger, Ken, 57, 59
Dillon, J.J., 138
Draper, Derek (Ed Wiskowski), 126
Duggan, "Hacksaw" Jim, 200
Duk, Kim, 62, 162
Duncum, Bobby, 87, 163
Dusek, Joe, 20, 183
Dusty finish, 135, 138
Dynamo Pro Wrestling, 215
Eagle, Don, 183
Elisia, Jose, 105
Ellis, Cowboy Bob, 25, 57, 87
Eric, Yukon, 79
Etchison, Ronnie, 19-20, 23, 37, 122
Exodus Wrestling Alliance, 215
Failoni, Joe, 137, 208
Failoni, Victor, 208
Fargo, Don, 81
Farhat, Ed (The Sheik), 56
Farris, Wayne (Honky Tonk Man), 104
Fenway Park, 15
Flair, Ric, 9, 11, 16-17, 32, 40, 68, 106, 130, 137-141, 143, 146, 151-155, 158, 162, 164-165, 166, 168, 171, 173-174, 176, 178-181, 183-185, 188-190, 192-194, 197-199, 202-204, 206-207, 209-210, 212
Fletcher, Butch, 9, 68, 83, 171, 183
Florida tag team title, 70
Foley, John, 77
Foley, Mick, 156
Fossell, Jim, 9, 166, 168, 174, 180, 186, 193-195, 197-198, 200, 213
Foxx, Redd, 100
Fuller, Ron, 50-51, 54, 71
Fulton, Gary, 76
Funk Jr., Dory, 9, 25, 40, 32, 37, 40, 43, 45, 47, 49-50, 53, 56-64, 66, 68-70, 79-80, 84, 87, 94-95, 109-110, 117, 122, 128, 183, 197, 206
Funk, Marti, 9
Funk, Terry, 10, 17, 32, 42-45, 47-48, 50-51, 56, 68, 70-71, 73, 76-77, 79-80, 84, 95, 116, 122, 128, 130, 140, 156, 183, 198, 211
Funking Conservatory, 9
Gagne, Greg, 202
Gagne, Verne, 10, 11, 17, 115-116, 152, 156, 192, 195, 200, 209
Gang, One Man, 202
Garagiola, Mickey, 13, 33, 106, 180
Garvin, Jimmy, 189, 193
Geigel, Bob, 10-11, 17, 23, 28, 84, 86, 95, 98, 141, 152-153, 156, 164, 166, 179, 188-190, 195, 197, 200, 204, 208-209, 211
George, Mike, 47, 50
George, Pinky, 14
Giant, Andre the, 106, 123-124, 153
Gigliotti, Nino, 126
Gilbert, Bobby, 25
Gilbert, Eddie, 124
Gordon, Joe, 40
Gordy, Terry, 138
Graham, Eddie, 15, 26, 92
Graham, Superstar Billy, 81, 84, 86, 104, 209
Gratchner, Mike, 99
Great Tio, 156
Greater St. Louis Wrestling Enterprises, 104, 137, 186, 217
Green Bay Packers, 115
Green, Susan, 86
Greenberg, Keith Elliott, 9
Guerrero, Frank (Frankie), 31, 56
Gunkel, Ray, 20-21
Guzman, Raoul, 122
Hader, Jack, 21
Hagen, Thor, 25
Haggerty, Hard Boiled, 79
Hamil, Bob, 37
Hamilton, Larry (Missouri Mauler), 20
Hamilton, Ricky, 53
Hansen, Stan, 193
Hartsey, Mitch, 10, 126, 211-212
Hata, Mitsu, 79, 86
Hatchet, Molly, 179
Hawk, Jack, 158
Hawk, Rip, 18
Hayes, Bob, 128
Hayes, Lord Alfred, 56-57, 60, 62-64, 68, 71-72, 76, 81, 86
Heenan, Bobby, 26, 60, 191-192
Hennig, Larry "The Ax", 10, 193, 200, 202
Hennig, Larry, 193, 200, 202
Henning, Bulldog Lee, 20-21
Hernandez, Gino, 189
Higuchi, Joe, 64
Hill, Frank, 66
Hodge, Danny, 50
Hogan, Hulk, 174, 176
Holbrook, Vic, 21
Hornbaker, Tim, 10, 209, 211-212
Howard, Billy, 35, 56, 124
Howe, Steve, 90
Huber, Mike (Spike), 115, 128, 138, 146, 148, 162
Hutton, Dick, 10
Iaukea, Curtis, 49
Invader (Dick Murdoch) 38, 47, 98
Ishikawa, Takashi, 165
Jackson, Gary, 215
Jacobs, Abe, 47
Jaggers, Bobby, 63
Jarrett, Jerry, 168
Jim Crockett Promotions, 207-209, 211
Johnson, Evan, 98
Johnson, Jim, 50-51
Johnson, Rocky, 68-69, 90-92, 104, 106
Jones, Rufus R, 23, 26, 37, 51, 63, 71, 99
Jovica, Victor, 171
Justice, Ben, 23
Justice, Terry Robert, 117
Kai, Leilani, 122, 213
Karbo, Wally 14
Karras, Gust, 20, 28, 37
Karrington, K.C., 215
Kayfabememories.com, 9, 217
KDNL-TV, 171
Kelly, Mike, 136
Kelly, Pat, 136
Kersten, Bill, 50
Khorassan Room, 33
Kiel Auditorium, 202, 204, 207, 209, 211-214
Kimala, the Ugandan Giant, 198, 202
Kiniski 8, 32, 45-46, 49-51, 53, 73-74, 76, 118, 121, 151, 160, 185, 198
Kirby, Roger, 70, 76-77, 106, 152, 162
Kirkland, Joe, 154, 156
KNDL-TV Channel 30, 189
Koloff, Ivan, 53, 85-86, 90
Kowalski, Wladek "Killer", 20-21, 63, 87
Kozak, Nick, 53
KPLR-TV, 15, 17, 31, 136, 180-181, 186, 189, 212, 217
Krupp, Killer Karl, 49, 60-62, 76-77
Kyle, Steve, 25
Ladd, Ernie, 84, 86
Lancaster, Jim, 156
Lanchester, Bob, 49
Lanza, Black Jack, 26, 54, 60, 83-84, 86, 90, 104, 110, 174, 192, 194
Lauer, Ray, 98
Lawler, Jerry, 23
Lefebvre, Pierre, 105
Lever, Buddy, 25
Lewis, Ed (Strangler), 56
Lewis, Koko, 179
Lewis, L.D., 49-50
Little Bear, Danny, 28
Little Heart, Winona, 122
Longson, Wild Bill, 12, 17, 23, 56, 98, 116, 120, 206, 213
Louis, Joe, 49
Love, Hartford, 106
Lucha, Rick, 56
Lyons, Billy Red, 53
Madden, Mark, 9
Madison Square Garden, 18, 128, 189
Maharishi, Mega, 126
Makaze, 215
Maloy, Kandi, 122
Mann, Dale, 25
Marquez, Louis, 25-26
Marshall, Everette, 20
Martel, Ric, 165, 195, 198
Martin, Judy, 122
Martin, Terry, 26, 31
Martin, Tommy, 66
Martinez, Frank, 35
Martinez, Jose, 128
Martinez, Luis, 25
Matsuda, Hiro, 89
Matysik, Ed, 56
Matysik, Larry, 8-13, 18, 23, 27-28, 32-33, 35, 37, 40, 43-45, 49-50, 54, 56, 59-60, 62-63, 66, 68-69, 79-80, 87, 89-90, 92, 94, 98, 104-105, 108, 110, 113, 115, 120, 124, 128, 131, 133, 135-138, 140, 143, 146, 150, 152-153, 155-156, 160, 162, 164-165, 168, 171, 180, 186, 188, 195, 198, 206-208, 215-216
McDaniel, Wahoo, 54, 188-189, 191-193, 198
McGraw, Rick, 71
McMahon Jr., Vince, 185-186, 206-208, 215
McMahon Sr., Vince, 15, 105, 126, 131
Meltzer, Dave, 60
Menacker, Sam, 33, 44
Mid-America title (Tennessee), 70
Mid-South title (Oklahoma), 8
Miller, Bill, 38, 47, 51, 53, 60
Miller, Charlie, 158
Miller, Jerry, 26
Millican, Dave, 215
Millich, Joe, 10
Milsap, Kenny, 115
Missouri State Title
(origin) 28, 30-33
(tournament, 1972), 31-33, 35
(changes hands) 40, 43, 47, 53, 59, 66, 76, 83, 89, 94, 98, 102, 108, 113, 115, 120, 128, 133, 143, 146, 150, 158, 162, 168, 171, 174, 183, 188, 197, 202,
(retired), 205-212
Missouri title (original, 1950), 21
Missouri title tournament (original, 1950), 21
Missouri title tournament results (1983), 175
Mitchell, Guy, 37, 77
Moolah, Fabulous, 86, 124
Morales, Pedro, 131, 183
Muchnick, Helen, 133, 135
Muchnick, Sam, 8, 10-18, 20, 23, 27-28, 31-32, 35, 37-38, 43-45, 47, 49-51, 53-54, 56-57, 59-60, 63-64, 69, 71, 76-77, 79-81, 86-87, 89-90, 92, 94-95, 99-100, 102, 105-106, 108, 115-117, 120, 122, 124, 126, 126, 130-131, 133, 135-138, 140, 146, 148, 150-152, 154, 156, 158, 160, 164, 173-174, 179-180, 183, 192, 194, 198, 202, 206-207, 209, 211-212, 215-217
Munari, Steve, 202
Muraco, Don, 116
Murdoch 32, 47, 60, 92, 94, 96-99, 100, 102, 106-111, 113-118, 120-124, 126, 128-129, 153-154
Murdoch, Terry, 215
Myers, Sonny, 19-21, 70-71, 153
Negro, Cyclone, 44, 49, 70
Nevins, Gary, 84
Nichols, Kenny, 45
Nichols, Vic, 51
Novak, David, 79, 81
Nulty, Mark, 10, 35, 40, 96, 100, 109, 118, 207
NWA board of directors, 43, 45, 188, 190
NWA Midwest, 215
NWA world title changes hands, 49, 50, 62, 63, 70, 84, 116, 118, 120, 130, 137, 140, 173, 190, 192-193, 211
O'Connor, Pat, 10-12, 17,, 23, 25-28, 31-33, 35, 43-45, 47, 53-54, 57, 60, 62-63, 66, 69-71, 73, 77, 79, 81, 87, 90, 98-99, 104, 109-110, 113, 115, 124, 131, 136, 146, 152-153, 158, 164-166, 168, 183, 185, 195, 200, 206, 209, 211-213
O'Toole, Rick, 21, 27
O'Toole, Tommy, 20
Oates, Jerry, 70-71, 126
Omni, (Atlanta), 83
Orton Sr., Bob, 20
Orton, Cowboy Bob, 20, 162, 164
Orton, Randy, 20
Oswald, David, 133, 140
Owens, Don, 15
Pacific Coast title, 8
Packs, Tom, 16, 183
Pak-Son, 31-33, 90
Palardy, Joe, 79
Pappas, Mike, 71, 73, 90
Paradise Alley, 95
Parks, Reggie, 32, 212, 215
Parsons, Iceman King, 194
Patera, Ken, 10, 32, 117, 126-131, 133-134, 136, 143, 145-148, 150, 152, 160, 168, 192
Patrick, Ben, 156
Patterson, Dave, 102
Patterson, Pat, 128
Patton, Tank, 104
Pence, Bob, 160
Pettis, Doug, 90
Pogo, Mr., 200, 208
Polk, Jerry, 120
Potter, West, 140, 154, 171
Precious (Jimmy Garvin's valet), 193
Price, David, 156
Pro Wrestling U.S.A., 200
Race, Harley, 10-11, 18, 22-23, 25-28, 31-35, 37, 40-41, 44, 47, 49-57, 59-60, 63-74, 76-79, 81, 83-84, 86-87, 90, 100, 102, 104-106, 108, 113, 115-116, 118, 120, 122, 124-126, 128, 130-131, 133, 135-138, 140-141, 152-154, 156-160, 162-166, 170-174, 177, 179, 181, 185-195, 197-204, 206, 209-212, 216
Ramirez, Bennie, 31, 99
Reed, Bruce, 146, 160, 174
Reesman, Tom, 47
Reeves, Jim, 37
Renaldo, Rick, 59
Reynolds, Dave, 71
Rhodes, Dusty, 63, 70, 90, 116, 135, 140-141, 146, 151-152, 154, 171
Rich, Tommy, 63, 137
Richter, Wendi, 124
Rickard, Steve, 189
Ridenour, Nick, 10
Riley, Chuck, 56, 73
Rivera, Jose, 53
Rivera, Vic, 71
Road Warriors, The, 10, 194
Roberts, Buddy, 138
Robertson, Dewey, 25, 146, 148, 152, 156, 173
Robinson, Billy, 54-55, 197
Robley, Buck, 94, 96
Rock, The (Dwayne Johnson), 148
Rocky, 95
Rodriguez, Armando, 35, 102
Rodriguez, Carlos, 122, 124
Rogers, Buddy, 122, 183, 185
Rogers, Freddie, 23, 26
Rogers, Jessica, 86
Rogers, Roy, 148
Romero, Benny, 138
Romero, Mark, 156, 160
Roop, Bob, 89
Ross, Jim, 110
Rufus 144
Russo, Tony, 64
Sam Houston Coliseum, 40
Sam Muchnick's final show, 150
Sammartino, Bruno, 18, 47, 56, 86, 89, 102
Sapphire (Juanita Wright), 9, 77
Sato, Akio, 70-71
Schire, George, 10, 116, 202
Schmidt, Hans, 23
Schoenberger, Joe, 10, 23, 43
Sciaro, Mark, 98
Seitz, Bob, 37, 40
Sharp, Tommy, 124, 131
Shikina, Oki, 94
Siki, Mr., 94
Slater, Dick, 32, 88-92, 94-95
Slaughter, Sergeant, 96, 147, 152, 154, 156, 198, 202-203
Smirnoff, Alexis, 96, 104
Smith, Eddie, 98, 153
Snuka, "Superfly" Jimmy, 183
Snyder, Wilbur, 17, 69, 76, 81
Solie, Gordon, 90, 92
Somers, Doug, 99
South, George, 215
Southern heavyweight title (Florida), 70, 89-90
Spoiler, The (Don Jardine), 49
St. John, Bryan, 90, 108
St. Louis Arena/Checkerdome, 16-18, 130-131, 137, 212, 214, 216
St. Louis Cardinals, 110, 209
St. Louis Wrestling Club, 9-10, 12, 13, 16, 95, 116, 136-137, 141, 143, 152, 162, 164-165, 168, 171, 185, 189, 194, 197-198, 200, 202, 204, 206, 208-209, 211-212, 217
St. Louis Wrestling Hall of Fame, 10
Staggs, Darla, 62, 92, 102, 168
Stallone, Sylvester, 95
Star Wars, 16
Starr, Billy, 133
Starr, Johnny, 71
Starrcade, 183
Stasiak, Stan, 70
Steamboat Jr., Ricky, 215
Stecher, Joe, 120
Stecher, Tony, 14, 56
Steele, George, 62, 84, 86
Stevens, Gene, 105
Stewart, Rick, 211
Stomper (Archie Gouldie), 35
Stone, Steve, 215
Stone, Trent, 215
Studd, Big John, 136
Sunshine (Chris Adam's valet), 193
Super Destroyer, 165, 183, 200
Sweetan, Bob, 92, 104, 106
Sypert, Steve, 80, 164
Tanaka, Professor Toru, 128
Tangaro, Joe, 83, 115, 122
Tapu, 156
Teal, Scott, 174, 202
Tenryu, Genichiro, 165
Texas brass knuckles title, 8
Thesz, Lou, 18, 20, 25, 50, 62, 130, 141, 158, 183
Thomas, Boo, 200
Thomas, Sailor Art, 70, 95
Thundercloud, Chief, 138
Tonga (Tonga 'Uli'uli Fifita), 37
Torres, Enrique, 21
Triple H, 8
Tsuruta, Tommy, 49
Turco, Joe, 80
Turner, John, 25
Tyler, Buzz, 133, 197
U.S. title (Charlotte), 70
United States tag team title [Oklahoma], 96
Vachon, Emile, 179
Valentine, Greg, 117, 152, 162, 164, 169
Valentine, Johnny, 27, 31-32, 35, 37-41, 43-45, 47-48, 50-51, 53, 64, 66-70, 76, 99, 108
Valentine, Rick, 183
Valiant, Jerry, 37
Valiant, Jimmy, 194
Van, Bobby, 126
Venator, Chalres, 86, 99, 109, 113, 135
Veneno, Jack, 171
Ventura, Jesse, 174
Viking, The (Bob Morse), 31
Von Erich, Chris, 188
Von Erich, David, 11, 17, 113, 118, 122, 124, 126, 131, 144, 147, 171, 174, 176, 182-186, 188, 217
Von Erich, Fritz, 87, 128, 166, 171, 176, 179, 183, 188-189, 194
Von Erich, Kerry, 9, 32, 140, 144, 146, 160-166, 168-169, 183, 188, 192-194, 197-198, 206
Von Erich, Kevin, 16, 109, 126, 128-129, 144, 183, 185, 188, 197
Von Erich, Mike, 188
Von Raschke (Baron), 23, 31, 35, 61, 81, 140
Walsh, Dan, 215
Warren, Ed (referee), 152
Warren, Lee, 10, 118
Warwick Hotel, 47, 98
Watts, Bill, 31-33, 38, 89
Wayne, Mike, 62
Wells, George, 174
Western Forum, 15
Western States title, 44
White, Harry, 10, 207, 212
Whitlock, Bobby, 23, 25, 37, 77
Whizman, Robert, 98
Williams, Scott, 10
Windham, Barry, 183, 193
Wiskoski, Ed, 76, 122, 126
Wolfe, Buddy, 81
Woods, Tim, 49
World Championship Wrestling (WCW), 37
World Class Championship Wrestling, 171, 189, 194
World Wrestling Association (Indianapolis), 113, 217
Wrestling at the Chase, 11-12, 15, 186, 189, 216-217
Wrestling at the Chase, A Look Back, 17
Wrestling Fan International Association, 217
Wrestling News, 28
Wrestling Observer Newsletter, 60
Wright, Juanita (Sapphire), 9, 77
WWE (World Wrestling Entertainment), 9, 110, 215
WWF (World Wrestling Federation), 9, 37, 90, 140, 166, 185-186, 189, 194, 204, 207
WWWF (World Wide Wrestling Federation), 17, 83, 86
Yates, Tommy, 130
Yokouchi, Chati, 35
Zapata, Juan, 76, 153
Zbyszko, Larry, 202
Zordani, James, 202
Zulu, Magnificent (Ron Pope), 70
Zuma, Amazing, 38, 45


COMMENTS & REVIEWS


---

To schedule radio interviews or other media appearances with the author, please contact Scott Teal at
---
Copyright © 2013 by Scott Teal
Pages designed by Scott Teal