Wrestling Archive Project, Volume 2
by Scott Teal
Volume 2 features more interviews with the
professional wrestling legends of yesteryear.
The "MAIN EVENT" for this volume is an interview with
KILLER KARL KOX.
Three other exclusive, never-before-published
interviews appearing in print for the first time are with
Jackie Fargo • Larry Cheatham • Kody Kox.
Filling out the 386-page book are interviews with:
Nick Bockwinkel • Baron Von Raschke • Tom Jones
Bob Orton Sr. • Count Billy Varga • Karl Von Stroheim
Bulldog Bob Brown • Gentleman Ed Sharpe
Maniac Mike Davis • Sailor Art Thomas
J Michael Kenyon • Violet Ray • Lou Thesz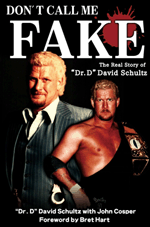 Don't Call Me Fake
The Real Story of "Dr. D" David Schultz
by "Dr. D" David Shultz, with John Cosper
"Dr. D" David Schultz is a folk hero to professional wrestlers. He is the man who slapped John Stossel on 20/20 for suggesting professional wrestling is fake. At a time when the walls of kayfabe were beginning to leak, he was the man with the nerve to do what had to be done. He was as real as it gets.
This is not a tell-all or an expose. It's the autobiography of a man who has lived an extraordinary life. You'll get the story of his wrestling career, from his early education with the legendary Herb Welch through his final days in the ring, but you'll also get the incredible story of a man who would stop at nothing to bring a crook to justice.
Please note: This book was self-published by John Cosper through his "Eat Sleep Wrestle" imprint, not Crowbar Press.